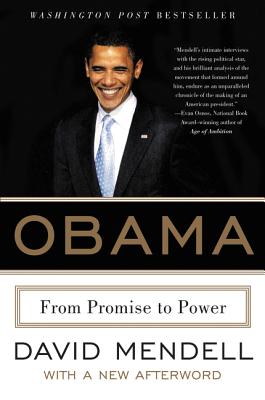 Obama
From Promise to Power
Paperback

* Individual store prices may vary.
Description
Barack Obama is arguably the most dynamic political figure to grace the American stage since John F. Kennedy. His meteoric rise from promise to power has stunned even the cynics and inspired a legion of devout followers.
For anyone who wants to know more about the man, David Mendell's Obama is essential reading. Mendell, who covered Obama for the Chicago Tribune, had far-reaching access to the Chicago politician as Obama climbed the ladder to the White House, the details of which he shares in this compelling biography. Positioning Obama as the savior of a fumbling Democratic party, Mendell reveals how Obama conquered Illinois politics and paved the way brick by brick for a galvanizing, historic presidential run.
With a new afterword by the author, which includes a fresh perspective on Barack Obama following his two historic terms as the first African-American president, and with exclusive interviews with family members and top advisers, and details on Obama's voting record, David Mendell offers a complete, complex, and revealing portrait. This book is a must-read for anyone interested in American politics in general and President Barack Obama in particular.
Praise For Obama: From Promise to Power…
"David Mendell got to Barack Obama before most of the rest of the world, telling the story of Obama's remarkable rise to power with deep reporting and in vivid detail. Obama was perhaps the most unlikely person ever to seek the presidency. Mendell's fine book provides the historical backdrop for how Obama got to the starting line of that 2008 campaign. The story he tells is as fresh today as it was at the time." — Dan Balz, Chief Correspondent at the Washington Post
"This book was required reading for those of us who covered Obama's 2008 campaign. Two White House terms later, it remains a fascinating and unfiltered read about the remarkable political rise of a major historical figure." — John McCormick, Bloomberg national political reporter
"Long before Barack Obama was president, David Mendell was there?and we're lucky he was. In Obama: From Promise to Power, he uses his extraordinary access to Barack and Michelle Obama, their friends and aides, to deliver an engaging and insightful portrait of one of the most intriguing leaders in modern American history." — Peter Slevin, author of Michelle Obama: A Life.
"I recommend this wonderful book to anyone who wants to know the real story behind Barack Obama's historic rise to national political stardom. Having covered Obama since his Senate campaign began, David Mendell offers an insightful, richly detailed and refreshingly balanced account of a 'change candidate' who was neither as perfect or as flawed as others might want you to believe." — Clarence Page, 1989 Pulitzer Prize-winning columnist for the Chicago Tribune
"Long before Barack Obama made history, he attracted the attention of the gifted journalist David Mendell. His intimate interviews with the rising political star, and his brilliant analysis of the movement that formed around him, endure as an unparalleled chronicle of the making of an American president." — Evan Osnos, winner of the National Book Award for Age of Ambition, and staff writer at the New Yorker
"Before Barack Obama was a towering political figure, he was a local pol. This book serves as a corrective to Obama mythmaking on both sides, and it provides an insider's glimpse at the political origins and stunningly swift rise of Barack Obama." — Ben Smith, editor-in-chief of BuzzFeed
"David Mendell was on the Obama story long before the rest of the world caught on. This book remains an essential text for understanding President Obama's formative years." — Alec MacGillis, government and politics reporter for ProPublica and author of The Cynic: A biography of Senator Mitch McConnell
The single best source of background information on our new president. — National Review
Amistad, 9780062684394, 464pp.
Publication Date: February 21, 2017
About the Author
David Mendell, a native of Cincinnati, Ohio, wrote about urban issues and politics for the Chicago Tribune from 1998 to 2007. He is now a Chicago-based freelance writer and an adjunct instructor at Northwestern University's Medill School of Journalism. His writing has appeared in The New Yorker, GQ, the Washington Post and other places.