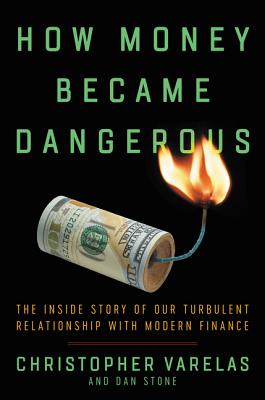 How Money Became Dangerous
The Inside Story of Our Turbulent Relationship with Modern Finance
Hardcover

* Individual store prices may vary.
Other Editions of This Title:
Paperback (10/6/2020)
Compact Disc (11/5/2019)
Compact Disc (11/5/2019)
MP3 CD (11/5/2019)
Description
From a veteran of the trade, a provocative and entertaining voyage into the turbulent heart of modern money that sheds new light on the rise of our threatening and complicated financial system, how money became our adversary, and why finding a new course is crucial to a healthy society

In the not too distant past, money was simple. You might have had a bank account and a mortgage, perhaps some basic investments. Wall Street didn't have a reputation for greed and recklessness. That all started to change in the eighties, as our financial systems became increasingly complex, moving beyond the understanding of the general public while impacting our lives in innumerable ways. The financial world began to feel like an enigma—a rogue force working against us, seemingly controlled by no one. 
From an industry veteran who's had firsthand involvement in the events that shaped modern money, How Money Became Dangerous journeys from the crime-ridden LA jewelry district to the cutthroat Salomon Brothers trading floor, from the high-stakes world of investment banking to the center of the technology boom, capturing the key deals, developments, and players that made the financial world what it is today. The book illuminates the dark, hidden forces of Wall Street and how it has dehumanized and left behind everyday Americans. A fresh and enlightening take on how we reached this point, How Money Became Dangerous also makes the case for why Wall Street needs to be saved, if only to save ourselves.
Praise For How Money Became Dangerous: The Inside Story of Our Turbulent Relationship with Modern Finance…
"A cynical if often hilarious view of finance. . . In his time as a banker, Varelas met a host of memorable characters whom he depicts with a candor that ranges from the loving to the vicious."
— The Deal

"Both disturbing and fascinating."
— Booklist

"This book bites the hand that feeds it."
— CNBC's Squawk Box

"An insider's view of how an increasingly abstract financial system fails to align with human needs…Poignant…fascinating…alarming."
— Kirkus Reviews

"People have come to believe the financial industry is not their ally, that it's pitted against them and most of society.  In this engaging and important book, Chris Varelas shows how the world of money became so complicated and risky—and why it's vital we understand how to fix it."
— Walter Isaacson, author of The Innovators

"The best books about the world of money have less to do with finance and more to do with fascinating people and Varelas delivers.  We meet porn stars, internet influencers, and Pablo Escobar's money launderer, as he recounts his experiences in the industry, revealing important insights about ourselves and the vagaries of Wall Street.  Even those who don't care much for stories of the financial world will enjoy this book immensely."
— Scott Nations, A History of the United States in Five Crashes

"Varelas has written a relatable, insightful, and often very funny treatise on how, why, and when our financial system started going off the rails and what might be done to fix. It's Liar's Poker with a twist of Why Wall Street Matters thrown in for good measure."
— William D. Cohan, author of House of Cards
Ecco, 9780062684752, 400pp.
Publication Date: November 5, 2019
About the Author
Responsible for brokering some of the biggest mergers and acquisitions in finance, Chris Varelas was listed among the top 100 dealmakers by the New York Times and was named top technology rainmaker by DealMakers Monthly magazine. After working as Citi's head of technology, media, and telecommunications during the first dot-com boom and then leading the company's national investment bank and regional offices, Varelas left Citi in 2008 to cofound Riverwood Capital, a premier private equity firm in Silicon Valley.
Dan Stone worked for many years at the National Endowment for the Arts as a program manager for the agency's national initiatives, while also writing and producing dozens of radio documentaries about jazz and classic novels. He founded and served as editor-in-chief of Radio Silence, a magazine of literature and rock & roll, and he coedits the college textbook Literature: An Introduction to Fiction, Poetry, Drama, and Writing. Stone owns North Light in Oakland, California, a hybrid of a bar, bookstore, and record shop.
or
Not Currently Available for Direct Purchase