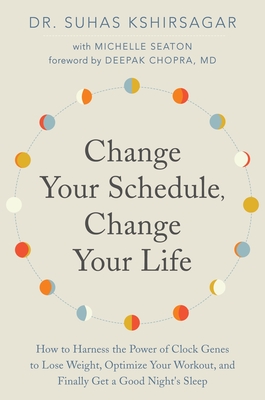 Change Your Schedule, Change Your Life
How to Harness the Power of Clock Genes to Lose Weight, Optimize Your Workout, and Finally Get a Good Night's Sleep
Hardcover

* Individual store prices may vary.
Other Editions of This Title:
MP3 CD (1/30/2018)
Paperback (1/29/2019)
Description
An eye-opening handbook from a leading Ayurvedic physician that blends cutting-edge science on "clock genes" with ancient eastern wisdom to help us understand how to harness the power of chronobiology to effortlessly lose weight, sleep better, exercise stronger, reduce stress, and boost our wellbeing.
"It's not you, it's your schedule." Does it sound like magic? It's not. We've all heard of circadian rhythms—those biological processes that give us jet lag and make us night owls or early birds. But few of us know just how profoundly these diurnal patterns affect our overall health.
Bad habits like skipping meals, squeezing in workouts when it's convenient, working late into the night to maximize productivity and then trying to "catch up" on sleep during the weekend disrupt our natural cycles. A growing body of research on chronobiology reveals just how sensitive the human body is to these rhythms all the way down to the genetic level. Our "clock genes" control more than we realize, and small changes can make the difference between battling our bodies, and effortlessly managing weight, sleep, stress, inflammation, and more.
Marrying ancient Ayurvedic wisdom with the latest scientific research, Dr. Suhas Kshirsagar's holistic step-by-step 30-day plan gives you the tools—and the schedule—you need to transform your life. With diagnostic quizzes to determine your specific mind-body type, you will learn to adapt you schedule for effortless wellness for life.
Praise For Change Your Schedule, Change Your Life: How to Harness the Power of Clock Genes to Lose Weight, Optimize Your Workout, and Finally Get a Good Night's Sleep…
 "A fascinating look into the scientific validation of our natural circadian rhythms.  Dr. Kshirsagar gives us insight into the Ayurvedic wisdom regarding healthy daily routine and gives practical tips on aligning ourselves with these rhythms for optimal health."
— Dean Ornish, MD, Founder & President, Preventive Medicine Research Institute and author of The Spectrum and Dr. Dean Ornish's Program for Reversing Heart Disease

"Look and feel younger by resetting your body's internal clock. Dr. Kshirsagar's new book will give you a powerful and actionable Ayurvedic template to lead a mindful and active life." 
— Sara Gottfried MD, New York Times bestselling author of Younger, The Hormone Reset Diet, and The Hormone Cure

"More and more, we are learning that our best prescription for healthy aging and effectively staving off disease depends on good habits in the areas of sleep, diet, exercise and managing stress. This book covers it all! And, it's all about the choices you make every day!"
— Dr. Rudolph E. Tanzi, Professor of Neurology at Harvard Medical School, and bestselling author of Super Brain, Super Genes

"The latest research in chronobiology clearly shows how our physical, mental, and emotional health are affected by natural rhythms. The timing of meals, exercise and sleep is more important than your work schedule. I advise people to follow the cycles of Nature for a healthy and happy life."
— Andrew Weil, MD, author of 8 Weeks to Optimum Health and Healthy Aging

"Dr. Kshirsagar's book and its deep knowledge about chronobiology as it affects everyone's daily schedule looks to a future that advances the evolution of self-care."
— Deepak Chopra, MD

"A brilliant book full of expertise and practical advice, Change Your Schedule, Change Your Life provides a fantastic and easy to read roadmap to your healthiest life possible."
— Marci Shimoff, #1 New York Times bestselling author of Happy for No Reason and Chicken Soup for the Woman's Soul

"One of the simplest and most effortless ways to improve your mental, emotional and physical health is by living in tune with the Ayurvedic schedule.  It's the easiest path to a happier and healthier life—living in alignment with your natural rhythms."
— Dr. Kulreet Chaudhary, author of The Prime: Prepare and Repair Your Body for Spontaneous Weight Loss

"The latest science of chronobiology validates the importance of bodily rhythms. There is no substitute for healthy diet, good sleep and a positive lifestyle. Read the book."
— Dr. Murali Doraiswamy, Professor, Duke University Health System  

"With his book Change Your Schedule, Change Your Life, Dr. Suhas reveals the benefits of living a life aligned with the body's natural rhythms. Grounded in the ancient science of Ayurveda, Dr. Suhas gives the reader the tools necessary to make small, manageable changes to truly transform their quality of life.  Dr. Suhas cuts through the chatter of fad diets and quick fixes and offers real suggestions healthy, simple, manageable change."
— Anand Dhruva, MD, Associate Professor of Medicine, UCSF
Harper Wave, 9780062684851, 288pp.
Publication Date: January 30, 2018
About the Author
Suhas Kshirsagar, BAMS, MD (Ayurveda), is a world-renowned Ayurvedic physician and educator from India, the director of the Ayurvedic Healing and Integrative Wellness Clinic in Northern California, and the author of The Hot Belly Diet. He holds a BA in Ayurvedic medicine and completed a three-year residency as an MD (doctorate in Ayurvedic internal medicine) with a gold medal at the prestigious Pune University. He is an adviser and consultant at the Chopra Center and a faculty member at several Ayurvedic institutions.
Michelle D. Seaton is an award-winning journalist, NPR reporter, and the coauthor of several fitness and health  books. Her writing has appeared in numerous magazines and literary journals. She lives outside of Boston with her husband, daughter, and happily active young son.
Deepak Chopra, MD is the author of more than eighty books translated into over forty-three languages, including numerous New York Times bestsellers in both fiction and nonfiction categories.