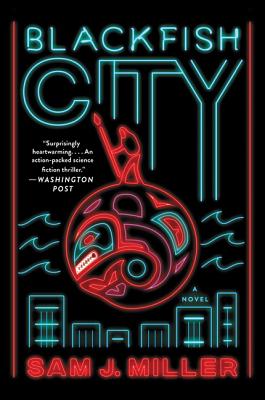 Blackfish City
A Novel
Paperback

* Individual store prices may vary.
Other Editions of This Title:
Digital Audiobook (4/16/2018)
Compact Disc (4/17/2018)
Hardcover, Japanese (11/19/2020)
MP3 CD (4/17/2018)
Compact Disc (4/17/2018)
Description
"One of the most intriguing future cities in years." —Charlie Jane Anders
"Simmers with menace and heartache, suspense and wonder." —Ann Leckie
A Best Book of the Month in
Entertainment Weekly
The Washington Post
Tor.com
B&N Sci-Fi Fantasy Blog
Amazon
After the climate wars, a floating city is constructed in the Arctic Circle, a remarkable feat of mechanical and social engineering, complete with geothermal heating and sustainable energy. The city's denizens have become accustomed to a roughshod new way of living, however, the city is starting to fray along the edges—crime and corruption have set in, the contradictions of incredible wealth alongside direst poverty are spawning unrest, and a new disease called "the breaks" is ravaging the population.
When a strange new visitor arrives—a woman riding an orca, with a polar bear at her side—the city is entranced. The "orcamancer," as she's known, very subtly brings together four people—each living on the periphery—to stage unprecedented acts of resistance. By banding together to save their city before it crumbles under the weight of its own decay, they will learn shocking truths about themselves. 
Blackfish City is a remarkably urgent—and ultimately very hopeful—novel about political corruption, organized crime, technology run amok, the consequences of climate change, gender identity, and the unifying power of human connection. 
Praise For Blackfish City: A Novel…
"Immersive sci-fi with a poetic edge. . . . The book thrills with its meticulous world-building while also providing great characters, inclusive representation, and hard-hitting themes." — Entertainment Weekly, Best of 2018 So Far
"An urgent tale imploring us to look at the ties between technology, race, gender and class privilege. . . . Surprisingly heartwarming. . . . An action-packed science fiction thriller." — Washington Post
"Miller's poetic prose gives this dystopian story a taut, lyrical edge." — Entertainment Weekly
"Impressive. . . . Fabulous. . . . We tend to label almost any future city as dystopian, but the term hardly does justice to Miller's complex society." — Chicago Tribune
"Delightful. . . . [A] gripping novel full of vivid descriptions, compelling characters, timely urgency, and thrilling action.  An immediate page-turner." — The Advocate
"Vividly brought to life. . . . Miller excels at depicting a metropolis bursting at the seams and populated by both refugees and the elite. Blackfish City is a compelling dystopian thriller." — The Guardian
"Blackfish City feels like a place I've never seen in a story before, but I came away feeling as though I'd lived there forever. One of the most intriguing future cities in years." — Charlie Jane Anders
"This is the kind of swirling, original sci-fi we live for." — B&N Sci-Fi Fantasy Blog
"Bleak, gut-wrenching, yet beautifully written, Blackfish City ponders what makes a society thrive or die." — Amazon Book Review
"A timeless story of rebellion against a corrupt master, giving it a kind of Hunger Games resonance that reaches beyond any genre boundaries. Miller is a graceful writer." — Booklist
"An ambitious, imaginative, and big-hearted dystopian ensemble. . . . Miller has crafted a thriller that unflinchingly examines the ills of urban capitalism. . . . Rendered in poetic interludes." — Publishers Weekly (starred review)
"A floating Arctic city; nano-bonded orcas and polar bears; an Earth violently reshaped by the mistakes we're making right now… I haven't been this swept away by imagination and worldbuilding since Philip Pullman's His Dark Materials. A gorgeous, queer, muscular novel." — Carmen Maria Machado, National Book Award-nominated author of Her Body and Other Parties
"A wildly inventive post-cyberpunk ride that also has real things to say about community and family. Sam Miller's drowned future is vivid and fully real, even as he throws in the weird and the fantastic. Sam Miller is a fiercely strong writer, and this book is a blast."  — Daryl Gregory, World Fantasy Award-winning author of Spoonbenders
"Blackfish City is an exhilarating tour of a post-catastrophe future that's both fantastical and eerily convincing. Imagine The Yiddish Policeman's Union cross-bred with Snowcrash and you'll get an inkling of the imaginative horsepower on display here." — Adam Sternbergh, author of The Blinds
"Miller gives us an incisive and beautifully written story of love, revenge, and the power (and failure) of family in a scarily plausible future.  Blackfish City simmers with menace and heartache, suspense and wonder." — Ann Leckie, New York Times bestselling and Hugo, Nebula, and Clarke Award-winning author of Ancillary Justice
Ecco, 9780062684875, 336pp.
Publication Date: October 2, 2018
About the Author
Sam J. Miller is the Nebula-Award-winning author of The Art of Starving (an NPR best of the year) and Blackfish City (a best book of the year for Vulture, Entertainment Weekly, and more). A recipient of the Shirley Jackson Award and a graduate of the Clarion Writers' Workshop, Sam's short stories have been nominated for the World Fantasy, Theodore Sturgeon, and Locus Awards, and reprinted in dozens of anthologies. A community organizer by day, he lives in New York City.