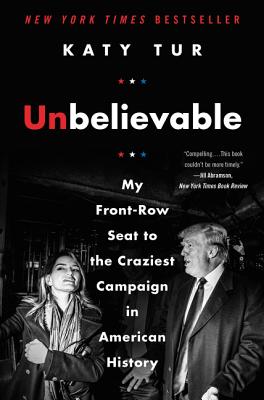 Unbelievable
My Front-Row Seat to the Craziest Campaign in American History
Hardcover

* Individual store prices may vary.
Other Editions of This Title:
Digital Audiobook (9/11/2017)
Paperback (8/28/2018)
Compact Disc (9/12/2017)
MP3 CD (9/12/2017)
Compact Disc (9/12/2017)
Description
NEW YORK TIMES BESTSELLER
"Compelling… this book couldn't be more timely." – Jill Abramson, New York Times Book Review
From the Recipient of the 2017 Walter Cronkite Award for Excellence in Journalism
Called "disgraceful," "third-rate," and "not nice" by Donald Trump, NBC News correspondent Katy Tur reported on—and took flak from—the most captivating and volatile presidential candidate in American history.
Katy Tur lived out of a suitcase for a year and a half, following Trump around the country, powered by packets of peanut butter and kept clean with dry shampoo. She visited forty states with the candidate, made more than 3,800 live television reports, and tried to endure a gazillion loops of Elton John's "Tiny Dancer"—a Trump rally playlist staple.
From day 1 to day 500, Tur documented Trump's inconsistencies, fact-checked his falsities, and called him out on his lies. In return, Trump repeatedly singled Tur out. He tried to charm her, intimidate her, and shame her. At one point, he got a crowd so riled up against Tur, Secret Service agents had to walk her to her car.
None of it worked. Facts are stubborn. So was Tur. She was part of the first women-led politics team in the history of network news. The Boys on the Bus became the Girls on the Plane. But the circus remained. Through all the long nights, wild scoops, naked chauvinism, dodgy staffers, and fevered debates, no one had a better view than Tur.
Unbelievable
is her darkly comic, fascinatingly bizarre, and often scary story of how America sent a former reality show host to the White House. It's also the story of what it was like for Tur to be there as it happened, inside a no-rules world where reporters were spat on, demeaned, and discredited. Tur was a foreign correspondent who came home to her most foreign story of all.
Unbelievable
is a must-read for anyone who still wakes up and wonders,
Is this real life?
Praise For Unbelievable: My Front-Row Seat to the Craziest Campaign in American History…
"A cross between The Boys on the Bus and Miss Lonelyhearts"
— New York Review of Books

"By the end of 'Unbelievable' it's clear how wrong they all were in thinking they could run over "little Katy" (Trump's snide name for Tur.) This book couldn't be more timely, appearing as President Trump ratchets up his attacks on the news media….The more personal story Tur tells in "Unbelievable" is also compelling….One more subject that Tur richly examines is the outrageous sexism of Trump and many of his supporters."
— Jill Abramson, New York Times Book Review

"A quick and enjoyable read. . . .  The chapters switch between key points in the campaign and Election Day, enhancing the feel of chaos that must have been a big part of covering the Trump campaign."
— Associated Press

"A must-ride roller coaster of a memoir. . . Unbelievable is best read as a reminder that it really did happen that way, we aren't all crazy, it was that crazy."
— Hugh Hewitt, Washington Post

"A real page-tuner"
— Morning Joe

"Tur's brisk behind-the-scenes account humanizes the press corps, illuminates life on the campaign trail, and delivers on its promise: "I won't pretend to explain it," Tur writes, but "I will tell you what I saw."
— Publishers Weekly

"A great behind-the-scenes look about what it takes to have been a campaign correspondent. All presidents, all presidential candidates have had hostile relationships with the press from time to time. This current president has a totally different reaction to the press and a totally different take on press freedom than any president that has ever gone before him. And the person who most personifies his hostility, condescension and aggression toward the press is NBC correspondent Katy Tur."
— Rachel Maddow, The Rachel Maddow Show

"Outstanding"
— Jon Favreau, Pod Save America 

"One of the most insightful books I've ever read."
— Trevor Noah, The Daily Show 

"A fascinating play-by-play of what it was like to cover a campaign that was far from ordinary."
— New York Post

"What elevates Unbelievable beyond one more pedestrian campaign memoir is Tur's skill at capturing the constant indignities of campaign reporting while female, including the worst indignity of all: enduring the fixation of Trump himself."
— Carlos Lozada, Washington Post

"Even after everything we have learned, some of Tur's behind-the-scenes details remain startling...The razor-sharp observations of [Unbelievable]...are the sort of thing you hear nowadays on The Daily Show or Stephen Colbert's Late Show and never, ever, on any of the networks' evening news broadcasts."
— The Guardian

"a quite revealing and powerful book"
— The Atlantic
Dey Street Books, 9780062684929, 304pp.
Publication Date: September 12, 2017
About the Author
Katy Tur is a correspondent for NBC News and an anchor for MSNBC. Tur is the recipient of a 2017 Walter Cronkite Award for Excellence in Journalism. She lives in New York City.
Coverage from NPR