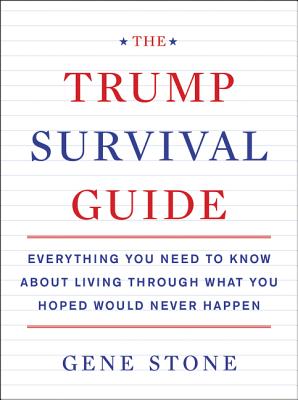 The Trump Survival Guide
Everything You Need to Know About Living Through What You Hoped Would Never Happen
Paperback

* Individual store prices may vary.
Other Editions of This Title:
Digital Audiobook (1/9/2017)
MP3 CD (1/10/2017)
Compact Disc (1/10/2017)
Compact Disc (1/10/2017)
Description
National Bestseller
Don't despair. Don't retreat. Fight back.
A call-to-action for Democrats, moderate Republicans, and other anti-Trump dissenters, detailing the history of social and political policies, how Obama treated them, how Trump has the power to undermine them, and what people can do to fight back.
The stunning election of Donald J. Trump rocked an already divided America and left scores of citizens, including the nearly sixty-five million voters who supported Hillary Clinton, feeling bereft and powerless. Now, Gene Stone, author of The Bush Survival Bible, offers invaluable guidance and concrete solutions the resistance can use to make a difference in this serious call-to-arms—showing them how to move from anger and despair to activism against the Trump presidency and its potentially lasting effects on our democracy.  
Before we can successfully engage, we need to be clear about the battles we face. Stone outlines political and social concepts—including such issues as Civil Rights, Women's Rights, the Environment, Obamacare, International relations, and LGBTQ Rights—providing a brief history of each, a refresher on Obama's policies over his eight years in office, and an analysis of how Trump's administration is threatening them. But lest we feel overwhelmed by the scale of the threat and settle for aimless outrage, Stone then provides an invaluable guide for fighting back—referring to organizations, people, sites, and countless other resources that are working tirelessly to restore the power of the people, safeguard our democracy, and ensure that none of us are left behind in our quest for relentless and equitable progress.
While marches and social media are important forms of protest, concrete actions that achieve real and measurable change are a vital part of the fight. Positive and reinforcing, The Trump Survival Guide presents the essential information we need to effectively make our voices heard and our power felt, during the Trump presidency and beyond. 
Praise For The Trump Survival Guide: Everything You Need to Know About Living Through What You Hoped Would Never Happen…
Anyone dreading Inauguration Day will appreciate The Trump Survival Guide. Stone lays out the key fights ahead - over women's rights, LGBTQ+ rights, the environment, health care, and more - and offers actionable solutions to counteract your feelings of powerlessness. This book will help you make a bigger impact.
— Bustle.com

A comprehensive resource guide for individuals worried that certain rights may be in jeopardy, offering the encouragement to actively fight back with as much knowledge and authority as possible.
— Kirkus Reviews

The resulting book is crisp and pragmatic.
— Salon.com

Though the book includes specific ways to attack every issue—joining your local school board to help with education, reporting hate crimes when you see them to help with civil rights—there are broader, universally applicable ways to fight Trump's agenda.
— Newsweek

The Trump Survival Guide is worth every dime of its price. It is chock full of reference material and addresses not easily found, including website addresses that only a Googlemeister could turn up.
— New York Journal of Books

Everything novice activists need to get started, all in one place. The 'What you can do' sections, are varied and each worthy of careful perusal. Americans concerned about their country's fate under a Donald Trump presidency will find that this book is the ideal resource for meaningful civic engagement.
— Publishers Weekly
Dey Street Books, 9780062686480, 208pp.
Publication Date: January 10, 2017
About the Author
A graduate of Stanford and Harvard, Gene Stone is a former Peace Corps volunteer, journalist, and book, magazine, and newspaper editor. He has also written or ghost-written forty books, including a dozen New York Times bestsellers, and a novel, The Awareness.  His website is www.genestone.com.
or
Not Currently Available for Direct Purchase