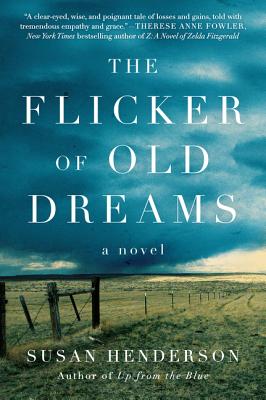 The Flicker of Old Dreams
A Novel
Paperback

* Individual store prices may vary.
Other Editions of This Title:
Library Binding, Large Print (6/27/2018)
Description
High Plains Book Award Winner for Fiction • Western Writers of America Spur Award Winner for Best Contemporary  Western Novel •  WILLA Literary Award Winner in Contemporary Fiction • Montana Book Award Honor Book
With the quiet precision of Jane Smiley's A Thousand Acres and the technical clarity of Mary Roach's Stiff, this is a novel about a young woman who comes most alive while working in her father's mortuary in a small, forgotten Western town.
"The dead come to me vulnerable, sharing their stories and secrets . . . "
Mary Crampton has spent all of her thirty years in Petroleum, a small Western town once supported by a powerful grain company. Living at home, she works as the embalmer in her father's mortuary: an unlikely job that has long marked her as an outsider. Yet, to Mary there is a satisfying art to positioning and styling each body to capture the essence of a subject's life.
Though some townsfolk pretend that the community is thriving, the truth is that Petroleum is crumbling away—a process that began twenty years ago when an accident in the grain elevator killed a beloved high school athlete. The mill closed for good, the train no longer stopped in town, and Robert Golden, the victim's younger brother, was widely blamed for the tragedy and shipped off to live elsewhere. Now, out of the blue, Robert has returned to care for his terminally ill mother. After Mary—reserved, introspective, and deeply lonely—strikes up an unlikely friendship with him, shocking the locals, she finally begins to consider what might happen if she dared to leave Petroleum.
Set in the American West, The Flicker of Old Dreams explores themes of resilience, redemption, and loyalty in prose as lyrical as it is powerful.
Praise For The Flicker of Old Dreams: A Novel…
"Susan Henderson offers us the wondrous, sharp picture of the small town of Petroleum, Montana where the past comes back on two feet and a blizzard rages. The Flicker of Old Dreams is a fine novel, heartfelt and bracing company. It is a gem." — Ron Carlson, author of Five Skies
"Susan Henderson's The Flicker of Old Dreams is a clear-eyed, wise, and poignant tale of losses and gains, told with tremendous empathy and grace." — Therese Anne Fowler, New York Times bestselling author of Z: A Novel of Zelda Fitzgerald
"The Flicker of Old Dreams is at once a vivid and wildly compelling study of small town American life and an intimate and incisive exploration of the human condition, from love to loss and beyond."   — Jonathan Evison, the New York Times
"Susan Henderson has secured her position as one of my favorite novelists. You won't be able to turn away from this tender, elegiac and haunting novel that beautifully exposes the human heart, the human body, and the human condition." — Jessica Anya Blau, author of the nationally bestselling novel The Summer of Naked Swim Parties
"This novel is so breathtakingly good, so exquisitely written. About a female mortician, about a childhood tragedy that still haunts a damaged young man, about the endless landscape and about those tiny sparks of possibility. Oh my God. Trust me. This book. This book. This Book." — Caroline Leavitt, New York Times bestselling author of Cruel Beautiful World
"A truly magnificent work of art. The soul energy that is pushing through this story is unstoppable, beautiful, vulnerable, powerful." — Jessica Keener, author of Night Swim and Strangers in Budapest
"Like the wind scours paint from an old grain silo, Susan Henderson's writing scours away all the pretend niceness of small town life in Montana to reveal the frayed and patched nature of humanity." — Helen Simonson, New York Times bestselling author of The Summer Before the War
Harper Perennial, 9780062686701, 320pp.
Publication Date: March 13, 2018
About the Author
Susan Henderson is a four-time Pushcart Prize nominee and the recipient of an Academy of American Poets Prize. She is the author of two novels, The Flicker of Old Dreams and Up from the Blue, both published by HarperCollins. Susan lives in Kings Park, New York and blogs at the writer support group, LitPark.com.