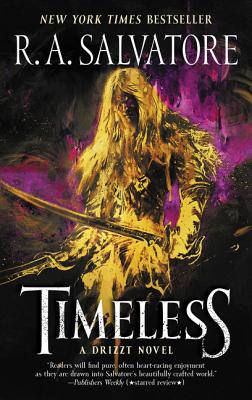 Timeless
A Drizzt Novel (Generations)
Mass Market

* Individual store prices may vary.
Other Editions of This Title:
Digital Audiobook (9/3/2018)
Hardcover (9/4/2018)
Compact Disc (9/4/2018)
MP3 CD (9/4/2018)
Compact Disc (9/4/2018)
Description
New York Times Bestseller!
R. A. Salvatore returns with one of fantasy's most beloved and enduring icons, the dark elf Drizzt Do'Urden, in an all-new trilogy full of swordplay, danger, and imaginative thrills,
Centuries ago, in the city of Menzoberranzan, the City of Spiders, the City of Drow, nestled deep in the unmerciful Underdark of Toril, a young weapon master earned a reputation far above his station or that of his poor house.
The greater nobles watched him, and one matron, in particular, decided to take him as her own. She connived with rival great houses to secure her prize, but that prize was caught for her by another, who came to quite enjoy the weapon master.
This was the beginning of the friendship between Zaknafein and Jarlaxle, and the coupling of Matron Malice and the weapon master who would sire Drizzt Do'Urden.
R. A. Salvatore reveals the Underdark anew through the eyes of Zaknafein and Jarlaxle—an introduction to the darkness that offers a fresh view of the opportunities to be found in the shadows and an intriguing prelude to the intriguing escapes that lie ahead in the modern-day Forgotten Realms. Here, a father and his son are reunited and embark on adventures that parallel the trials of centuries long past as the friends of old are joined by Drizzt, Hero of the North, trained by Grandmaster Kane in the ways of the monk.
But the scourge of the dangerous Lolth's ambitions remain, and demons have been foisted on the unwitting of the surface. The resulting chaos and war will prove to be the greatest challenge for all three.
Praise For Timeless: A Drizzt Novel (Generations)…
"All readers will find pure, often heart-racing enjoyment as they are drawn into Salvatore's beautifully crafted world."
— Publishers Weekly (starred review)

"Salvatore fans will rejoice."
— Kirkus Reviews

"Engagingly written, inclusive of those outside the lore, and leaving much to be discovered in future installments.Timeless is a fantastic place for newcomers to the Drizzt series to onboard as well as a continuation of a beloved and iconic character's story."
— Nerds on Earth

"Packed with fighting, intrigue, suspense and thrills [...] It is a compulsively readable fantasy novel. Readers of fantasy novels will simply rejoice."
— Washington Book Review
Harper Voyager, 9780062688606, 448pp.
Publication Date: May 28, 2019
About the Author
Thirty-four years ago, R. A. Salvatore created the character of Drizzt Do'Urden, the dark elf who has withstood the test of time to stand today as an icon in the fantasy genre. With his work in the Forgotten Realms, the Crimson Shadow, the DemonWars Saga, and other series, Salvatore has sold more than thirty million books worldwide and has appeared on the New York Times bestseller list more than two dozen times. He considers writing to be his personal journey, but still, he's quite pleased that so many are walking the road beside him! R.A. lives in Massachusetts with his wife, Diane, and their two dogs, Dexter and Pikel. He still plays softball for his team, Clan Battlehammer, and enjoys his weekly DemonWars: Reformation RPG and Dungeons & Dragons 5e games. Salvatore can be found at RASalvaStore.com