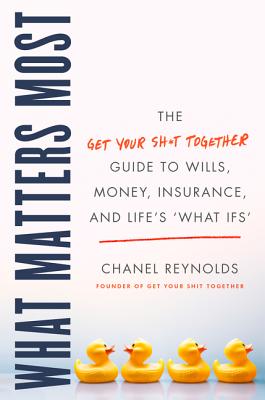 What Matters Most
The Get Your Shit Together Guide to Wills, Money, Insurance, and Life's "What-ifs"
Hardcover

* Individual store prices may vary.
Other Editions of This Title:
Digital Audiobook (3/18/2019)
Paperback (1/5/2021)
Compact Disc (3/19/2019)
MP3 CD (3/19/2019)
Compact Disc (3/19/2019)
Description
A practical look at putting your life together written by the founder of the internationally celebrated website Get Your Shit Together and informed by the author's personal experience after her husband was killed in a biking accident. Part memoir, part hard-working how-to guidebook, What Matters Most inspires readers to get their 'affairs in order' before the unthinkable (or inevitable) happens.
On July 17, 2009, Chanel Reynolds's husband, José, was sideswiped by a van while cycling near their home in Seattle. In the aftermath of her husband's sudden death, Reynolds quickly realized that she was left bewildered and underprepared for what happens next. What was the password to his phone? Did they sign their wills? How much insurance did they have? Could she afford the house? And what the hell was probate court anyway? Simply put, when life went sideways she didn't have her shit together.
As it turns out, most of us don't either. We're too busy, in denial, overwhelmed, don't know where to start. We procrastinate or outright avoid having these difficult yet critical conversations.
Reynolds learned the hard way that hoping for the best is not a plan, but you don't have to. Drawing on her first-hand experience, expert advice, and the unparalleled resources she's compiled from her popular website and checklists, Reynolds lends her, friendly, human voice to help readers navigate and avoid much of confusion, overwhelm, and uncertainty when 'something happens' and learn how to:
• Create a will, living will, and power of attorney documents
• Update (or finally get) the right life insurance policy
• Start or grow an emergency fund and prioritize your spending
• Make a watertight emergency and 'What-If' plan
• Keep secure, up-to-date records of personal information
Authoritative yet intimate, grounded but irreverent, Reynolds's voice carries readers through a tough subject with candor and compassion. Weaving personal story with hard-won wisdom, What Matters Most is the approachable, no-nonsense handbook we all need to living a life free of worry and "what ifs."
Praise For What Matters Most: The Get Your Shit Together Guide to Wills, Money, Insurance, and Life's "What-ifs"…
"How strange to have been so conscious about money in life but lax about where it all goes when I die. That stopped the day I read Chanel's book. How free I feel to have these tasks done." — Vicki Robin, New York Times bestselling author of Your Money or Your Life

"There's little point in worrying about a future death, but simple acts of planning can relieve your worries, protect and prepare you for what lies ahead, and give you a calmer and more peaceful today. These preparations are not only pragmatic acts, but sacred gifts to our future selves and to those we love who will survive us. What Matters Most is a reassuring, step-by-step guide to a better future in the midst of grief and loss." — Katy Butler, author of Knocking on Heaven's Door and The Art of Dying Well
"Chanel Reynolds took her own unthinkable tragedy and turned it into a rallying cry for us all to get our sh*t together before it's too late. In What Matters Most, she is your funny, irreverent friend, who's here to show you tough love. The time for death denial and keeping your head in the sand is over." — Caitlin Doughty, New York Times bestselling author of Smoke Gets in Your Eyes

"Grief is a monster better confronted without a legal, financial and logistical mess left behind; Chanel's wisdom is a gift to all future dead people wanting to lift some of the burden of loss off their surviving loved ones. What Matters Most offers you the chance to consider, and find, those critical answers." — Rebecca Soffer, coauthor of Modern Loss: Candid Conversation About Grief. Beginners Welcome
"If anything will make you finally write a will, get life insurance, make a folder with all your passwords, or write letters to your loved ones, this remarkable book is it." — CrossCut (Seattle)
"Reynolds' story, told from the trenches of life, is powerful and wise. Her message--sort out your finances and get your end-of-life wishes in order before it's too late--offers readers a generous opportunity to learn from her experiences and be more fully prepared." — Shelf Awareness
"Reynolds provides not only sound counseling but a straightforward plan for when the unthinkable occurs." — Library Journal
Harper Wave, 9780062689436, 352pp.
Publication Date: March 19, 2019
About the Author
Chanel Reynolds is the founder of the internationally praised website GetYourShitTogether.org, inspiring and motivating millions of people worldwide with the jumpstart they need to prepare for life's curveballs. She was the founding Managing Director of WorldChanging and has used her unique expertise leading projects for clients such as Nike, Samsung, Microsoft, and Starbucks. Reynolds uses her uncanny ability to talk about the hard things at speaking events and conferences all over the world. She lives in Seattle and spends her free time cooking, hiking, doing yoga with her family, and often staying up too late-just because she can.