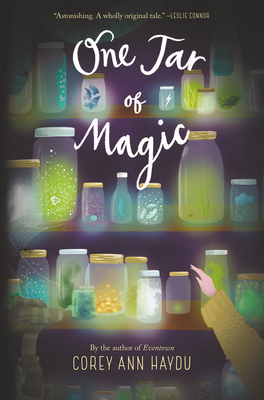 One Jar of Magic
Hardcover

* Individual store prices may vary.
Other Editions of This Title:
Digital Audiobook (2/8/2021)
Paperback (8/23/2022)
Description
From the critically acclaimed author of Eventown comes a hopeful and empowering tale set in an enchanting world of magic and mysterious family secrets—perfect for fans of Anne Ursu, Rebecca Stead, and Wendy Mass.
Magic is like a dream. Delightful. Terrifying. Unreal.
Rose Alice Anders is Little Luck. Lucky to be born into the Anders family. Lucky to be just as special and magical as the most revered man in town—her father. The whole town has been waiting for Rose to turn twelve, when she can join them in their annual capturing of magic on New Year's Day and become the person she was born to be.
But when that special day finally comes, Rose barely captures one tiny jar of magic. Now Rose's dad won't talk to her anymore and her friendships have gotten all twisted and wrong. So when Rose hears whispers that there are people who aren't meant for magic at all, she begins to wonder if that's who she belongs with.
Maybe if she's away from all the magic, away from her dad telling her who she's meant to be, who she has to be, Rose can begin to piece together what's truly real in a world full of magic.
* An SLJ Best Book of the Year * A CCBC Choices Pick of the Year *
Praise For One Jar of Magic…
"The worldbuilding and magic system are enchanting and expertly crafted. The characters are richly developed and emotionally complex. Affecting and unforgettable." — Kirkus Reviews (starred review)
"Haydu's story is a stunner. Its magic system is inventive and imaginative, and Rose and her world are drawn with care and compassion. A carefully crafted message of hope and the sometimes-painful beauty in forging an identity all your own." — Booklist (starred review)
"Rose's visceral pain and her hard-earned agency will be deeply felt. ­Readers who enjoy everyday magic, friendship ­stories, and family drama will be enchanted by this magic jar of a book." — School Library Journal (starred review)
"Taut underlying tension and a sympathetically flawed protagonist. Haydu deftly, and with startling clarity, portrays the presence and devastating effect of abuse on a family." — Publishers Weekly (starred review)
"Gently honest and emotionally astute." — Bulletin of the Center for Children's Books
"Prepare to be blown away! One Jar of Magic has the power to bruise the heart, broaden the mind--and somehow, leave an astonishing glow. A wholly original tale." — Leslie Connor
"One Jar of Magic is a bittersweet tale of unmet expectations and complicated relationships, but most of all, it's about finding magic inside yourself and trusting who you really are. A powerful and empowering story." — Yamile Saied Méndez, author of On These Magic Shores
Praise for Eventown: "A wonderful and inventive story about being a kid in an imperfect world—beautiful, mysterious, and deeply satisfying." — Rebecca Stead, author of When You Reach Me and Goodbye Stranger
"At once enchanting, heart-rending, and bittersweet." — Kirkus Reviews (starred review)
"An emotionally complex and wonderfully told story." — School Library Journal (starred review)
"[A] thought-provoking novel... [A] memorable and brave heroine." — Publishers Weekly (starred review)
Praise for The Someday Suitcase:
"Quietly superb prose...Haydu doesn't romanticize illness, but she provides comfort through art, science, magic, love, and a purple suitcase."

— Kirkus Reviews (starred review)
"Poignant and powerful. A heartbreaking story about the healing power of friendship amid human fragility." — Booklist (starred review)
"In this moving, exquisitely written story, Corey Ann Haydu explores the thin line between science and magic within an intense bond of friendship." — Shelf Awareness (starred review)
Praise for Rules for Stealing Stars: "A well-crafted blend of realism and fantasy."

— School Library Journal (starred review)
"[A] lyrical story of love and loss. The way the sisters fight and love in equal measure, as well as their basic need for one another, rings poignantly true in this touching and heartwarming story, which contains a 'tiny bit of magic, right here in the real world." — Booklist (starred review)
Praise for Hand-Me-Down Magic #1: "Haydu, author of OCD Love Story and other compelling works, offers a pleasing setup in this first volume of a new series. Reading is swift and accessible, broken up by copious cheerful illustrations, and youngsters will long to share in the cousins' idyllic family life while understanding the pitfalls of propinquity."  — Bulletin of the Center for Children's Books
"A nuanced look at the girls' friendship, emotions, and motivations. A transitional chapter book with unusual depth, good pacing, and a loving, supportive Latinx family. Libraries should find space on their shelves for this new series." — Booklist
"This series debut is a sweet tale about friendship, family, and being the new kid on the block... The line-drawing illustrations throughout give a glimpse of the street where the girls live... Put this book in the hands of kids who enjoy series like Annie Barrows's "Ivy and Bean" or  Megan McDonald's "Judy Moody."" — School Library Journal
Katherine Tegen Books, 9780062689856, 352pp.
Publication Date: February 9, 2021
About the Author
Corey Ann Haydu is the author of Eventown and other acclaimed novels for children and young adults. She grew up in the Boston area, earned her MFA at the New School, and now lives in Brooklyn with her husband and her toddler daughter, who hasn't yet discovered the delight of tea parties with her abuelita, but is already curious enough to make an excellent detective. Find out more at www.coreyannhaydu.com.