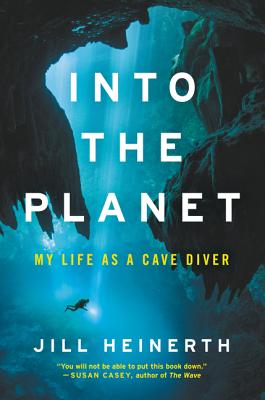 Into the Planet
My Life as a Cave Diver
Hardcover

* Individual store prices may vary.
Other Editions of This Title:
Digital Audiobook (9/9/2019)
Digital Audiobook (8/19/2019)
Description
From one of the world's most renowned cave divers, a firsthand account of exploring the earth's final frontier: the hidden depths of our oceans and the sunken caves inside our planet

More people have died exploring underwater caves than climbing Mount Everest, and we know more about deep space than we do about the depths of our oceans. From one of the top cave divers working today—and one of the very few women in her field—Into the Planet blends science, adventure, and memoir to bring readers face-to-face with the terror and beauty of earth's remaining unknowns and the extremes of human capability.
Jill Heinerth—the first person in history to dive deep into an Antarctic iceberg and leader of a team that discovered the ancient watery remains of Mayan civilizations—has descended farther into the inner depths of our planet than any other woman. She takes us into the harrowing split-second decisions that determine whether a diver makes it back to safety, the prejudices that prevent women from pursuing careers underwater, and her endeavor to recover a fallen friend's body from the confines of a cave. But there's beauty beyond the danger of diving, and while Heinerth swims beneath our feet in the lifeblood of our planet, she works with biologists discovering new species, physicists tracking climate change, and hydrogeologists examining our finite freshwater reserves.
Written with hair-raising intensity, 
Into the Planet 
is the first book to deliver an intimate account of cave diving, transporting readers deep into inner space, where fear must be reconciled and a mission's success balances between knowing one's limits and pushing the envelope of human endurance.
Praise For Into the Planet: My Life as a Cave Diver…
"Wrestles with the human compulsion to . . . explore a world that is every bit as hostile as it is beautiful. . . . A very vivid book. . . . Ms. Heinerth is very good at making you understand both the otherworldly euphoria and claustrophobic horror of cave diving."
— Wall Street Journal

"Superb, honest, incredibly engaging . . . a captivating biography and a love letter to a sport where any small mistake can result in death—and any perfect dive can mean an amazing discovery."
— NPR

"Exhilarating . . . Heinerth offers a fish's-eye view of the terrifying beauty of the deep blue sea."
— O Magazine

"Breathtaking . . . Written in cinematic detail, Into the Planet is a thrilling portrait of bravery, innovation, and the extreme limits of human capability. . . . one of the most hair-raising accounts of extreme exploration I've read in recent memory."
— Gizmodo

"A hugely enjoyable, inspiring, and thrilling self-exploration of the life of Jill Heinerth, one of the world's greatest living explorers."
— Diver

"An eye-opening, edge-of-the-seat, thrill of a read that's destined to become a trail blazing classic of diving literature."
— Nektonix

"A meditation on the paradoxical power of fear."
— Sierra Magazine

"Gripping."
— AARP Magazine

"A breathtaking thrill-ride. Few people have witnessed the sublime beauty of labyrinthine underwater caves or the inside of an iceberg but Jill Heinerth knows these realms intimately. Her courage and heart are as evident in her writing as they are in her groundbreaking explorations." 
— Susan Casey, author of The Wave: In Pursuit of the Rogues, Freaks, and Giants of the Ocean

"Heinerth will not look back on her life with any regrets about a lack of bravery or passion. In this gripping story, we plunge into Heinerth's eccentric world of death-defying caves, and into her inner sanctum forged by the thrill of discovery. I read wide-eyed, page after page."
— Diana Nyad, long-distance swimmer and author of Find a Way

"By turns terrifying, exhilarating, and inspirational . . . Talk about extreme adventure. If you don't know the name Jill Heinerth, prepare to be dazzled and astonished. Move over, Jon Krakauer. This well-written memoir is destined to become a world classic of exploration literature."
— Ken McGoogan, author of Fatal Passage

"Cave divers are another breed, which I never truly understood; that is until I met Jill Heinerth on a cave diving trip off Santa Cruz Island and had a chance to read her new book Into the Planet, which helped to explain it all. A Must Read!"
— Dr. Robert D. Ballard, Discoverer of the RMS TITANIC

"A thrill ride into unfamiliar worlds."
— Publishers Weekly

"Jill Heinerth's lifelong passion to explore the most hidden recesses of our planet has driven her to boldly go where—quite literally—no one had gone before. She takes us along on her awe-inspiring journey, revealing the oceans of opportunity that exist right beneath our very feet."
— Richie Kohler, shipwreck explorer and subject of the New York Times Best Seller Shadow Divers

"Into the Planet chronicles, in chiseled prose, a lifetime pursuing science and discovery in exploration's most lethal and least forgiving discipline. Time and again, Heinerth has ventured into realms where mishap can, quite literally, take your breath away. Just reading about her exploits can do the same."
— James M. Tabor, author of Blind Descent and Forever on the Mountain

"A compelling story of an adventurous, bold life yielding rewards of love, discovery, and personal growth."
— Bernie Chowdhury, author of The Last Dive
Ecco, 9780062691545, 288pp.
Publication Date: August 20, 2019
About the Author
Jill Heinerth is a cave diver, underwater explorer, writer, photographer, and filmmaker. She has starred on TV series for PBS, National Geographic Channel, and the BBC and has consulted on movies for directors including James Cameron. She splits her time between Florida and Canada.
Coverage from NPR