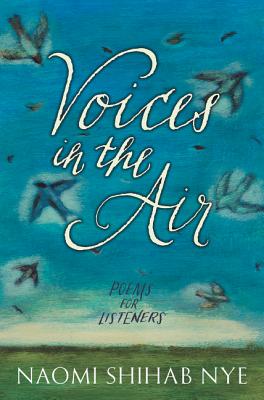 Voices in the Air
Poems for Listeners
Hardcover

* Individual store prices may vary.
Other Editions of This Title:
Paperback (3/15/2022)
Description
Acclaimed and award-winning poet, teacher, and National Book Award finalist Naomi Shihab Nye's uncommon and unforgettable voice offers readers peace, humor, inspiration, and solace. This volume of almost one hundred original poems is a stunning and engaging tribute to the diverse voices past and present that comfort us, compel us, lead us, and give us hope.
Voices in the Air is a collection of almost one hundred original poems written by the award-winning poet Naomi Shihab Nye in honor of the artists, writers, poets, historical figures, ordinary people, and diverse luminaries from past and present who have inspired her. Full of words of encouragement, solace, and hope, this collection offers a message of peace and empathy.
Voices in the Air celebrates the inspirational people who strengthen and motivate us to create, to open our hearts, and to live rewarding and graceful lives. With short informational bios about the influential figures behind each poem, and a transcendent introduction by the poet, this is a collection to cherish, read again and again, and share with others. Includes an index.
Praise For Voices in the Air: Poems for Listeners…
"A rich collection of poems celebrating diverse lives. ...Asking tough questions and demonstrating the beauty of the voices on the fringe, Nye once again deftly charts the world through verse: not to be missed."
— Kirkus Reviews (starred review)

"Nye frames the collection ever so clearly, first with the title, second with the subtitle, and third with her masterly written introduction. Her intentionality is palpable but never contrived. ...A beautifully constructed, thoughtful, and inspiring collection...A vital addition to poetry collections."
— School Library Journal (starred review)

"With her trademark conversational style, [Nye] feels like the sister you wish you had: warm, curious and insightful. ...The poems in this collection are suffused with humor and thoughtfulness...Teen readers will love the gentle intensity of Nye's words and messages and the accessibility of her poetry. Beautiful."  
— Shelf Awareness (starred review)

"Inspired and guided by the voices that surround her...Nye's free verse tells of the wisdom, solace and beauty she has found and urges readers to join her...Nye displays a palpable, unwavering empathy and hope for a better world."
— New York Times Book Review

"Nye delivers graceful dedications and intimate recollections, playful musings and sharp rebukes. ...there's no doubt that Nye's nimble, clear-eyed, and quietly political poems—supplemented by meticulous biographical notes—may make an avid listener out of anyone."
— ALA Booklist

"[Nye] honors new world freedoms and old world traditions and celebrates youth without discounting childhood's haphazard impulsiveness. ...Nye's thought-provoking and timely collection will serve as a gentle invitation to use poems as tools for making sense of a world in crisis and explaining the strangeness of everyday lives."
— Voice of Youth Advocates (VOYA)

"Taken in sequence, the poems lead the reader through a natural and profound emotional progression. As much as the poems function as windows into their subjects, together they offer a sort of self-portrait of the poet herself, painted in negative space."
— The Horn Book

"'Can we go outside and listen?' Naomi Nye ponders in her introduction. Or stay in. Reflect. Pay. Attention. If we do we'll find there is no such things as a too-small moment or memory. ...Nye is, above all, a poet of hope and heartening. ...Thank you, Naomi."
— Cooperative Children's Book Center

"The poems are moving when read aloud, but Nye is also asking readers to take part in a more profound and subtle type of listening, a kind that cuts through the noise and hears what matters."
— Publishers Weekly

"Like happiness itself, Nye's poems steal up on us and take us by surprise. This collection, especially, encourages listening: to nature, to other voices, and to the whispers of our own hearts. ...Brimming with affection, wit and optimism, these are poems we truly need right now. A+"
— Cleveland Plain Dealer
Greenwillow Books, 9780062691842, 208pp.
Publication Date: February 13, 2018
About the Author
Naomi Shihab Nye is a poet and anthologist and the acclaimed author of Habibi: A Novel and Sitti's Secrets, a picture book, which was based on her own experiences visiting her beloved Sitti in Palestine. Her book 19 Varieties of Gazelle: Poems of the Middle East was a finalist for the National Book Award. She has taught writing and worked in schools all over the world, including in Muscat, Oman. She lives in San Antonio, Texas.