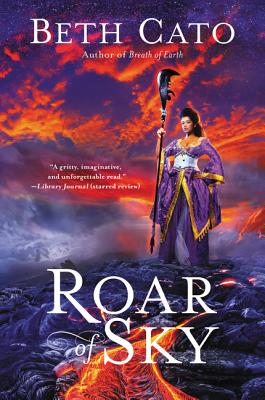 Roar of Sky (Blood of Earth #3) (Paperback)
Harper Voyager, 9780062692252, 448pp.
Publication Date: October 23, 2018
* Individual store prices may vary.
Description
"A sterling conclusion to a strong series." — Publishers Weekly
"Incredibly enjoyable" — SciFi Pulse
In this stunning conclusion to the acclaimed Blood of Earth trilogy—a thrilling alternate history laced with earth magic, fantastic creatures, and steampunk elements—geomancer Ingrid must find a way to use her extraordinary abilities to save her world from the woman hell-bent on destroying it.
Thanks to her geomantic magic, Ingrid has successfully eluded Ambassador Blum, the power-hungry kitsune who seeks to achieve world domination for the Unified Pacific. But using her abilities has taken its toll: Ingrid's body has been left severely weakened, and she must remain on the run with her friends Cy and Fenris.
Hoping to learn more about her magical roots and the strength her bloodline carries, Ingrid makes her way across the Pacific to Hawaii, home to the ancient volcano goddess Madam Pele. What she discovers in this paradise is not at all what she expects—and perhaps exactly what she needs.
But Ambassador Blum comes from the same world of old magic and mythic power. And if Ingrid cannot defeat her once and for all, she knows Blum will use that power to take the lives of everyone she holds dear before escalating a war that will rip the world to pieces.
About the Author
Nebula Award–nominated author Beth Cato hails from Hanford, California, but currently writes and bakes cookies in a lair west of Phoenix, Arizona. She's the author of the Clockwork Dagger duology and the Blood of Earth trilogy, plus scores of other short stories and poems across a multitude of publications. She shares her household with a hockey-loving husband, a numbers-obsessed son, and three feline overlords.
Praise For Roar of Sky (Blood of Earth #3)…
"Cato skillfully arranges her scenes to underscore the emotional strengths that propel her characters to be 'audacious and brave,' and empathy and redemption are at the heart of her tale. This is a sterling conclusion to a strong series."
— Publishers Weekly (starred review)

"A strong and fun read. . . . Incredibly enjoyable"
— SciFi Pulse

"Steampunk fans will be thoroughly pleased with the culmination of this fabulous fantasy adventure."
— Booklist

"Cato brings increased nuance and skilled characterization to her second Blood of Earth historical fantasy...[she] ably juggles historical fact and fantastical elements to create an alternate 1900s America as finely adorned with Asiatic touches as the modified kimono that Ingrid wears."
— Publishers Weekly (starred review) on Call of Fire

"Where Breath of Earth really shines is in its detail and relevance. Cato's exhaustive research of the time and place gives the book texture and grit…[and] she embroiders it richly with gorgeous period setpieces, imaginative speculation and the charismatic Ingrid herself."
— NPR

"The acclaimed Cato creates an alternate early 20th-century San Francisco of stunning detail. Drawing on the power struggles of the refugees and women's work, this vivid reality will keep readers intrigued to the very end."
— Library Journal (starred review) on Breath of Earth

"Cato, author of the Clockwork Dagger books, begins a new steampunk fantasy series with supernatural creatures, action-packed adventure, mystery, humor, a touch of romance, and more to come."
— Booklist (starred review) on Breath of Earth