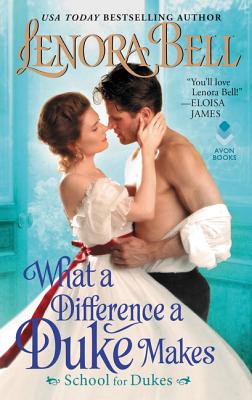 What a Difference a Duke Makes (Mass Market)
School for Dukes
Avon, 9780062692481, 384pp.
Publication Date: March 27, 2018
* Individual store prices may vary.
Description
Wanted: Governess for duke's unruly children
Edgar Rochester, Duke of Banksford, is one of the wealthiest, most powerful men in England, but when it comes to raising twins alone, he knows he needs help. The only problem is the children have terrorized half the governesses in London. Until the clever, bold, and far-too-enticing Miss Mari Perkins arrives.
Lost: One heart to an arrogant duke
Mari knows how to wrap even the most rebellious children around her finger. But their demanding, wickedly handsome father? He won't be quite so easy to control. And there's something else she can't seem to command. Her heart. The foolish thing beats so wildly every time Edgar is near.
Found: A forbidden passion neither can deny
As his employee, Mari is strictly off-limits. But what if she's the one breaking all his rules? In the game of governess versus duke, how can Edgar maintain his defenses when the only thing he wants to do is let the tempting beauty win . . .?
About the Author
Lenora Bell is a USA Today bestselling, award-winning author of historical romances. A teacher with an MFA in Creative Writing, Lenora has lived and worked on five continents. She currently lives in New Zealand with her carpenter husband and two tiger-striped rescue kitties. She loves hearing from readers! Sign up for her mailing list to hear about new books, sales, and giveaways.
Praise For What a Difference a Duke Makes: School for Dukes…
"Bell (the Disgraceful Dukes series) makes this her own story, piling on plenty of witty dialogue, unconventional characters, and hints of mystery to leave readers both satisfied and eager for the next in the series."

— Publishers Weekly (starred review)

"In the first entry in her new School for Dukes series, Bell (Blame It on the Duke, 2017, etc.) reimagines the story of Mary Poppins for the Regency era, with delightful results that go beyond the typical fairy tale [...] A supercalifragilisticexpialidocious start to a new Regency series."
— Kirkus Reviews

"Sassy dialog, breathtaking chemistry, and a healthy dollop of hilarity result in a Mary Poppins-like success that takes the classic governess tale to a new level. Great fun!"
— Library Journal