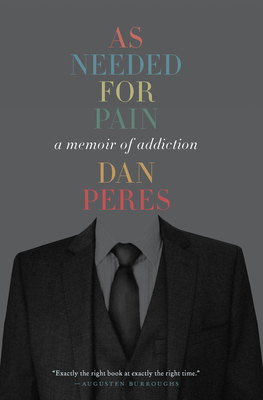 As Needed for Pain
A Memoir of Addiction
Hardcover

* Individual store prices may vary.
Other Editions of This Title:
Digital Audiobook (2/10/2020)
MP3 CD (2/11/2020)
Compact Disc (2/11/2020)
Description
In the vein of Mary Karr's Lit, Augusten Burroughs' Dry and Sarah Hepola's Blackout, As Needed for Pain is a raw and riveting—and often wryly funny—addiction memoir from one of New York media's most accomplished editors which explores his never-before-told story of opioid addiction and the drastic impact it had on his life and career.

Dan Peres wasn't born to be a media insider. As an awkward, magic-obsessed adolescent, nothing was further from his reality than the catwalks of Paris or the hallways of glossy magazine publishers. A gifted writer and shrewd cultural observer, Peres eventually took the leap—even when it meant he had to fake a sense of belonging in a new world of famed fashion designers, celebrities, and some of media's biggest names. But he had a secret: opiates.
Peres's career as an editor at W magazine and Details is well known, but little is known about his private life as a high-functioning drug addict. In As Needed for Pain, Peres lays bare for the first time the extent of his drug use—at one point a 60-pill-a-day habit.
By turns humorous and gripping, Peres's story is a cautionary coming-of-age tale filled with unforgettable characters and breathtaking brushes with disaster. But the heart of the book is his journey from outsider to insecure insider, what it took to get him there, and how he found his way back from a killing addiction.
As Needed for Pain offers a rare glimpse into New York media's past—a time when print magazines mattered—and a rarefied world of wealth, power, and influence. It is also a brilliant, shocking dissection of a life teetering on the edge of destruction, and what it took to pull back from the brink.
Praise For As Needed for Pain: A Memoir of Addiction…
"Exactly the right book at exactly the right time... As Needed for Pain must have been difficult to write; it's difficult to read. But it's an important book. While it's just one man's testimony of his journey into and through his addiction to pain killers, it's a universal story that anyone from any background who knows the evil of opiate addiction will deeply relate to." 
— Augusten Burroughs, author of Running with Scissors and Dry

"This memoir exists in the realm of grace—what causes Dan Peres to take his first pill, what causes him to take his last, remains a mystery. In between there  are magic and lies, mistakes and glamour, pretense and escape."

— Nick Flynn, author of Another Bullshit Night in Suck City 

"With humility, humor and courage, Dan Peres' story of pretending to be on top of the world when in fact he was hitting rock bottom is a memoir for our times. An eye-opening, enthralling read, AS NEEDED FOR PAIN is an unforgettable memoir."
— Ayelet Waldman, author of A Really Good Day
Harper, 9780062693464, 256pp.
Publication Date: February 11, 2020
About the Author
Dan Peres was editor in chief of Details for fifteen years, starting
in 2000, when the title relaunched under his leadership. During his
tenure, the magazine won many awards, including two National
Magazine Awards. Before taking the editorship of Details, Dan
spent nine years at W magazine, overseeing bureaus in Paris,
London, and Milan. While in college, he worked as a copy boy at
the New York Times and later as a research assistant at Esquire. He
is the author of Details Men's Style Manual. He lives in New York
and has three sons.