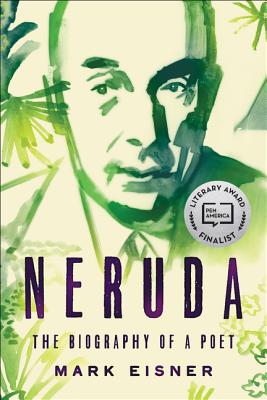 Neruda
The Biography of a Poet
Paperback

* Individual store prices may vary.
Other Editions of This Title:
Hardcover (3/27/2018)
Description
A Finalist for the PEN/Bograd Weld Prize for Biography  
The most definitive biography to date of the poet Pablo Neruda, a moving portrait of one of the most intriguing and influential figures in Latin American history
Few poets have captured the global imagination like Pablo Neruda. In his native Chile, across Latin America, and in many other parts of the world, his name and legacy have become almost synonymous with liberation movements, and with the language of erotic love.
Neruda: The Poet's Calling is the product of fifteen years of research by Mark Eisner, writer, translator, and documentary filmmaker. The book vividly depicts Neruda's monumental life, potent verse, and ardent belief in the "poet's obligation" to use poetry for social good. It braids together three major strands of Neruda's life—his world-revered poetry; his political engagement; and his tumultuous, even controversial, personal life—forming a single cohesive narrative of intimacy and breadth.
The fascinating events of Neruda's life are interspersed with Eisner's thoughtful examinations of the poems, both as works of art in their own right and as mirrors of Neruda's life and times. The result is a book that animates Neruda's riveting story in a new way—one that offers a compelling narrative version of Neruda's life and work, undergirded by exhaustive research, yet designed to bring this colossal literary figure to a broader audience.
Praise For Neruda: The Biography of a Poet…
"Perceptive readings of Neruda's poems are contextualized by an absorbing historical, cultural, and political chronology." — Kirkus Reviews
"The comprehensive result examines Neruda's beloved poetry, political commitment, and roiling personal history to show how his art reflected his life and also stood on its own." — Library Journal
"Efficient and moving... Eisner doesn't let the enchantment of the verse soften his disapproval of the poet's serial adultery or mistreatment of women, and questions Neruda's self-appointed "people's poet" status. Nevertheless, the thematic arc of Neruda's poetic vocation is invitingly presented. Meanwhile [Eisner's] descriptions are poetry themselves..." — Publishers Weekly
"...brings alive Latin America's greatest poet...Empathetic but unflinching when occasion calls for criticism, Eisner weaves his subject's stanzas that resonate with the poet's personal stories. A real treat is the who's who of intellectual luminaries who make cameos throughout...A definitive biography and instant classic." — Library Journal (starred review)
"Eisner succeeds in sharing the story of the 'People's Poet' and his life's many callings in this new standard-bearer among Neruda biographies." — Booklist
Ecco, 9780062694218, 640pp.
Publication Date: February 26, 2019