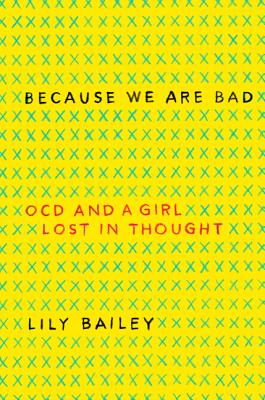 Because We Are Bad
OCD and a Girl Lost in Thought
Hardcover

* Individual store prices may vary.
Other Editions of This Title:
Digital Audiobook (4/2/2018)
Paperback (4/23/2019)
Compact Disc (4/3/2018)
MP3 CD (4/3/2018)
Compact Disc (4/3/2018)
Description
A Washington Post Best Book of 2018
"One of the best [books] I have read on the phenomenology of OCD."—Scott Stossel, the Washington Post
Written with the indelible power of Girl, Interrupted, Brain on Fire, and Reasons to Stay Alive, a lyrical, poignant memoir by a young woman about her childhood battle with debilitating obsessive compulsive disorder, and her hard-won journey to recovery.
By the age of thirteen, Lily Bailey was convinced she was bad. She had killed someone with a thought, spread untold disease, and ogled the bodies of other children. Only by performing an exhausting series of secret routines could she make up for what she'd done. But no matter how intricate or repetitive, no act of penance was ever enough.
Beautifully written and astonishingly intimate, Because We Are Bad recounts a childhood consumed by obsessive compulsive disorder. As a child, Bailey created a second personality inside herself—"I" became "we"—to help manifest compulsions that drove every minute of every day of her young life. Now she writes about the forces beneath her skin, and how they ordered, organized, and urged her forward. Lily charts her journey, from checking on her younger sister dozens of times a night, to "normalizing" herself at school among new friends as she grew older, and finally to her young adult years, learning—indeed, breaking through—to make a way for herself in a big, wide world that refuses to stay in check.
Charming and raw, harrowing and redemptive, Because We Are Bad is an illuminating and uplifting look into the mind and soul of an extraordinary young woman, and a startling portrait of OCD that allows us to see and understand this condition as never before.
Praise For Because We Are Bad: OCD and a Girl Lost in Thought…
"Lily Bailey is precocious.... she writes with a literary poise and a gift for mordant observation and self-deprecating humor that belie her youth. [Because We Are Bad is] one of the best [books] I have read on the phenomenology of OCD."

— Scott Stossel, the Washington Post

"A powerful and poignant memoir about identity, mental illness, and growing up, Because We Are Bad will take your breath away."
— Bustle

"Lily Bailey provides a searingly honest, brave, and beautifully written account of Obsessive Compulsive Disorder, one of mental health's most misinterpreted and misunderstood conditions in her work Because We Are Bad: OCD and A Girl Lost in Thought."
— Brooklyn Digest

"In her courageous book, [Bailey] offers compelling insight into the pain and destructive power of OCD as well as the resilience of a young woman determined to beat the odds. A harrowingly honest memoir of profound psychological struggle."
— Kirkus Reviews

"Bailey offers an authentic and stunning account of her struggle with obsessive compulsive disorder in this beautifully rendered memoir. Bailey is a vulnerable, vibrant, and courageous narrator."
— Publishers Weekly (starred review)

"Reminiscent of Girl, Interrupted and The Bell Jar, Bailey's debut memoir is about living with a debilitating case of obsessive compulsive disorder and her hard-won journey to recovery."
— Purewow, Best of the Best April Books

"Bailey is unsparing in her well-written memoir of her struggles with OCD, giving readers an intimate experience of living with the disorder. Her account focuses much-needed light on a condition that demands to be better understood."
— Michael Cart, Booklist

"Bailey's memoir is an insightful look into growing up with OCD and a great choice for readers of books such as Susanna Kaysen's Girl Interrupted. By transporting readers into her world, she makes understandable the urgent and debilitating obsessions of her experience."
— Library Journal

"Extremely compelling... deeply personal."
— The Guardian

"Even though this raw and emotive story can be heart breaking at times, Lily is still wonderfully funny…. Because We Are Bad will grip you from the start and not only hold your interest, but urge you to read on. This debut memoir is one everyone should read."
— O'Fallon Public Library Blog

In Because We Are Bad, London-based journalist Lily Bailey upends those mischaracterizations of [Obsessive Compulsive Disorder] by beautifully exploring her own life…. Bailey is incredibly honest in her memoir, and in the process, she shows how common OCD is and why it's important to understand the compulsions that plague those with the disorder. You never know who's struggling with it.
— Bitchreads, 15 Books Feminists Should Read in April
Harper, 9780062696168, 272pp.
Publication Date: April 3, 2018
About the Author
Lily Bailey is a model and writer. She became a journalist in London in 2012, editing a news site and writing features and fashion articles for local publications including The Richmond Magazine and The Kingston Magazine. Lily lives in London with her dog, Rocky.
or
Not Currently Available for Direct Purchase