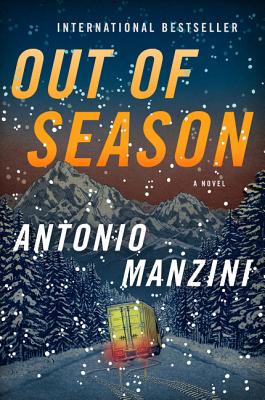 Out of Season
A Novel
Paperback

* Individual store prices may vary.
Other Editions of This Title:
Compact Disc (10/2/2018)
Compact Disc (10/2/2018)
MP3 CD (10/2/2018)
Description
A clever, engaging new novel from bestselling Italian author, Antonio Manzini, following the dashing deputy police chief, Rocco Schiavone, who confronts his most riveting case ever.
It's the bitterly cold spring season in alpine Aosta, and a girl has been kidnapped. Chiara Berguet, daughter of the owners of a local construction firm, was targeted thanks to the sizeable debt her parents owe. But like many a best-laid plan, a blown tire causes the crime to go haywire as the kidnappers' van skids off the road and crashes into a pair of larch trees. Both the driver and his accomplice die on impact, leaving the girl in the back, gagged and bound and unable to break herself free.
Meanwhile Rocco Schiavone wakes to find himself in Anna's apartment. She's the best friend of his girlfriend Nora, and memories of the night before, a heated evening with Anna, return to him. As he sneaks out, he sees the first few snowstorm clouds of the spring season move across the sky, an ominous reference that something is off.
If trouble at home and a case of kidnapping weren't enough, Rocco will eventually have to contend with Enzo Baiocchi. Rocco was the one who sent Enzo to prison, and in the process killed Enzo's brother. Having just escaped from prison, Enzo is heading north with a newly purchased revolver and, clearly, revenge on his mind. And when an unfortunate incident of mistaken identity makes Enzo's act of revenge even more fiendish, it also presents a gruesome scene for Rocco to discover on his return home.
Praise For Out of Season: A Novel…
"An engrossing mystery…the complex, plausible plot is peopled with authentic characters, most notably the wry, pot-smoking, disillusioned Rocco, who was born and raised in Rome...His conversations with colleagues and suspects are sprinkled with wit and astutely shed light on Italy's political and cultural conundrums. Readers will hope to see a lot more of Rocco."
— Publishers Weekly

"Chiara's story torturously elongates time as readers suffer her bewilderment and pain, hanging on for rescue as the pages turn. This plot point alone is worth the read, with Schiavone and his hapless colleagues a bonus. A next-read for those who enjoy Donna Leon's Commissario Guido Brunetti series and Louise Penny's Armand Gamache novels."
— Booklist

"The development of the characters themselves was what really made this novel for me. Every character, every conversation is humorous, sarcastic and witty ... if you want a thriller but also want a light read, some adult humor to lighten your day you absolutely. must. read. this!!!...A next-read for those who enjoy Donna Leon's Commissario Guido Brunetti series and Louise Penny's Armand Gamache novels...Engrossing ..."
— Lit Hub/Book Marks

"Out of Season is another electrifying entry in Manzini's series. Readers may find similarities between Aosta and Louise Penny's Three Pines, a place where everyone knows everyone and knows everything about everyone."
— The Strand Magazine

"Best International Crime Fiction of October"
— CrimeReads

"A thriller novel as chilling as its snowy cover…Manzini gives the reader a detective who has personality and humor…The result is dramatic and arresting.  I would recommend Out of Season for readers in search of a well-woven crime thriller."
— Reading and Literature Resource Blog
Harper Paperbacks, 9780062696496, 352pp.
Publication Date: October 2, 2018
About the Author
Antonio Manzini is an actor, a screenwriter, a director, and the author of two murder mysteries featuring Deputy Police Chief Rocco Schiavone. Black Run is the first of these novels to be translated into English. He lives in Italy.