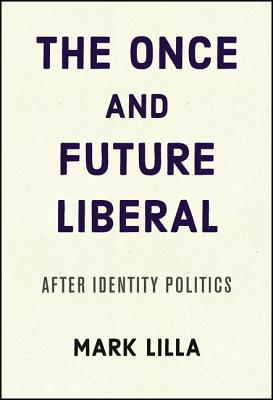 The Once and Future Liberal
After Identity Politics
Hardcover

* Individual store prices may vary.
Other Editions of This Title:
Digital Audiobook (8/28/2017)
Paperback (8/7/2018)
Compact Disc (8/29/2017)
MP3 CD (8/29/2017)
Compact Disc (8/29/2017)
Description
From one of the country's most admired political thinkers, an urgent wake-up call to American liberals to turn from the divisive politics of identity and develop a vision of our future that can persuade all citizens that they share a common destiny.
In The Once and Future Liberal, Mark Lilla offers an impassioned, tough-minded, and stinging look at the failure of American liberalism over the past two generations. Although there have been Democrats in the White House, and some notable policy achievements, for nearly 40 years the vision that Ronald Reagan offered—small government, lower taxes, and self-reliant individualism—has remained the country's dominant political ideology. And the Democratic Party has offered no convincing competing vision in response.
Instead, as Lilla argues, American liberalism fell under the spell of identity politics, with disastrous consequences. Driven originally by a sincere desire to protect the most vulnerable Americans, the left has now unwittingly balkanized the electorate, encouraged self-absorption rather than solidarity, and invested its energies in social movements rather than in party politics. 
With dire consequences. Lilla goes on to show how the left's identity-focused individualism insidiously conspired with the amoral economic individualism of the Reaganite right to shape an electorate with little sense of a shared future and near-contempt for the idea of the common good. In the contest for the American imagination, liberals have abdicated.
Now they have an opportunity to reset. The left is motivated, and the Republican Party, led by an unpredictable demagogue, is in ideological disarray. To seize this opportunity, Lilla insists, liberals must concentrate their efforts on recapturing our institutions by winning elections. The time for hectoring is over. It is time to reach out and start persuading people from every walk of life and in every region of the country that liberals will stand up for them. We must appeal to – but also help to rebuild –  a sense of common feeling among Americans, and a sense of duty to each other.
A fiercely-argued, no-nonsense book, enlivened by Lilla's acerbic wit and erudition, The Once and Future Liberal is essential reading for our momentous times.
Praise For The Once and Future Liberal: After Identity Politics…
"A terrific short book about the decline of American liberalism explaining how they went from the successes of FDR's coalition to the pitfalls of today's identity politics. It's an accessible book that's essential reading for anyone who wants to understand how we arrived in the Trump era and where the Democrats go from here."
— Fareed Zakaria, CNN

"Lilla in his new book issues an important, passionate and highly critical wake-up call to liberals who, he believes, are stuck in the mud…. Lilla's message to liberals is timely and welcome."
— Arlie Hochschild, Washington Post

"Lilla masterfully sets a dialogue in this short book."
— Los Angeles Review of Books

"The Once and Future Liberal is a dead-on diagnosis of what ails the Democrats."
— Guardian

"[Lilla's] argument is an important counter-weight to the prevailing wisdom."
— Financial Times

"Insightful."
— Publishers Weekly

"Though it's a book written by a liberal Democrat for liberal Democrats, every conservative who cares about the future of American politics should read it… The Once And Future Liberal is a punchy, no-b.s. guide to how the Democrats can make the future their own… [A] must-read."
— Rod Dreher, The American Conservative

"After the disaster of November 2016, a wreckage analysis is desperately needed. Mark Lilla offers a deep and provocative brief on what went wrong, and what liberals, moderates, and progressives might do about it."
— Steven Pinker

"In the age of Trump, Mark Lilla's engaging and provocative book is a must-read. The Once and Future Liberal is full of insights on the failure of the identity politics movement, and on what progressives have to do to capture America's imagination and secure the common good."
— William Julius Wilson

"In The Once and Future Liberal, Mark Lilla speaks as a liberal to liberals about liberalism—and finds it wanting. Lilla seeks to summon liberals to a politics of broad national interest …and challenges it with an unforgivably sharp style and keen intellect."
— David Frum, The Atlantic

"If I could magically place a copy of Mark Lilla's The Once and Future Liberal: After Identity Politics into the hands of every Democratic Party politician, activist, major donor, pollster, and consultant in the country, I would…Lilla has written the most admirable and necessary political broadside in years." 
— Damon Linker, The Week

"Lilla is no conservative. Yet it would be hard to find a better skewering of modern American liberalism than in this slim volume…Lilla's book is a sizzling polemic."
— Edward Luce, Financial Times)

"Mark Lilla's The Once and Future Liberal: After Identity Politics has annoyed a great many people in the US, though its message is nothing but common sense: in the age of Trumpery, nothing can be done for vulnerable minorities unless liberals get themselves elected to positions of influence. An urgent and important book by one of the clearest and most inspired political thinkers of the day. "
— John Banville, The Guardian; "Best Book of the Year"

"Mark Lilla questions liberalism's intellectual foundations in order to make it forceful and successful… An important book."
— Laurent Joffrin, Libération (Paris)

"Besides analyzing how American liberals have lost both their appeal and their political power, The Once and Future Liberal proposes a way to make liberalism relevant again."
— Gadi Taub, Ha'aretz

"The Once and Future Liberal is the angry cry of someone on the left who no longer recognizes his comrades…  Polemical but passionate, it is at the center of the identity debates that still divide the United States."
— Le Point (Paris)
Harper, 9780062697431, 160pp.
Publication Date: August 15, 2017
About the Author
Mark Lilla is Professor of the Humanities at Columbia University and a prizewinning essayist for the New York Review of Books and other publications worldwide. His books include The Shipwrecked Mind: On Political Reaction; The Stillborn God: Religion, Politics, and the Modern West; and The Reckless Mind: Intellectuals in Politics. He lives in Brooklyn, New York.