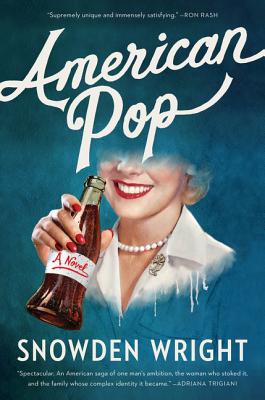 American Pop
A Novel
Hardcover

* Individual store prices may vary.
Other Editions of This Title:
Paperback (2/18/2020)
Paperback, Large Print (2/5/2019)
Description
AN NPR BEST BOOK OF THE YEAR
"Mr. Wright's imagined history of the rise and fall of the sugary drink empire is so robust and recognizable that you might feel nostalgic for the taste of a soda you've never had." – Sam Sacks, The Wall Street Journal
NAMED A MOST ANTICIPATED BOOK BY Parade • Cosmopolitan • Town & Country • AARP •  InStyle • Garden & Gun • Vol. 1 Brooklyn
The story of a family.
The story of an empire.
The story of a nation.
Moving from Mississippi to Paris to New York and back again, a saga of family, ambition, passion, and tragedy that brings to life one unforgettable Southern dynasty—the Forsters, founders of the world's first major soft-drink company—against the backdrop of more than a century of American cultural history.

The child of immigrants, Houghton Forster has always wanted more—from his time as a young boy in Mississippi, working twelve-hour days at his father's drugstore; to the moment he first laid eyes on his future wife, Annabelle Teague, a true Southern belle of aristocratic lineage; to his invention of the delicious fizzy drink that would transform him from tiller boy into the founder of an empire, the Panola Cola Company, and entice a youthful, enterprising nation entering a hopeful new age.
Now the heads of a preeminent American family spoken about in the same breath as the Hearsts and the Rockefellers, Houghton and Annabelle raise their four children with the expectation they'll one day become world leaders. The burden of greatness falls early on eldest son Montgomery, a handsome and successful politician who has never recovered from the horrors and heartbreak of the Great War. His younger siblings Ramsey and Lance, known as the "infernal twins," are rivals not only in wit and beauty, but in their utter carelessness with the lives and hearts of others. Their brother Harold, as gentle and caring as the twins can be cruel, is slowed by a mental disability—and later generations seem equally plagued by misfortune, forcing Houghton to seriously consider who should control the company after he's gone.
An irresistible tour de force of original storytelling, American Pop blends fact and fiction, the mundane and the mythical, and utilizes techniques of historical reportage to capture how, in Nathaniel Hawthorne's words, "families are always rising and falling in America," and to explore the many ways in which nostalgia can manipulate cultural memory—and the stories we choose to tell about ourselves.
Praise For American Pop: A Novel…
"Mr. Wright's imagined history of the rise and fall of the sugary drink empire is so robust and recognizable that you might feel nostalgic for the taste of a soda you've never had."
— Sam Sacks, The Wall Street Journal

"American Pop fizzes with the same energy as a freshly opened soft drink…. Snowden Wright's lush depictions of the varied time periods and locales make it easy to envision it all. So, crack open a can and savor this story." 
— NPR

"A sweeping, supremely entertaining debut novel about a Southern family's very American rise then fall with the fate of their soda company.... Wright tells their story playfully, weaving in various quotes and "facts" about the characters as though they're news reports. It's funny and it totally works."
— AARP

"American Pop delivers a wondrously mosaic-like, multigenerational chronicle of a family that builds a soda pop empire from a Mississippi Delta drugstore.... A singularly original work."
— New York Journal of Books

"A sweeping account of how a family fortune is always variably defined by its different generations.... Snowden Wright's grand and generous American Pop all-too-convincingly renders his American dynasty a mere museum piece in the end, revealing along the way a tough-as-nails sensibility that I much admired."
— Joshua Ferris, bestselling author of To Rise Again at a Decent Hour

"Spectacular . . . an American saga of one man's ambition, the woman who stoked it, and the family whose complex identity it became. Snowden Wright takes us into the heart of the deep South with insight, sophistication, and humor. What a ride!"
— Adriana Trigiani, New York Times bestselling author of Kiss Carlo

"You'll be up all night reading American Pop; rich, Mississippians loose on the world, committing hi-jinks, and with a lovely satisfying ending. A great read."
— Paulette Jiles, bestselling author of News of the World

"In Snowden Wright's excellent novel, past and present blend to reveal a particularly American story of one family's ascent and fall. Like Panola Cola, the soft drink that makes the Forster family fortune, American Pop is supremely unique and immensely satisfying."
— Ron Rash, New York Times bestselling author of Serena

"The House of Forster is built on bubbles; watching each wealth-addled generation try not to blow the family fortune and/or disgrace its name provides not only excellent Southern Gothic fun but a panoramic tour of the American Century."
— Jonathan Dee, author of the Pulitzer Prize Finalist The Privileges

"American Pop captures the best and worst of the twentieth century . . . Wright shows us first what it means to belong to a family; then he shows us what it costs to belong to a country. A remarkable achievement."

— Jeffery Renard Allen, award-winning author of Song of the Shank and Rails Under My Back

"Mr. Wright's imagined history of the rise and fall of the sugary drink empire is so robust and recognizable that you might feel nostalgic for the taste of a soda you've never had . . . the short chapters go down like snack food . . . [with] carnivalesque flavor."
— Sam Sacks, The Wall Street Journal

"In the vein of To Kill A Mockingbird and more recent classics like The Twelve-Mile Straight and Miss Jane, American Pop explores the South's dark side. A probing cultural history, the book is also a literary innovation."
— BookPage

"The Forster children... and their struggles to find their place in the world beyond simply their family legacy is what makes American Pop a profound exploration of identity."
— Deep South Magazine

"Snowden Wright's sprawling historical novel about the generations of a soda pop dynasty reads with a lush accumulation of momentum across the lives of the Forster family and the dozens of strangers unlucky enough to be drawn into its orbit. Every reader will have a favorite Forster, and every reader will be gradually, gloriously disillusioned."
— Open Letters Review
William Morrow, 9780062697745, 400pp.
Publication Date: February 5, 2019
About the Author
Born and raised in Mississippi, Snowden Wright has a B.A. from Dartmouth College and an M.F.A. from Columbia University. He has written for The Atlantic, Salon, Esquire, the Millions, and the New York Daily News, among other publications, and he previously worked as a fiction reader for The New Yorker, Esquire, and The Paris Review. Wright's small-press debut, Play Pretty Blues, was the recipient of the 2012 Summer Literary Seminar's Graywolf Prize. He currently lives in Atlanta, Georgia.