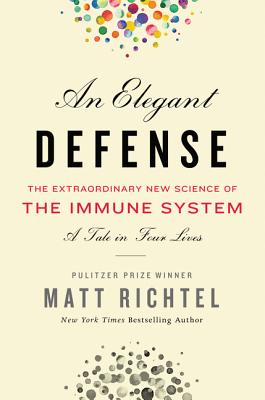 An Elegant Defense
The Extraordinary New Science of the Immune System: A Tale in Four Lives
Hardcover

* Individual store prices may vary.
Other Editions of This Title:
Paperback (3/24/2020)
Paperback, Large Print (3/12/2019)
Compact Disc (3/12/2019)
MP3 CD (3/12/2019)
Paperback, Chinese (1/2/2020)
Compact Disc (3/12/2019)
Description
"A deeply reported and entertainingly written exploration of the human immune system and how it works." —USA Today
National Bestseller * Essential reading during the novel coronavirus (COVID-19) pandemic

The Pulitzer Prize–winning New York Times journalist "explicates for the lay reader the intricate biology of our immune system" (Jerome Groopman, MD, New York Review of Books)
New York Times science reporter Matt Richtel's An Elegant Defense illuminates the human immune system as never before, uniquely entwining intimate patient stories with science's centuries-long quest to unlock the mysteries of sickness and health.
The immune system is our body's essential defense network, a guardian vigilantly fighting viruses and illness, healing wounds, maintaining order and balance, and keeping us alive. Its legion of microscopic foot soldiers—from T cells to "natural killers"—patrols our body, linked by a nearly instantaneous communications grid. It has been honed by evolution over millennia to face an almost infinite array of threats.
For all its astonishing complexity, however, the immune system can be easily compromised by fatigue, stress, toxins, advanced age, and poor nutrition—hallmarks of modern life—and even by excessive hygiene. Paradoxically, it is a fragile wonder weapon that can turn on our own bodies with startling results, leading today to epidemic levels of autoimmune disorders.
Richtel effortlessly guides readers on a scientific detective tale winding from the Black Plague to twentieth-century breakthroughs in vaccination and antibiotics, to the cutting-edge laboratories that are revolutionizing immunology—perhaps the most extraordinary and consequential medical story of our time. The foundation that Richtel builds makes accessible revelations about cancer immunotherapy, the microbiome, and autoimmune treatments that are changing millions of lives. An Elegant Defense also captures in vivid detail how these powerful therapies, along with our behavior and environment, interact with the immune system, often for the good but always on a razor's edge that can throw this remarkable system out of balance.
Drawing on his groundbreaking reporting for the New York Times and based on extensive new interviews with dozens of world-renowned scientists (including Dr. Anthony Fauci, director of the National Institute of Allergy and Infectious Diseases), Matt Richtel has produced a landmark book, equally an investigation into the deepest riddles of survival and a profoundly human tale that is movingly brought to life through the eyes of his four main characters, each of whom illuminates an essential facet of our "elegant defense."
Praise For An Elegant Defense: The Extraordinary New Science of the Immune System: A Tale in Four Lives…
"Vividly told. ... Explicates for the lay reader the intricate biology of our immune system. ... Richtel succeeds in this formidable task."
— JEROME GROOPMAN, New York Review of Books

"Deeply affecting. … A compelling modern history of—as well as an elegant defense for—the preeminent science of our time."
— Los Angeles Review of Books

"Richtel brilliantly blurs the lines between biology primer, medical historical text and the traditional first-person patient story. ... Richtel harnesses his reporter's eye for the human condition."
— Washington Post

"In this thorough investigation, Richtel details the explosion of knowledge over the past 70 years. ... He weaves into his narrative four case studies [that] add a moving personal dimension."
— BBC, "10 Books to Read This Month"

"One of those rare nonfiction books that transcends the genre. ... A fascinating and engrossing account of the latest, and quite astonishing, discoveries involving the human immune system. ... An inspiring and wonderful read. ... I highly recommend this extraordinary book."
— Douglas Preston, #1 bestselling author of The Lost City of the Monkey God

"A thorough, richly entertaining and just-wonky-enough beginner's class in immunology through the case studies of four patients."
— Wall Street Journal

"Remarkable. … Richtel is a gifted storyteller. … A story about cutting-edge science, humanely told."
— Matt McCarthy, USA Today

"Matt Richtel's An Elegant Defense is a comprehensive and engaging primer on the body's 'ever-vigilant, omnipresent peacekeeping force.' The immune system plays an essential role in fighting infections and cancer and in regulating our normal health. Read this superb book to better understand one of the enduring mysteries of human biology."
— SANDEEP JAUHAR, New York Times bestselling author of Heart: A History

"An expert examination of the immune system. … Richtel illuminates a complex subject so well that even physicians will learn."
— Kirkus, STARRED review

"Richtel approaches this essential subject with awe, his writing meticulous and empathic."
— Booklist, STARRED Review

"Award-winning reporter Matt Richtel examines the scientific and human realities of immune anomaly through four case studies. … Through these harrowing accounts, Richtel interweaves the research history."
— Nature, "Best Science Picks"

"A deeply reported and entertainingly written exploration of the human immune system and how it works."
— USA Today ("5 Books Not to Miss")

"Plumbs the enormous impact of the human immune system. … Despite the topic's staggering complexity… the heart and craft of a fine storyteller emerges most memorably."
— Mercury News

"A remarkable journey of exploration inside the human body. … Richly informative and engaging. … Eminently readable and with so many important takeaways, An Elegant Defense is well worth one's investment of time."
— Shelf Awareness

"An engaging deep dive into our immune system."
— Men's Health

"Richtel's new book is so useful. ... Give[s] lay readers a means of understanding what's known so far about the intricate biology of our immune systems."
— The Week, "Book of the Week"

"Compelling. … Richtel enthusiastically and compassionately demystifies the science and the story of one of the most intricate and misunderstood landscapes of human biology. … A celebration of life and the journey we all share."
— Washington Independent Review of Books

"Enlightening. … Readers who suffer from challenged immune systems will welcome validation for the physical and emotional trials they endure, gain deeper understanding of their ailments, and find hope for the future. Readers who are interested in the human body's capacity to both harm or heal itself will be fascinated."
— New York Journal of Books

"A deeply reported account of how the immune system works. … Richtel weaves dense, complex research into suspense and human drama; his book reads, at times, like a harrowing mystery novel."
— Spirituality and Health magazine

"A hard-to-put-down account of the body's first line of defense."
— Publishers Weekly

"A sweeping overview of immunology's history. ... The prose in An Elegant Defense is vibrant, conversational, direct and often funny. … The content is captivating and useful."
— Science News

"[An] entertaining and a worthwhile read."
— The Missourian

"Fascinating. ... Rooted in evidence-based research. ... Compelling."
— AudioFile

"Books like An Elegant Defense give mainstream readers insights into that process, insights that run deeper than those a textbook might provide. When we understand how science really works, perhaps we will be a bit less susceptible to anti-scientific seductions. Richtel's elegant analogies and compelling human stories will help us remember the basic concepts of modern immunology long after the jargon and acronyms have been forgotten."
— Commentary

"A mind-blowing page-turner with moving yet playful human dramas."
— MindBodyGreen

"Fascinating read, especially in the context of a pandemic. Through four personal stories, you discover the captivating complexity of our immune system, written in such a way that it's an easy read for the layman."
— Bloomberg News, A Best Book of 2020
William Morrow, 9780062698537, 448pp.
Publication Date: March 12, 2019
About the Author
Matt Richtel is a Pulitzer Prize–winning New York Times reporter and bestselling nonfiction and mystery author. He lives in San Francisco with his wife, Meredith, a neurologist, and their two children. In his spare time, he plays tennis and piano and writes (not very good) songs. Visit him online at www.mattrichtel.wordpress.com.
Book Videos
or
Not Currently Available for Direct Purchase