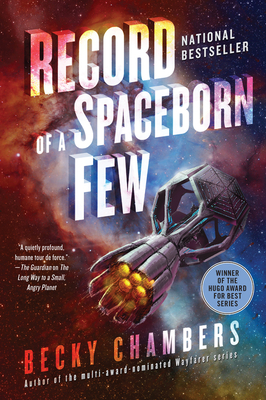 Record of a Spaceborn Few (Wayfarers #3)
Paperback

* Individual store prices may vary.
Other Editions of This Title:
Digital Audiobook (10/8/2018)
Hardcover (7/24/2018)
MP3 CD (9/25/2018)
Compact Disc (9/25/2018)
Compact Disc (9/25/2018)
Description
National Bestseller!
Winner of the Hugo Award for Best Series!
Brimming with Chambers' signature blend of heart-warming character relationships and dazzling adventure, Record of a Spaceborn few is the third standalone installment of the Wayfarers series, set in the sprawling universe of the Galactic Commons, and following a new motley crew on a journey to another corner corner of the cosmos—one often mentioned, but not yet explored.
Return to the sprawling universe of the Galactic Commons, as humans, artificial intelligence, aliens, and some beings yet undiscovered explore what it means to be a community in this exciting third adventure in the acclaimed and multi-award-nominated science fiction Wayfarers series, brimming with heartwarming characters and dazzling space adventure.
Hundreds of years ago, the last humans on Earth boarded the Exodus Fleet in search of a new home among the stars. After centuries spent wandering empty space, their descendants were eventually accepted by the well-established species that govern the Milky Way.
But that was long ago. Today, the Exodus Fleet is a living relic, the birthplace of many, yet a place few outsiders have ever visited. While the Exodans take great pride in their original community and traditions, their culture has been influenced by others beyond their bulkheads. As many Exodans leave for alien cities or terrestrial colonies, those who remain are left to ponder their own lives and futures: What is the purpose of a ship that has reached its destination? Why remain in space when there are habitable worlds available to live? What is the price of sustaining their carefully balanced way of life—and is it worth saving at all?
A young apprentice, a lifelong spacer with young children, a planet-raised traveler, an alien academic, a caretaker for the dead, and an Archivist whose mission is to ensure no one's story is forgotten, wrestle with these profound universal questions. The answers may seem small on the galactic scale, but to these individuals, it could mean everything.
Praise For Record of a Spaceborn Few (Wayfarers #3)…
"This is a superb work from one of the genre's rising stars." — Publishers Weekly (starred review)
"I deeply appreciate Chambers' science fiction, and I really enjoyed this novel. Quiet, kind, character-driven books are wonderfully restful. Delightfully soothing." — Tor.com
"This series is a rare gem within the sci-fi genre [...] Chambers' writing pulls you in, making it impossible not to imagine living in her brilliantly crafted universe." — POMEmag
"Chambers' books are celebrated for their warmth, compassion, and diverse characters, but it's also worth noting that her worldbuilding is top-notch; it's a delight to spend more time in this universe." — B&N Sci-Fi & Fantasy Blog
Harper Voyager, 9780062699220, 368pp.
Publication Date: July 24, 2018
About the Author
Becky Chambers is a science fiction author based in Northern California. She is best known for her Hugo Award-winning Wayfarers series, which currently includes The Long Way to a Small, Angry Planet, A Closed and Common Orbit, and Record of a Spaceborn Few. Her books have also been nominated for the Arthur C. Clarke Award, the Locus Award, and the Women's Prize for Fiction, among others. Her most recent work is To Be Taught, If Fortunate, a standalone novella.
Becky has a background in performing arts, and grew up in a family heavily involved in space science. She spends her free time playing video and tabletop games, keeping bees, and looking through her telescope. Having hopped around the world a bit, she's now back in her home state, where she lives with her wife. She hopes to see Earth from orbit one day.