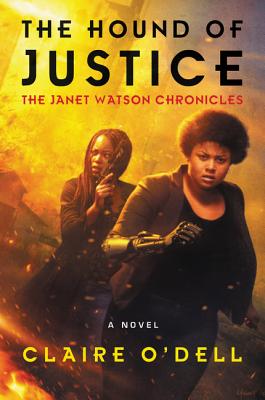 The Hound of Justice
A Novel (The Janet Watson Chronicles)
Paperback

* Individual store prices may vary.
Description
From Claire O'Dell, comes the second in the series and a fresh re-imagination of Sherlock Holmes, in which Dr. Janet Watson and former covert agent Sarah Holmes, continue their investigation into the new American Civil War with the help of new allies, advanced technology, and deduction.
Dr. Janet Watson and covert agent Sara Holmes, introduced in the acclaimed A Study in Hour, continue their dangerous investigation into the new American Civil War with the help of fresh allies, advanced technology, and brilliant deduction in this superb reimagining of Sherlock Holmes.
It's been two months since Dr. Janet Watson accepted an offer from Georgetown University Hospital. The training for her new high-tech arm is taking longer than expected, however, leaving her in limbo. Meanwhile, her brilliant friend and compatriot, Sara Holmes, has been placed on leave--punishment for going rogue during their previous adventure.
After an extremist faction called the Brotherhood of Redemption launched a failed assassination attempt on the president that caused mass destruction, Holmes, who is now operating in the shadows, takes on the task of investigating the Brotherhood. Holmes is making progress when she abruptly disappears.
When Watson receives a mysterious message from Holmes's cousin Micha that indicates that Sara Holmes' disappearance might be connected to the Brotherhood and to Adler Industries, Watson and Micha go on a high-stakes mission to reunite with Holmes once more.
Together, Watson, Holmes and Micha embark on a thrilling, action-packed journey through the deep South to clear Holmes's name, thwart the Brotherhood's next move, and most important, bring their nemesis to justice for the atrocities she's committed in the New Civil War.
Praise For The Hound of Justice: A Novel (The Janet Watson Chronicles)…
"The Hound of Justice is a story of resistance, to be sure, but it's also the story of the real human costs of putting everything on the line. It's also a compelling mystery, at the center of which is a Watson with the same loyalty and curiosity as the original, but with an identity and outlook far more reflective of the times in which she (and we) live." — Barnes & Noble Sci-Fi & Fantasy Blog
"An engaging and ultimately deeply satisfying novel" — Tor.com
"The Hound of Justice is an entertaining, engaging near-future thriller, well written and well characterised. It's not a traditional Holmes-and-Watson story—the dynamics of their relationship feel rather different to many variants—but maybe that's to its credit. I enjoyed it, and I'm definitely looking forward to the next instalment, whatever (and whenever) that may be." — Locus
"O'Dell movingly portrays a proud woman struggling to regain her professional skills in a country still plagued by racism. Readers will hope this inventive series has a long run."
— Publishers Weekly (starred review)
"When these all-female, mostly black resistance fighters weapon up, they kick some serious bad-guy (and -girl) ass" — Kirkus Reviews
"This is an entertaining sequel, narrated by the increasingly engaging Watson, and one hopes that the work of this Holmes and Watson will continue." — Booklist
"Outstanding characters and superb tension make this a must read book." — Scifi Pulse
Harper Voyager, 9780062699336, 352pp.
Publication Date: July 30, 2019
About the Author
Claire O'Dell grew up in the suburbs of Washington, D.C., in the years of the Vietnam War and the Watergate Scandal. She attended high school just a few miles from the house where Mary Surratt once lived and where John Wilkes Booth planned for Lincoln to die. All this might explain why she spent so much time in the history and political science departments at college. Claire currently lives in Manchester, Connecticut, with her family and two idiosyncratic cats.