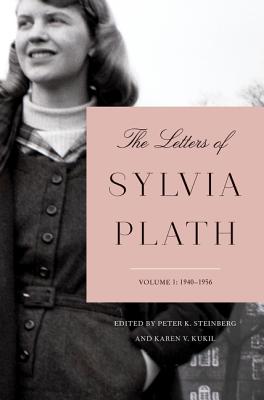 The Letters of Sylvia Plath Volume 1
1940-1956
Hardcover

* Individual store prices may vary.
Other Editions of This Title:
Hardcover (11/6/2018)
Compact Disc (10/17/2017)
Description
A major literary event: the first volume in the definitive, complete collection of the letters of Sylvia Plath—most never before seen.
One of the most beloved poets of the modern age, Sylvia Plath continues to inspire and fascinate the literary world. While her renown as one of the twentieth century's most influential poets is beyond dispute, Plath was also one of its most captivating correspondents. The Letters of Sylvia Plath is the breathtaking compendium of this prolific writer's correspondence with more than 120 people, including family, friends, contemporaries, and colleagues.
The Letters of Sylvia Plath includes her correspondence from her years at Smith, her summer editorial internship in New York City, her time at Cambridge, her experiences touring Europe, and the early days of her marriage to Ted Hughes in 1956.
Most of the letters are previously unseen, including sixteen letters written by Plath to Hughes when they were apart after their honeymoon. This magnificent compendium also includes twenty-seven of Plath's own elegant line drawings taken from the letters she sent to her friends and family, as well as twenty-two previously unpublished photographs.
This remarkable, collected edition of Plath's letters is a work of immense scholarship and care, presenting a comprehensive and historically accurate text of the known and extant letters that she wrote. Intimate and revealing, this masterful compilation offers fans and scholars generous and unprecedented insight into the life of one of our most significant poets.
Praise For The Letters of Sylvia Plath Volume 1: 1940-1956…
"Engaging and revealing, The Letters of Sylvia Plath offers a captivating look into the life and inner thinking of one of the most influential writers of the 20th century."
— Paul Alexander, Washington Post

"But these early letters reveal something the journals don't: a flicker of uncertainty about Hughes that now seems prophetic…It's not Plath's death necessarily, or even the dissolution of her marriage, but her doubleness that's been the abiding mystery…The achievement of this avalanche of letters is that it disabuses everyone of the notion that Plath wasn't aware of her contradictions or in (some) control of them."                                                                                                                       
— Parul Sehgal, New York Times

"A monumental gathering, in the first of two volumes, of the scattered correspondence of the now iconic—and canonical—poet and novelist…a multifaceted portrait of a thoughtful young woman who might have gone on to even greater accomplishments than she did… A literary milestone."
— Kirkus Reviews (starred review)

"THE LETTERS OF SYLVIA PLATH underscores Plath's jaw-dropping output, her rapid growth from merely talented to singular voice…Tapping well-known archives and unearthing fresh specimens…The result is a comprehensive portrait of the artist as a young woman, ardently — unnervingly — committed to literature and relationships."
— Hamilton Cain, Minneapolis Star-Tribune

"Proustian in detail…giving us an incomparable portrait of American girlhood in the mid-20th century…Plath rises to wonderfully passionate heights in the love letters to Ted Hughes with which this first installment of her correspondence concludes."
— Sandra M. Gilbert, The American Scholar

"This scintillating and poignant autobiography in letters ends with their exultant marriage. For all of Plath's published works and myriad inquiries into her relationship with Hughes and suicide at age 30, her letters blaze with fresh and stunning revelations, with more to come."
— Booklist

"This is a valuable, significant addition to the body of Plath scholarship."
— Publishers Weekly

"As the volume of her writings available to the public has become near-exhaustive, another Plath has become visible. Neither the magnificent harpy of Ariel, nor the haunting Dido figure of Birthday Letters, and not a cypher for female suffering under male brutality or a model of madness either; but a woman entire: funny, ambitious, paradoxical, wildly clever and alive…In her correspondence, we find more of the writer she was without Hughes, and the artist she could have been had she survived."
— The Spectator (UK)

"Her life had so many facets…but this aspect of her young life, her determination, is never less than inspiring for the reader privileged to see her correspondence long after her death."
— Erica Wagner, New Statesman (UK)

"These letters seem both a way for Plath to present herself to the world and a means of self-discovery…I found myself caught up in the emerging facets of Plath's complex character…her strong yet fragilely put-together identity…There is, though, a certain thrill in reading along as Plath the dedicated artist hoves into view."
— Daphne Merkin, Wall Street Journal
Harper, 9780062740434, 1424pp.
Publication Date: October 17, 2017
About the Author
Sylvia Plath was born in 1932 in Massachusetts. Her books include the poetry collections The Colossus, Crossing the Water, Winter Trees, Ariel, and Collected Poems, which won the Pulitzer Prize. A complete and uncut facsimile edition of Ariel was published in 2004 with her original selection and arrangement of poems. She was married to the poet Ted Hughes, with whom she had a daughter, Frieda, and a son, Nicholas. She died in London in 1963.