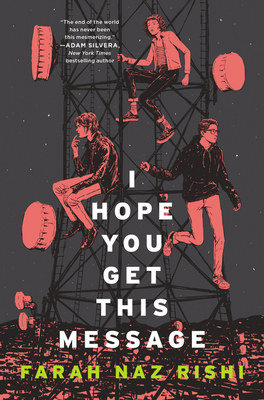 I Hope You Get This Message
Hardcover

* Individual store prices may vary.
Other Editions of This Title:
Digital Audiobook (10/21/2019)
Paperback (3/16/2021)
Compact Disc (10/22/2019)
MP3 CD (10/22/2019)
Compact Disc (10/22/2019)
Description
In this high concept YA novel debut that's We All Looked Up meets The Sun Is Also a Star, three teens must face down the mistakes of their past after they learn that life on Earth might end in less than a week.
News stations across the country are reporting mysterious messages that Earth has been receiving from a planet—Alma—claiming to be its creator. If they're being interpreted correctly, in seven days Alma will hit the kill switch on their "colony" Earth.
True or not, for teenagers Jesse Hewitt, Cate Collins, and Adeem Khan, the prospect of this ticking time bomb will change their lives forever.
Jesse, who has been dealt one bad blow after another, wonders if it even matters what happens to the world. Cate, on the other hand, is desperate to use this time to find the father she never met. And Adeem, who hasn't spoken to his estranged sister in years, must find out if he has it in him to forgive her for leaving.
With only a week to face their truths and right their wrongs, Jesse, Cate, and Adeem's paths collide as their worlds are pulled apart.
Praise For I Hope You Get This Message…
"The end of the world has never been this mesmerizing. I couldn't look away from Farah Naz Rishi's stunning debut that shows humanity in all its many shades of truth." — Adam Silvera, New York Times bestselling author of They Both Die at the End
"A stunning and bold debut, the kind of sweeping story that is devoured in a single sitting. Part Arrival, part They Both Die at the End, this is an emotional tale of three kids who face their own demise with hope, courage, and a whole lot of bad decisions." — Mark Oshiro, Schneider Award-winning author of Anger Is a Gift
"Heart-wrenching, absorbingly clever, and beautifully written. Rishi deftly balances a tale of global consequences with riveting, intimate, and deeply personal stories. I Hope You Get This Message is one of the best and freshest YA stories I've seen in a long time." — R.F. Kuang, author of The Poppy War
"Thought-provoking and full of heart, I Hope You Get This Message reminds us how fragile and fleeting time can be. One of the best debut novels I've read in a long time!" — Akemi Dawn Bowman, author of Starfish, a William C. Morris Award Finalist
"If aliens were to read Rishi's beautifully written book, they would discover that human beings are gloriously weighed down by gravity--the gravity of love, of memory, and most of all of our connections to each other. This is a vital debut with a big, beating heart." — Abdi Nazemian, author of Like a Love Story
"Imaginative, funny, and frank, I Hope You Get This Message is a must-read debut about love, loss, hope, and the real-world choices we make in our final days." — Sona Charaipotra, author of Symptoms of a Heartbreak and coauthor of the Tiny Pretty Things series
"For Adeem, Cate, Jesse and readers alike, the end of the world might turn out to be the beginning of hope." — BookPage.com (starred review)
"Tautly plotted, with realistic characters and situations, this debut will please enthusiasts of both science fiction and realistic fiction." — Kirkus Reviews
"Rishi's debut consistently tugs heartstrings, and the multiple perspectives allow an intimate look into each character—their brand of pain may vary, but it hurts just the same." — ALA Booklist
"Part road trip story and part tale of human resilience, this debut examines human nature and how people react in the most desperate of times." — Publishers Weekly
"An entertaining, well-written coming-of-age story set during the end of the world." — School Library Journal
"Rishi's debut novel skillfully addresses complex contemporary issues on both the global (environmental damage, war, greed) and personal (identity, mental health) scales." — Horn Book Magazine
"Rishi is to be commended for taking a plot that sounds like a summer action blockbuster movie and . . . infusing it all along the way with oodles of heart."  — Voice of Youth Advocates (VOYA)
Quill Tree Books, 9780062741455, 432pp.
Publication Date: October 22, 2019
About the Author
Farah Naz Rishi (she/they) is a Pakistani American Muslim writer and voice actor, but in another life she's worked stints as a lawyer, a video game journalist, and an editorial assistant. She received her BA in English from Bryn Mawr College, her JD from Lewis & Clark Law School, and her love of weaving stories from the Odyssey Writing Workshop. When she's not writing, she's probably hanging out with video game characters. She is the author of I Hope You Get This Message and It All Comes Back to You. You can find her at home in Philadelphia or on Twitter/Instagram at @farahnazrishi.