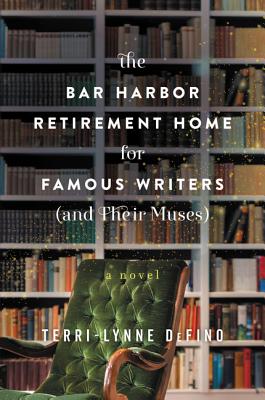 The Bar Harbor Retirement Home for Famous Writers (And Their Muses)
A Novel
Paperback

* Individual store prices may vary.
Other Editions of This Title:
Digital Audiobook (6/11/2018)
Compact Disc (6/12/2018)
Paperback, Large Print (6/12/2018)
MP3 CD (6/12/2018)
Compact Disc (6/12/2018)
Description
A whimsical, moving novel about a retirement home for literary legends who spar, conjure up new stories, and almost magically change the lives of the people around them.
Alfonse Carducci was a literary giant who lived his life to excess—lovers, alcohol, parties, and literary rivalries. But now he's come to the Bar Harbor Home for the Elderly to spend the remainder of his days among kindred spirits: the publishing industry's nearly gone but never forgotten greats. Only now, at the end of his life, does he comprehend the price of appeasing every desire, and the consequences of forsaking love to pursue greatness. For Alfonse has an unshakeable case of writer's block that distresses him much more than his precarious health.
Set on the water in one of New England's most beautiful locales, the Bar Harbor Home was established specifically for elderly writers needing a place to live out their golden years—or final days—in understated luxury and surrounded by congenial literary company. A faithful staff of nurses and orderlies surround the writers, and are drawn into their orbit, as they are forced to reckon with their own life stories. Among them are Cecibel Bringer, a young woman who knows first-hand the cost of chasing excess. A terrible accident destroyed her face and her sister in a split-second decision that Cecibel can never forgive, though she has tried to forget. Living quietly as an orderly, refusing to risk again the cost of love, Cecibel never anticipated the impact of meeting her favorite writer, Alfonse Carducci—or the effect he would have on her existence. In Cecibel, Alfonse finds a muse who returns him to the passion he thought he lost. As the words flow from him, weaving a tale taken up by the other residents of the Pen, Cecibel is reawakened to the idea of love and forgiveness.
As the edges between story and reality blur, a world within a world is created. It's a place where the old are made young, the damaged are made whole, and anything is possible….
Praise For The Bar Harbor Retirement Home for Famous Writers (And Their Muses): A Novel…
"A solid hit, perfect for book clubs and readers who love to read about writers, writing, and books; why we love them; and how they make life worth living" — Library Journal (starred review)
"DeFino's latest novel is a tale that emphasizes that second chances, artistic redemption and true love — in all its forms — can come at any time and any age. DeFino has a unique gift for language that captures the nostalgia and still-sharp wit of her aging artists perfectly." — RT Book Reviews
"Rediscover the sheer joy of writing…intriguing characters help keep the reader engaged." — Booklist
"This is a book to feel as much as to read…an intense texture of enchantment and reality." — Historical Novel Society
"[A] charming story about the power of love and the power of reading." — NJ.com
William Morrow Paperbacks, 9780062742674, 336pp.
Publication Date: June 12, 2018
About the Author
Terri-Lynne DeFino was born and raised in New Jersey, but escaped to the wilds of Connecticut, where she still lives with her husband and her cats. She spends most days in her loft, in her woodland cabin along the river, writing about people she's never met. Other days, she can be found slaying monsters with her grandchildren. If you knock on her door, she'll most likely be wearing a tiara. She'll also invite you in and feed you, because you can take the Italian girl out of Jersey, but you can't take the Jersey Italian out of the girl.