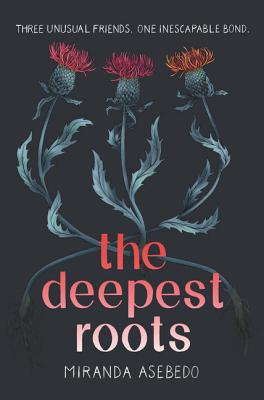 The Deepest Roots (Hardcover)
HarperTeen, 9780062747075, 320pp.
Publication Date: September 18, 2018
* Individual store prices may vary.
Description
Morgan Matson meets Maggie Stiefvater in a story that will make you believe in friendship, miracles, and maybe even magic.
Cottonwood Hollow, Kansas, is a strange place. For the past century, every girl has been born with a special talent, like the ability to Fix any object, Heal any wound, or Find what is missing.
To best friends Rome, Lux, and Mercy, their abilities often feel more like a curse. Rome may be able to Fix anything she touches, but that won't help her mom pay rent. Lux's ability to attract any man with a smile has always meant danger. And although Mercy can make Enough of whatever is needed, even that won't help when her friendship with Rome and Lux is tested.
Follow three best friends in this enchanting debut novel as they discover that friendship is stronger than curses, that trust is worth the risk, and sometimes, what you've been looking for has been under your feet the whole time.
About the Author
Miranda Asebedo was born and raised in rural Kansas with a love of fast cars, open skies, and books. She carried that love of books to college, where she got her BA and MA in English, with an emphasis in creative writing and literature. A Seaton Fellowship recipient, her short fiction has appeared in Kansas Voices, Touchstone, and Midway Journal. Miranda still lives on the prairie today with her husband, two kids, and a majestic bulldog named Princess Jellybean. If Miranda's not writing or reading, she's most likely convinced everyone to load up in the family muscle car and hit the road. She can be found online at www.mirandaasebedo.com.
Praise For The Deepest Roots…
"A heartwarming story of intergenerational sisterhood."
— Kirkus Reviews

"The further into the story the reader delves, the more difficult it is to stop reading. This fascinating book will definitely appeal to fans of Maggie Stiefvater and Holly Black."
— Voice of Youth Advocates (VOYA)

"For fans of magical realism, mystery, and stories of friendship."
— School Library Journal

"Asebedo's debut novel is a must-read for fans of friendship-based books like the Sisterhood of the Traveling Pants series. Readers will be surprised and delighted by the characters, mysteries, and themes."
— ALA Booklist (starred review)

"Practical Magic meets prairie gothic in this elegant debut about the transcendent power of sisterhood."


— Natalie C. Parker, author of Seafire and Beware the Wild

Asebedo deftly portrays a childhood friendship trying to find its footing in the throes of adolescence…while supporting the theme of women's and girls' strong relationships.
— Bulletin of the Center for Children's Books

The Deepest Roots swept me away in a magic-dusted tale of friendship,
family curses, and sacrifice. With plot twists and heartbreak aplenty, this
book will grab ahold and not easily let go.
— Stacey Lee, award-winning author of Outrun the Moon