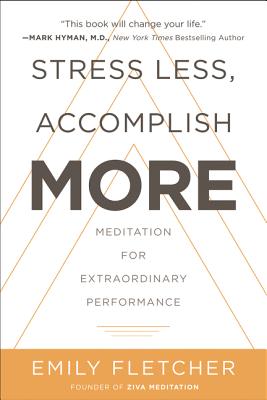 Stress Less, Accomplish More
Meditation for Extraordinary Performance
Hardcover

* Individual store prices may vary.
Other Editions of This Title:
Digital Audiobook (2/18/2019)
Paperback (2/18/2020)
Compact Disc (2/19/2019)
Compact Disc (2/19/2019)
Paperback, Chinese (12/1/2019)
MP3 CD (2/19/2019)
Description
A National Bestseller
Foreword by Mark Hyman, MD
Preface by Andrew Huberman, PhD
You know you should be meditating, so what's stopping you? This entertaining and enlightening book by the founder of Ziva Meditation—the favorite training for high achievers—will finally take meditation mainstream.

In our high-stress, overworked lives, we think the answer to accomplishing more is to do more. But the best advantage we can give ourselves is to take a mental break—to spend a few minutes of the day giving the body and brain rest. Did you know that a brief meditation can offer rest that's five times deeper than sleep? When you make time to practice the Z Technique this book teaches, you'll actually be more productive than if you took an hour-and-a-half nap or had a cup of coffee.
A leading expert in meditation for high performance, Emily Fletcher has taught meditation at numerous global corporations, including Google, Barclays Bank, and Viacom, to help their employees improve their focus and increase their productivity levels. With Stress Less, Accomplish More, anyone can get the benefits of her 15-minute twice-daily plan. Emily specifically developed the Z Technique for working people with busy lives. Now, you can learn to recharge anywhere, anytime—at home or at your desk. All you need is a few minutes and a chair (no apps, incense, or finger cymbals required).
This is not just another meditation book. In Stress Less, Accomplish More, Emily teaches a powerful trifecta of Mindfulness, Meditation, and Manifesting to improve your personal and professional performance, clarity, health, and sleep. You'll learn how to cultivate Mindfulness through brief but powerful exercises that will help you stop wasting time stressing. Plus, you'll get Manifesting tools to help you get crystal clear on your personal and professional goals for the future.
Filled with fascinating real-life transformations, interactive exercises, and practical knowledge, Stress Less, Accomplish More introduces you to a revelatory daily practice and shows you how to make it work for your modern life.
"We meditate to get good at life, not to get good at meditation."—Emily Fletcher

Praise For Stress Less, Accomplish More: Meditation for Extraordinary Performance…
"I was shocked what [Emily Fletcher's] style of meditation did for me…After two months, I felt happier, calmer, and less anxious…. For the few minutes I put into meditation each day, I get back three hours of quality work. The benefits bleed into everything I do." — Mark Hyman, M.D., director of Cleveland Clinic's Center for Functional Medicine and New York Times bestselling author 
"I recognize the power and importance of meditation, but I have always struggled in my commitment and consistency. In this beautiful book, Emily has shown me a way to meditate that's simple, powerful, and fail proof." — Sara Haines, cohost of Good Morning America's Strahan and Sara
"I used to think, I can't ever quiet my mind--how can I meditate? After learning with Emily, I know that thoughts are okay. Now it's a part of my daily ritual, and people have noticed a change. They say, 'You look so radiant!'" — Jenna Dewan, actress and television host
"This book can help you become a game changer by using meditation effectively. You really can learn to triple your productivity and make better decisions. Uncover the power that has always been inside of you." — Dave Asprey, founder and CEO of Bulletproof 360, creator of Bulletproof Coffee, and host of Bulletproof Radio
"Emily Fletcher skillfully weaves the wisdom of the Vedas and the power of meditation into one beautiful package for the modern high performer. Her words are honest, warm, heartful, and soulful." — Chade-Meng Tan, New York Times bestselling author of Search Inside Yourself and Joy on Demand
"Emily is a deep scholar of meditation. Despite that she makes learning it incredibly playful, fun, and entertaining. Stress Less, Accomplish More is anything but boring, and it very well may change your life." — Andrew Huberman, Ph.D., Professor of Neurobiology, Stanford University School of Medicine
"Emily Fletcher sits at the top of my referral list because her system works. She takes the benefits of meditation to a completely new level, while not scaring away the newbie. Invest in yourself!" — Todd Herman, performance coach to Olympic athletes and author of The Alter Ego Effect
"I truly hope people read and adopt the practice Emily Fletcher teaches so elegantly in Stress Less, Accomplish More. The less stress you have in your life, the less stress you will pass on to your children." — Dr. Shefali Tsabary, author of The Conscious Parent
"I've met thousands of proponents of meditation, and Emily Fletcher stands out like a shining star. Her way of teaching, intellect, and charm take the concepts of mindfulness and meditation to new heights. Read this book and study with Emily if you're seeking to bring meditation into your life." — Vishen Lakhiani, founder and CEO of Mindvalley and New York Times bestselling author of The Code of the Extraordinary Mind
"Emily Fletcher's praiseworthy Ziva Technique as taught in Stress Less, Accomplish More meets each of us precisely where we are in the present moment of our lives, elevating us to our highest potential in our personal and professional creative expressions." — Michael Bernard Beckwith, bestselling author and founder of the Agape International Spiritual Center
"I prescribe the meditation Emily teaches in this book to my patients to help them optimize their mental and physical health…She makes meditation so accessible. Her style is the easiest to adopt into a busy life that I have ever found (and I've tried a lot)." — Robin Berzin, M.D., CEO of Parsley Health
"This book has the ingredients for you to accomplish what you didn't think was possible…increased productivity, better decision making, and better sleep. It also makes you more mindful, which can have a positive impact on the decisions you make around food, which is good for you and for the world." — Gunhild Stordalen, M.D., president of EAT Foundation
"Emily Fletcher begins Stress Less, Accomplish More by explaining why meditation often gets a bad rap. She disproves the myths, explaining the method she developed and how meditation will help you achieve peak performance. Honest, clear and witty, Fletcher makes a compelling case to dispel meditation's bad rap." — Sharon Salzberg, author of Loving-kindness and Real Happiness
"Emily is a master of taking the complications and excuses out of meditation. She offers a path which allows us to find the highest aspects of ourselves. Emily is a teacher of mine and I hope she quickly becomes a beloved teacher to you." — Ryan Weiss
William Morrow, 9780062747501, 272pp.
Publication Date: February 19, 2019
About the Author
EMILY FLETCHER is regarded as a leading expert in meditation for high performance. She is the creator of the Ziva Technique and the founder of Ziva, where she developed the world meditation training program. Emily was inspired to teach after experiencing the profound physical and mental benefits that meditation provided during her ten-year career on Broadway.
After teaching more than fifteen thousand people and learning about the unique demands of elite performers, Emily realized that meditation alone is not enough, so she developed the Ziva Technique: a powerful trifecta of Mindfulness, Meditation, and Manifesting designed to unlock your full potential at work and at home. She has been featured in the New York Times and Vogue as well as on NBC teaches in person at her Soho studio in New York City. When she playing with her adorable newborn son, Jasper.
or
Not Currently Available for Direct Purchase