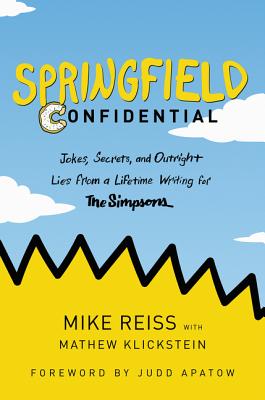 Springfield Confidential
Jokes, Secrets, and Outright Lies from a Lifetime Writing for The Simpsons
Hardcover

* Individual store prices may vary.
Other Editions of This Title:
Digital Audiobook (6/11/2018)
Paperback (4/23/2019)
Hardcover, Spanish (8/31/2019)
Compact Disc (6/12/2018)
MP3 CD (6/12/2018)
Compact Disc (6/12/2018)
Description
Semi-Finalist for the 2019 James Thurber Award * One of Vulture's Top-10 Comedy Books of 2018 * A "Must" pick by Entertainment Weekly * An A.V. Club Best Books selection * A "New and Noteworthy" selection by USA Today
In celebration of The Simpsons thirtieth anniversary, the show's longest-serving writer and producer offers a humorous look at the writing and making of the legendary Fox series that has become one of the most revered artistic achievements in television history.
Four-time Emmy winner Mike Reiss—who has worked on The Simpsons continuously since episode one in 1989—shares stories, scandals, and gossip about working with America's most iconic cartoon family ever. Reiss explains how the episodes are created, and provides an inside look at the show's writers, animators, actors and celebrity guests. He answers a range of questions from Simpsons fans and die-hards, and reminisces about the making of perennially favorite episodes.
In his freewheeling, irreverent comic style, Reiss reflects on his lifetime inside The Simpsons—a personal highlights reel of his achievements, observations, and favorite stories. Springfield Confidential exposes why Matt Groening decided to make all of the characters yellow; dishes on what it's like to be crammed in a room full of funny writers sixty hours a week; and tells what Reiss learned after traveling to seventy-one countries where The Simpsons is watched (ironic note: there's no electricity in many of these places); and even reveals where Springfield is located! He features unique interviews with Judd Apatow, who also provided the foreword, and Conan O'Brien, as well as with Simpsons legends Al Jean, Nancy Cartwright, Dan Castellaneta, and more.
Like Cary Elwes' As You Wish, Jennifer Keishin Armstrong's Seinfeldia, and Chris Smith's The Daily Show: An Oral History, Springfield Confidential is a funny, informational, and exclusive look at one of the most beloved programs in all of television land.
Praise For Springfield Confidential: Jokes, Secrets, and Outright Lies from a Lifetime Writing for The Simpsons…
"The good is always rare. A truly great comic is rare. Mike Reiss, by definition, is a rarity."
— Conan O'Brien

"Besides providing a hilarious look at what is perhaps the greatest TV show of all time, Mike Reiss has also created a staggering literary work that is almost completely devoid of typos and grammatical errors. It's well worth the price of this book for the proofreading skills alone."
— "Weird Al" Yankovic

"Reiss has done a masterful job of compiling this laugh-filled account of his long years as a writer on this beloved show. It's the sort of book that makes you wish your dinner guests would go the hell home so you can get back to reading it."          
— Dick Cavett

"Mike Reiss is a great example of somebody who writes for a living and does it so well in so many different ways. And, of course, he helped write this thing called The Simpsons."
— Dan Castellaneta, longtime voice of Homer Simpson

"Mike Reiss always brings his own unique, quirky, eccentric genius with him."
— Nancy Cartwright, longtime voice of Bart Simpson

"Extremely funny and fascinating."
— Vanity Fair

"Always honest, playful, and engaging, the book will provide fans with deep insight into the show's history but also into its daily production and future...A charming look at a cherished American show."
— Kirkus Reviews

"Founding Simpsons writer Reiss offers a funny and factoid-filled glimpse behind the curtain — or, brown couch — of the beloved sitcom...a surprising view of Springfield you've never heard before."
— Entertainment Weekly

"In Springfield Confidential, Reiss offers a breezy history of the show from his insider's perspective, from its dismal early prospects to its astonishing success, with insights aimed squarely at the Comic Book Guy variety of Simpsons fans."
— The A.V. Club

"Always entertaining and frequently laugh-out-loud-hilarious. There have been a lot of books written about The Simpsons, some of them good but most not so much, and this is hands down one of the very best."
— Booklist (starred review)

"Not until Springfield Confidential has one really nailed what it's like to work in the mystical promised land of The Simpsons' offices. Reiss shares the pride, joy, frustration, gratitude, grueling labor, and sense of luck that are a part of bringing Springfield to life."
— Vulture

"Springfield Confidential offers a wealth of great anecdotes, all peppered with punchlines that make Reiss's memoir as hilarious as whichever season of The Simpsons you recall most fondly."
— Washington Post

"Springfield Confidential spills all of the juicy secrets from behind the scenes of your dad's favorite cartoon, and after reading it, he may never be able to look at Homer the same way again."
— Bustle

"The Simpsons is one of America's greatest cultural products of last few decades, and Mike Reiss was and remains one of its key creators. So if you like The Simpsons, why wouldn't you read this entertaining, charming and informative insider's chronicle? I did, and I'm better for it."
— Kurt Andersen, novelist and SPY magazine founder
Dey Street Books, 9780062748034, 320pp.
Publication Date: June 12, 2018
About the Author
Mike Reiss has won four Emmys and a Peabody Award during his twenty-eight years writing for The Simpsons. He ran the show in Season 4, which Entertainment Weekly called "the greatest season of the greatest show in history." In 2006, Reiss received a Lifetime Achievement Award from the Animation Writers Caucus. Reiss has written jokes for such comedy legends as Johnny Carson, Joan Rivers, Garry Shandling…and Pope Francis! For his comedic contributions to the charitable group Joke with the Pope, in 2015 Pope Francis declared Reiss "A Missionary of Joy."
Mathew Klickstein's writing has appeared in such publications as Wired, New York Daily News, and Splitsider. He is the author of SLIMED! An Oral History of Nickelodeon's Golden Age, the screenwriter of Sony Pictures' Against the Dark, and director/producer of the Marc Summers documentary, On Your Marc. He currently hosts the podcast NERTZ (based on his book Nerding Out), is developing a new television series, and -- with lifetime series writer Mike Reiss -- co-authored Springfield Confidential: Jokes, Secrets, and Outright Lies from a Lifetime Writing for The Simpsons. He aspires to get some sleep someday soon.
In addition to writing, producing, and directing Funny People, Judd Apatow performed the same duties on the film Knocked Up, and co-wrote (with Steve Carell) and directed The 40-Year-Old Virgin. He has also produced Pineapple Express, Superbad, Forgetting Sarah Marshall,Year One, Drillbit Taylor, Stepbrothers,Talladega Nights, and Anchorman.