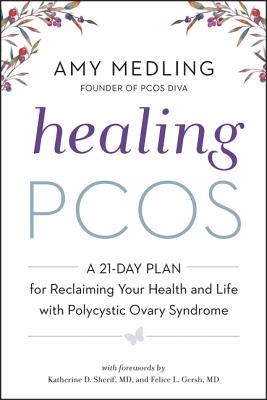 Healing PCOS
A 21-Day Plan for Reclaiming Your Health and Life with Polycystic Ovary Syndrome
Hardcover

* Individual store prices may vary.
Other Editions of This Title:
MP3 CD (7/10/2018)
Compact Disc (7/10/2018)
Paperback (4/9/2019)
Description
A proven 21-day diet and lifestyle plan to help women with polycystic ovary syndrome (PCOS) take back control of their health and resolve their symptoms from a certified health coach and founder of the large PCOS Diva online community.
PCOS is one of the most common hormonal disorders, and the most common cause of female infertility, affecting roughly five million American women. Because it's symptoms are widespread—including stubborn weight gain, acne, mood swings, abnormal hair loss or growth, and irregular menstrual cycles—women suffering from PCOS are often misdiagnosed and treated with "Band-Aid" pharmaceuticals with uncomfortable side effects that only mask PCOS's root causes. While there is no cure for PCOS, women can learn to control their symptoms naturally. In this welcome guide, Amy Medling shows how to combine an anti-inflammatory and hormone-balancing diet, daily movement, and stress-reducing self-care to successfully treat their PCOS.
Grounded in the latest medical research and filled with the knowledge she's acquired dealing with PCOS herself and working with thousands of women, Healing PCOS offers women small, manageable steps that help alleviate their symptoms and control the inflammation, hormonal imbalance, and insulin resistance that underlie the condition. Amy's revolutionary program consists of:
A 21-day anti-inflammatory, hormone-balancing and gluten-free meal plan, including meal prep and plan-ahead tips to make eating this way simple and fast
85 delicious recipes—half fan favorites and half new dishes
Daily self-care exercises, including meditation and journaling prompts
Amy has helped tens of thousands of women with PCOS take back control of their health and their lives through lasting, healing, and sustainable lifestyle change. Whether you're newly diagnosed or have struggled with PCOS, her revolutionary program can now work for you.
Praise For Healing PCOS: A 21-Day Plan for Reclaiming Your Health and Life with Polycystic Ovary Syndrome…
"Healing PCOS is an empowering book that teaches you to become your own best health advocate. Tapping into her own personal experience with PCOS, Amy Melding offers understanding, hope, and a sustainable protocol to help you develop a mindset and lifestyle to truly thrive."
— Amy Myers, MD, New York Times bestselling author of The Autoimmune Solution and The Thyroid Connection

"Healing PCOS is a much-needed, research-backed guide to thriving with PCOS by addressing the underlying causes. Having helped thousands of women naturally take back control of their health and living with PCOS herself, Amy Medling provides an easy-to-follow, sustainable plan that will change many women's lives."
— Dr. Izabella Wentz, #1 New York Times bestselling author of Hashimoto's Protocol

"Healing PCOS takes readers on a journey of self-care and transformation guided by Amy's wise and empowering approach. Well-researched and safe, her comprehensive day-by-day plan addresses every element important to wellness. This much-needed book finally gives women with PCOS the tools to heal and thrive!"
— Dr. Fiona McCulloch, BSc, ND, author of 8 Steps to Reverse Your PCOS

"I've helped thousands of women conceive and I've seen clinically how diet, lifestyle, and mindset shifts can dramatically improve health and ultimately fertility. By following the plan in Healing PCOS, you'll optimize your fertility, increase your chances of conceiving, and most importantly, feel empowered physically and emotionally."
— Aimee E. Raupp MS, Lac, author of Yes, You Can Get Pregnant and Body Belief

"Amy Medling is a master at the helm as she discusses the positive outcomes of changing your lifestyle to better your chances of overcoming the symptoms associated with PCOS. Healing PCOS teaches you how to reaffirm yourself before diving into a 21-day regime that will ultimately leave you transformed."
— Megan M Stewart, Founder of PCOS Awareness Association

"Amy's book is a warm, encouraging read for any woman faced with a PCOS diagnosis. She's been there so she knows the challenges, but she also knows the rewards that come from a simple, mindful approach to diet and lifestyle."
— Dr. Lara Briden, author of The Period Repair Manual

"Healing PCOS is THE guide to living and thriving with PCOS. It's powerful, practical, and delivered with equal parts tough love, bear hugs, and hope."
— Jessica Murnane, author of One Part Plant and founder of Know Your Endo 

"Amy Medling shares her inspiring journey of challenges and triumph with PCOS, infertility and other symptoms. Healing PCOS offers much-needed comfort and hope for those struggling with PCOS and a 21-day lifestyle plan with valuable resources for transforming into PCOS divas."
— Sasha Ottey, MHA

 "A diagnosis like PCOS tends to come with a lot of rules, prohibitions, and a sense of limitation that can feel both daunting and oppressive. Amy Medling's book provides an empowering perspective that can make all the difference. Her book shows you the path of truly living and thriving."
— Melissa McCreery, PhD author of The Emotional Eating Rescue Plan for Smart, Busy Women

"Healing PCOS provides a step-by-step guide for women to find their own path to health and, ultimately, joy in life. With a 21-day plan covering diet, exercise, and mindfulness, Amy provides women with the essential knowledge and tools needed to live their best lives."
— Jennifer Koslo, PhD, RDN, CSSD, LD, CPT, author of The Insulin Resistance Diet for PCOS and The DASH Diet for Beginners

"Amy has taken a complex issue like PCOS and created a powerful and motivating book to guide women in a loving and practical way.  At the end of her 21-day plan she is sure to bring out the Diva in every women reading this book."
— Dr. Marc Sklar - DACM, LAc, FABORM  
HarperOne, 9780062748164, 352pp.
Publication Date: May 1, 2018
About the Author
AMY MEDLING, a certified health coach and founder of PCOS Diva, an online community and program for women with polycystic ovary syndrome.
or
Not Currently Available for Direct Purchase