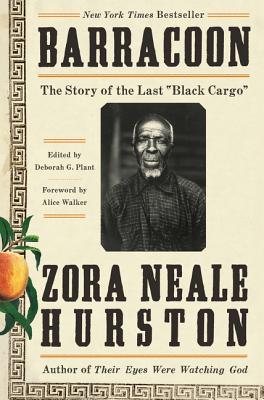 Barracoon
The Story of the Last "Black Cargo"
Hardcover

* Individual store prices may vary.
Other Editions of This Title:
Digital Audiobook (5/7/2018)
Paperback (7/22/2022)
Paperback (1/7/2020)
Paperback, Large Print (5/8/2018)
Hardcover (9/12/2023)
Compact Disc (5/8/2018)
MP3 CD (5/8/2018)
Compact Disc (5/8/2018)
Description
New York Times Bestseller •  TIME Magazine's Best Nonfiction Book of 2018 • New York Public Library's Best Book of 2018 • NPR's Book Concierge Best Book of 2018 • Economist Book of the Year • SELF.com's Best Books of 2018 • Audible's Best of the Year • BookRiot's Best Audio Books of 2018 • The Atlantic's Books Briefing: History, Reconsidered • Atlanta Journal Constitution, Best Southern Books 2018  • The Christian Science Monitor's Best Books 2018 • 
"A profound impact on Hurston's literary legacy."—New York Times
"One of the greatest writers of our time."—Toni Morrison
"Zora Neale Hurston's genius has once again produced a Maestrapiece."—Alice Walker
A major literary event: a newly published work from the author of the American classic Their Eyes Were Watching God, with a foreword from Pulitzer Prize-winning author Alice Walker, brilliantly illuminates the horror and injustices of slavery as it tells the true story of one of the last-known survivors of the Atlantic slave trade—abducted from Africa on the last "Black Cargo" ship to arrive in the United States.
In 1927, Zora Neale Hurston went to Plateau, Alabama, just outside Mobile, to interview eighty-six-year-old Cudjo Lewis. Of the millions of men, women, and children transported from Africa to America as slaves, Cudjo was then the only person alive to tell the story of this integral part of the nation's history. Hurston was there to record Cudjo's firsthand account of the raid that led to his capture and bondage fifty years after the Atlantic slave trade was outlawed in the United States.
In 1931, Hurston returned to Plateau, the African-centric community three miles from Mobile founded by Cudjo and other former slaves from his ship. Spending more than three months there, she talked in depth with Cudjo about the details of his life. During those weeks, the young writer and the elderly formerly enslaved man ate peaches and watermelon that grew in the backyard and talked about Cudjo's past—memories from his childhood in Africa, the horrors of being captured and held in a barracoon for selection by American slavers, the harrowing experience of the Middle Passage packed with more than 100 other souls aboard the Clotilda, and the years he spent in slavery until the end of the Civil War.
Based on those interviews, featuring Cudjo's unique vernacular, and written from Hurston's perspective with the compassion and singular style that have made her one of the preeminent American authors of the twentieth-century, Barracoon masterfully illustrates the tragedy of slavery and of one life forever defined by it. Offering insight into the pernicious legacy that continues to haunt us all, black and white, this poignant and powerful work is an invaluable contribution to our shared history and culture.
Praise For Barracoon: The Story of the Last "Black Cargo"…
"One of the greatest writers of our time." — Toni Morrison
"Zora Neale Hurston's genius has once again produced a Maestrapiece." — Alice Walker, Pulitzer Prize-winning author of The Color Purple 
"Short enough to be read in a single sitting, this book is one of those gorgeous, much too fleeting things...Brimming with observational detail from a man whose life spanned continents and eras, the story is at times devastating, but Hurston's success in bringing it to light is a marvel." — NPR
"A profound impact on Hurston's literary legacy." — New York Times
"With its historically valuable first-hand account of slavery and freedom, Barracoon speaks straight to the 21st-century world into which it has emerged—almost a century after it was written." — Lily Rothman, Time
"Though both Hurston and Lewis are long gone, Hurston's account of the former slave's life serves as a timely reminder of our shared humanity—and the consequences that can occur if we forget it." — People
"Barracoon and its long path to print is a testament to Zora's singular vision amid so many competing pressures that continue to put us at war with ourselves." — Huffington Post
"[Barracoon's] belated publication of her phonetic transcription offers spine-chilling access to one of modernity's great crimes, an atrocity that, when described by a victim, suddenly becomes far less distant." — The Guardian
"Zora Neale Hurston's recovered masterpiece, Barracoon, is a stunning addition to several overlapping canons of American literature." — Tayari Jones, Washington Post
"Zora Neale Hurston has left an indelible legacy on the literary community and commanded an influential place in Black history." — Essence
"A posthumously-released work of acclaimed Harlem Renaissance-era writer Zora Neale Hurston offers a chilling firsthand look at the horrors of the slave trade." — Vibe
"An invaluable addition to American social, cultural, and political history." — Publishers Weekly (starred review)
"Sure to be widely read." — Kirkus Reviews
"Barracoon is a testament to [Zora's] patient fieldwork" — Vulture
"Barracoon is an impactful story that will stick with you long after the final page." — Parade
"A profound work that shows a writer in the process of gathering a landmark story." —  Garden & Gun
"Barracoon is a powerful, breathtakingly beautiful, and at times, heart wrenching, account of one man's story, eloquently told in his own language. Zora Neale Hurston gives Kossola control of his narrative— a gift of freedom and humanity. It completely reinforces for me the fact that Zora Neale Hurston was both a cultural anthropologist and a truly gifted, and compassionate storyteller, who sat in the sometimes painful silence with Kossola and the depth and breadth of memory as a slave. Such is a narrative filled with emotions and histories bursting at the intricately woven seams." — Nicole Dennis-Benn, author of Here Comes the Sun
"That Zora Neale Hurston should find and befriend Cudjo Lewis, the last living man with firsthand memory of capture in Africa and captivity in Alabama, is nothing shy of a miracle. Barracoon is a testament to the enormous losses millions of men, women and children endured in both slavery and freedom—a story of urgent relevance to every American, everywhere." — Tracy K. Smith, Pulitzer Prize-winning author of Life on Mars and Wade in the Water
"Barracoon is a piece of the puzzle we didn't know we were missing. Ms. Zora has captured through the lens of Cudjo Lewis a glimpse into what the slave trade, Middle Passage, and first steps onto American soil meant for millions. The narrative of Cudjo reminds us of the faith and hope that got us here despite it all." — Michael Twitty, author of The Cooking Gene
"[Zora's] newly published book, released for the first time 87 years after it was written, will shed new light on the author as a historical chronicler." — Quartzy
Amistad, 9780062748201, 208pp.
Publication Date: May 8, 2018
About the Author
Zora Neale Hurston was a novelist, folklorist, and anthropologist. She wrote four novels (Jonah's Gourd Vine, 1934; Their Eyes Were Watching God, 1937; Moses, Man of the Mountain, 1939; and Seraph on the Suwanee, 1948); two books of folklore (Mules and Men, 1935, and Tell My Horse, 1938); an autobiography (Dust Tracks on a Road, 1942); an international bestselling nonfiction work (Barracoon: The Story of the Last "Black Cargo," 2018); and over fifty short stories, essays, and plays. She attended Howard University, Barnard College, and Columbia University and was a graduate of Barnard College in 1928. She was born on January 7, 1891, in Notasulga, Alabama, and grew up in Eatonville, Florida. 
Alice Walker won the Pulitzer Prize and an American Book Award for her novel The Color Purple. She has written numerous poems, essays, and short stories, including her most recent book, The Way Forward is With a Broken Heart. Originally published in 1974, Langston Hughes: American Poet was Alice Walker's first book for children. This picture book biography is now back in print with a new author's note and beautiful new illustrations. Ms. Walker lives in Northern California.
Deborah G. Plant is an African American and Africana Studies Independent Scholar, Writer, and Literary Critic specializing in the life and works of Zora Neale Hurston. She is editor of the New York Times bestseller Barracoon: The Story of the Last "Black Cargo" by Zora Neale Hurston and the author of Alice Walker: A Woman for Our Times, a philosophical biography. She is also editor of The Inside Light: New Critical Essays on Zora Neale Hurston, and the author of Zora Neale Hurston: A Biography of the Spirit and Every Tub Must Sit On Its Own Bottom: The Philosophy and Politics of Zora Neale Hurston. She holds MA and Ph. D. degrees in English from the University of Nebraska-Lincoln. Plant played an instrumental role in founding the University of South Florida's Department of Africana Studies, where she chaired the department for five years. She presently resides in Florida.
Book Videos
Coverage from NPR