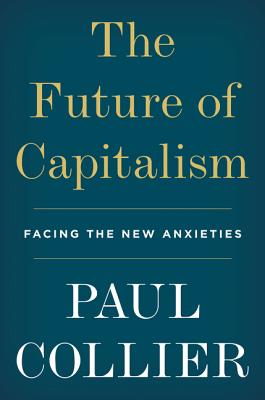 The Future of Capitalism
Facing the New Anxieties
Hardcover

* Individual store prices may vary.
Other Editions of This Title:
Digital Audiobook (12/3/2018)
Paperback (4/21/2020)
Paperback, Chinese (6/19/2020)
Compact Disc (12/4/2018)
MP3 CD (12/4/2018)
Compact Disc (12/4/2018)
Description
Bill Gates's Five Books for Summer Reading 2019
From world-renowned economist Paul Collier, a candid diagnosis of the failures of capitalism and a pragmatic and realistic vision for how we can repair it.
Deep new rifts are tearing apart the fabric of the United States and other Western societies: thriving cities versus rural counties, the highly skilled elite versus the less educated, wealthy versus developing countries. As these divides deepen, we have lost the sense of ethical obligation to others that was crucial to the rise of post-war social democracy. So far these rifts have been answered only by the revivalist ideologies of populism and socialism, leading to the seismic upheavals of Trump, Brexit, and the return of the far-right in Germany. We have heard many critiques of capitalism but no one has laid out a realistic way to fix it, until now.
In a passionate and polemical book, celebrated economist Paul Collier outlines brilliantly original and ethical ways of healing these rifts—economic, social and cultural—with the cool head of pragmatism, rather than the fervor of ideological revivalism. He reveals how he has personally lived across these three divides, moving from working-class Sheffield to hyper-competitive Oxford, and working between Britain and Africa, and acknowledges some of the failings of his profession.
Drawing on his own solutions as well as ideas from some of the world's most distinguished social scientists, he shows us how to save capitalism from itself—and free ourselves from the intellectual baggage of the twentieth century.
Praise For The Future of Capitalism: Facing the New Anxieties…
" In this masterful blend of personal experience and the best thinking of diverse social scientists, economist Collier analyzes the current breakup of the 'cornerstones of belonging'—family, workplace, and nation—and the ensuing frustrations that have opened the way for populists and ideologues. He urges pragmatic policies to manage capitalism (which is 'not working' for many), rebuild the 'beleaguered center' of the political spectrum and restore the "ethics of community" to contemporary life." — Kirkus Reviews (starred review)
"An engaging and well-reasoned argument….There is nothing socialist about Collier's critique or his prescriptions — like Adam Smith, the oft-misunderstood father of modern economics, he's about restoring a moral sensibility to a market system that is falling short of its potential." — Washington Post
"These times are in desperate need of Paul Collier's insights. The Future of Capitalism restores common sense to our views of morality, as it also describes their critical role in what makes families, organizations, and nations work.  It is the most revolutionary work of social science since Keynes.  Let's hope it will also be the most influential." — George Akerlof
"Collier mounts a compelling and often scathingly witty last-ditch defense, seeking not to combine the "best ideas" of Left and Right, but to fix the damage they've done. His brand of pragmatism, or "the hard center," involves redistribution to the losers across three great divides — urban vs. provincial; educated vs. not; globally rich vs. poor — while preserving capitalism and national boundaries." — Vulture's "Best New Books of December"
"An ambitious attempt to restate the aims of capitalism and social democracy." — Bloomberg News
"National loyalty, far from being inimical to a more just and decent world in which all, including the world's poorest, can flourish, is seen by Collier as a firmer foundation for global cooperation than abstract cosmopolitanism, which all too often serves as a mask for unenlightened self-interest. How does Collier intend to repair the bonds of affection in the rich democracies? The Future of Capitalism is rife with inventive proposals….his 'hard centrism' has much to offer." — New York Times Book Review
"Responding to recent electorate revolts in developed countries against paternalistic democratic policies, Collier explores the reasons for these events and suggests pragmatic remedies employing education, taxation, social services, and political reform. Collier's wide-ranging work presents challenging concepts from a British viewpoint, providing a meaningful perspective that will reward thoughtful readers. A noteworthy addition to works such as Douglas McWilliams's The Inequality Paradox and Thomas Piketty's Capital in the Twenty-First Century." — Library Journal
"In this bold work of intellectual trespass, Paul Collier, a distinguished economist, ventures onto the terrain of ethics to explain what's gone wrong with capitalism and how to fix it. To heal the divide between metropolitan elites and the left-behind, he argues, we need to rediscover an ethic of belonging, patriotism, and reciprocity." — Michael J. Sandel, author of What Money Can't Buy and Justice
Harper, 9780062748652, 256pp.
Publication Date: December 4, 2018
About the Author
Paul Collier is the Professor of Economics and Public Policy at the Blavatnik School of Government. He is the author of The Bottom Billion, which won the Lionel Gelber Prize and the Arthur Ross Prize awarded by the Council on Foreign Relations, The Plundered Planet, Exodus and Refuge (with Alexander Betts). Collier has served as Director of the Research Department of the World Bank, and consults with the German and many other governments around the world.