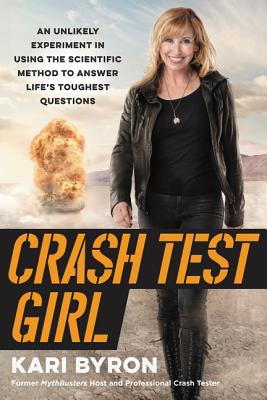 Crash Test Girl
An Unlikely Experiment in Using the Scientific Method to Answer Life's Toughest Questions
Hardcover

* Individual store prices may vary.
Other Editions of This Title:
Paperback (8/6/2019)
Compact Disc (5/8/2018)
MP3 CD (5/8/2018)
Description
Kari Byron—former host of the wildly popular, iconic cult classic MythBusters—shows how to crash test your way through life, no lab coat required.
Kari Byron's story hasn't been a straight line. She started out as a broke artist living in San Francisco, writing poems on a crowded bus on the way to one of her three jobs. Many curve balls, unexpected twists, and yes, literal and figurative explosions later, and she's one of the world's most respected women in science entertainment, blowing stuff up on national television and getting paid for it! In Crash Test Girl, Kari reveals her fascinating life story on the set of MythBusters and beyond. With her signature gusto and roll-up-your-sleeves enthusiasm, she invites readers behind the duct tape and the dynamite, to the unlikely friendships and low-budget sets that turned a crazy idea into a famously inventive show with a rabid fanbase.
The truth is, Mythbusters was never meant to be a science show. But attaching a rocket to a car, riding a motorcycle on water, or lighting 500 pounds of coffee creamer on fire requires a decent understanding of chemistry, physics, and engineering. Thus, the cast and crew brought in the scientific method to work through each problem: Question. Hypothesize. Experiment. Analyze. Conclude. And as Kari came to learn in her own life, not only is the scientific method the best approach for busting myths, it's also the perfect tool for solving everyday issues, including:
Career · Love · Creativity · Setbacks · Money · Sexuality · Depression · Bravery
Crash Test Girl reminds us that science is for everyone, as long as you're willing to strap in, put on your safety goggles, hit a few walls, and learn from the results. Using a combination of methodical experimentation and unconventional creativity, you'll come to the most important conclusion of all: In life, sometimes you crash and burn, but you can always crash and learn.
Praise For Crash Test Girl: An Unlikely Experiment in Using the Scientific Method to Answer Life's Toughest Questions…
"Crash Test Girl is a journey into the incredible mind and incredible life of Kari Byron, one of the smartest women in the business. This engaging book is the closest you'll get to a roadmap of how to be smart and savvy no matter what life throws at you."
— Mayim Balik, New York Times bestselling author of Girling Up

"When I was a kid I wanted to be Kari Byron. Actually, who am I kidding, I still want to be Kari Byron. This book taught me how."
— Simone Giertz, inventor, maker, robot enthusiast and YouTuber

" Supremely entertaining and surprisingly candid, Crash Test Girl is one part autobiography, one part live-your-life instruction manual, presented with the unique badassery that's made Kari Byron a total rock star and one of my favorite people."
— Mike Senese, executive editor of Make: magazine

"Kari Byron smashes the stereotype of a scientist as a white male in a lab coat with a beaker. Her fascinating journey from 'starving artist' to  'accidental scientist celebrity' gripped me at every page. Want to get more young women interested in STEM? Have them read this book!"

— Debbie Sterling, Founder and CEO, GoldieBlox  

"Kari and I have been through a lot over the years on the set of Mythbusters and beyond. This book is like a behind-the-scenes look into the most epic explosions, gnarliest discoveries, and hilarious outtakes that happen when blowing sh*t up is in your job description."
— Tory Belleci, former Mythbusters host, professional builder and science entertainer
HarperOne, 9780062749772, 256pp.
Publication Date: May 8, 2018
About the Author
Kari Byron has been the most recognizable, honored, and beloved woman in science-based reality TV for over a decade. She is best known as a host on Discovery ChannelMythBusters but has gone on to host and produce shows spanning several networks: Head Rush; Punkin Chunkin; Large, Dangerous Rocket Ships; Thrill Factor; Strange Trips; America Declassified; White Rabbit Project; and Positive Energy. Currently she lives in San Francisco with her husband, Paul, and daughter, Stella.
Book Videos