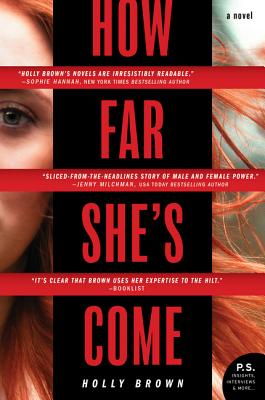 How Far She's Come
A Novel
Paperback

* Individual store prices may vary.
Other Editions of This Title:
Digital Audiobook (5/21/2018)
MP3 CD (5/22/2018)
Compact Disc (5/22/2018)
Description
From the highly acclaimed author of Don't Try to Find Me and This is Not Over comes the unforgettable, harrowing story of a young broadcast journalist who discovers a mysterious diary from a female broadcaster in 1991 featuring startling—and frightening—parallels to her own life.
You might be wondering what a diary from 1991 has to do with you. You're about to find out. Those who don't learn from the past are doomed to repeat it…
Twenty-four-year-old Cheyenne Florian has just received her dream job offer. On the strength of a few vlogs, she's recruited to be the new correspondent on the recently hatched Independent News Network, INN.
With the slogan "Because independent thinking is the only way out," INN has branded itself as innovative. Yet once Cheyenne joins the INN team, she finds age-old dynamics in play. Some of the female staff resent her meteoric rise, while a number of the men are only too happy to welcome her. Then there's the diary left for her anonymously, written in 1991 by a female broadcaster named Elyse Rohrbach. The mysterious diary is accompanied by a note, urging Cheyenne to learn from the past. She wants to believe it's intended as inspiration and friendly advice, or at most, a warning. But as disturbing—and increasingly dangerous—parallels begin to emerge, she starts to wonder if something more sinister is at work.
It's almost as if someone is engineering the similarities in Cheyenne's life to match those from Elyse's past, like she's a pawn in a very twisted game. But Cheyenne is determined to rewrite the rules and play her own game. Though they're separated by more than twenty-five years, Elyse and Cheyenne are forced to learn the same lesson: Nothing is more threatening than a woman who doesn't yet know her own power…
Praise For How Far She's Come: A Novel…
"...nothing will make you feel more paranoid about digital life — and your inability to escape it — than "How Far She's Come." If you haven't already been toying with signing off forever, the tale of the inexperienced, idealistic and gorgeous redhead Cheyenne Florian will push you there." — New York Times Book Review
"This provocative tale will resonate with many in the era of the #MeToo movement." — Publishers Weekly (starred review)
"Holly Brown's latest brings [...] sliced-from-the-headlines story of male and female power played out against a twenty-four hour news cycle [...] raising the titular question: Have we really come anywhere at all?" — Jenny Milchman, USA Today bestselling and Mary Higgins Clark award winning author of Cover of Snow
"How Far She's Come by Holly Brown is a powerful deep-dive into the zeitgeist that is the 'Me Too' phenomenon [...] the breathtaking conclusion is guaranteed to leave you cheering and weeping for how far we've come and how far we have yet to go." — Heather Gudenkauf, New York Times bestselling author of The Weight of Silence and Not a Sound
"Not only a timely examination of women in the workplace, How Far She's Come asks important questions about power, trust, and identity. I couldn't put it down." — Carla Buckley, author of The Good Goodbye
"One of the first works of fiction I've seen encapsulate the #metoo era, How Far She's Come is a chilling look at the savagery of the internet and the way feminist ideals in the workplace can be crushed by the weight of men. [...] I loved everything about this book!"  — Kate Moretti, New York Times Bestselling author of The Blackbird Season
"Edgy, surprising, and incredibly timely, this twisty workplace thriller will have bookclubs buzzing! When a gorgeous internet sensation wants her life back, how far will she push the big-wigs to get retribution and revenge?" — Hank Phillippi Ryan, nationally best-selling author of Trust Me
"Holly Brown's How Far She's Come is a chilling workplace thriller, shockingly relevant, terrifyingly plausible in the entertainment and news industry [...] working women get the hero we've been waiting for." — Christina Kovac, author of The Cutaway  
"Holly Brown is a wonderful writer whose books are full of psychological insight and empathy." — Sophie Hannah, New York Times bestselling author
"Current, clever and compelling." — B.A. Paris, New York Times and USA Today bestselling author of Behind Closed Doors
William Morrow Paperbacks, 9780062749925, 416pp.
Publication Date: May 22, 2018
About the Author
Holly Brown lives with her husband and toddler daughter in the San Francisco Bay Area, where she's a practicing marriage and family therapist. She is the author of the novel Don't Try to Find Me, and her blog, "Bonding Time," is featured on the mental health website PsychCentral.com.
or
Not Currently Available for Direct Purchase