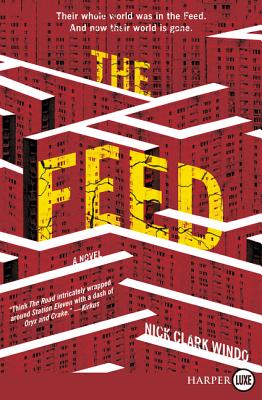 The Feed
A Novel
Paperback

* Individual store prices may vary.
Other Editions of This Title:
Digital Audiobook (3/12/2018)
Hardcover (3/13/2018)
Paperback (12/24/2018)
Compact Disc (3/13/2018)
MP3 CD (3/13/2018)
Compact Disc (3/13/2018)
Description
Now a Streaming Series!
Blake Crouch's Recursion meets Mad Max and The Girl with All the Gifts in this startling and timely debut that explores what it is to be human and what it truly means to be connected in the digital age.
The Feed is accessible everywhere, by everyone, at any time. It instantaneously links us to all information and global events as they break. Every interaction, every emotion, every image can be shared through it; it is the essential tool everyone relies on to know and understand the thoughts and feelings of partners, parents, friends, children, colleagues, bosses, employees . . . in fact, of anyone and everyone else in the world.
Tom and Kate use the Feed, but Tom has resisted its addiction, which makes him suspect to his family. After all, his father created it. But that opposition to constant connection serves Tom and Kate well when the Feed collapses after a horrific tragedy shatters the world as they know it.
The Feed's collapse, taking modern society with it, leaves people scavenging to survive. Finding food is truly a matter of life and death. Minor ailments, previously treatable, now kill. And while the collapse has demolished the trappings of the modern world, it has also eroded trust. In a world where survival of the fittest is a way of life, there is no one to depend upon except yourself . . . and maybe even that is no longer true.
Tom and Kate have managed to protect themselves and their family. But then their six-year-old daughter, Bea, goes missing. Who has taken her? How do you begin to look for someone in a world without technology? And what happens when you can no longer even be certain that the people you love are really who they claim to be?
Praise For The Feed: A Novel…
"A chilling, dystopian page-turner—I was hooked from the very beginning and haunted for days after finishing it." — S.J. Watson, bestselling author of Before I Go to Sleep
"Evocative of Black Mirror, The Feed is a visceral warning about our addiction to technology and shortening attention spans in the form of an optimistic, engaging human perseverance tale." — Tal M. Klein, author of The Punch Escrow
"A really clever and original book. A tense thriller wrapped up in a scarily plausible dystopian nightmare, with a twist that will make your head explode!" — C.J. Tudor, author of The Chalk Man
"This thought-provoking debut shines a speculative light on the subjects of connection, disconnection, and identity in a not-so-distant digital age. The fast pace and absorbing plot will keep readers racing to the end."
 
— Library Journal (starred review)
"Nick Clark Windo's debut, quickly establishes this is not your typical post-apocalyptic scenario [...] Though there are clear similarities to "The Walking Dead" and "The Circle," the book offers fresh, smart commentary about digital dependence and its potential effect on our minds and relationships." — Washington Post (Best Science Fiction and Fantasy -- March 2018)
"Think The Road intricately wrapped around Station Eleven with a dash of Oryx and Crake...Windo pushes all the right buttons in this post-apocalyptic mashup." — Kirkus Reviews
"Imagine a mash-up of "Black Mirror" episodes in post-apocalyptic Britain." — Washington Post
"A startling and timely debut which presents a world as unique and vividly imagined as Station Eleven and The Girl With All the Gifts." — Fantastic Faction
"Easily one of the most powerful and disturbing novels of the year, a dystopian mash-up of Cormac McCarthy's The Road and Jack Finney's The Body Snatchers (sans alien pods) with a heavy nod towards John Wyndham, Nigel Kneale, Philip K Dick and Orwell's 1984." — Starburst Magazine
"[A] brilliant, highly charged debut." — Daily Mail (UK)
"A compelling story of people rediscovering what it means to be human in a world abruptly unplugged." — Christopher Brown, author of Tropic of Kansas
"Warning: THE FEED is ludicrously addictive...I devoured this story barely putting it down. Great concept, great execution, plenty of book trauma with a huge emotional rush of an ending. Left me vaguely tearful. Highly Recommended." — Liz Loves Books
"THE FEED examines our addiction to technology through the lens of a bleak dystopia, reminiscent of The Road. A deft and extremely clever work of sci-fi that kept me completely immersed in the world Windo created." — Joe Hart, WSJ bestselling author of The Last Girl     
"Surprising and ambitious, The Feed takes connectivity to a terrifying extreme--and then rips it away. Technology-addled survivors are forced to relearn how to live in a world in which nothing is safe, not even sleep. Fascinating." — Alexandra Oliva, author of The Last One
"I really enjoyed it and what a great ending!" — Martina Cole, author of the Sunday Times bestselling DCI Kate Burrows series
"What a riveting and original novel! The Feed is frighteningly believable and disturbing and I loved the way I was pulled into its dark reality, so convincing it's almost unbearable. The Feed is one of those rare novels that changes your mind as you read it." — Helen Dunmore, author of The Siege
"A tense thriller with a strong vein of the speculative. And that ending . . . blimey!" — Den Patrick, author of The Boy With the Porcelain Blade
"Nick Clark Windo's captivating debut is a dark, thought-provoking read. Tap into The Feed and it will change your world." —  Adam Hamdy, author of Pendulum
HarperLuxe, 9780062791726, 496pp.
Publication Date: March 13, 2018
About the Author
Nick Clark Windo studied English literature at Cambridge and acting at the Royal Academy of Dramatic Art, and he now works as a film producer and communications coach. The Feed, his first thriller, was inspired by his realization that people are becoming increasingly disconnected from one another, as well as by philosophical questions about identity and memory. He lives in London with his wife and daughter.