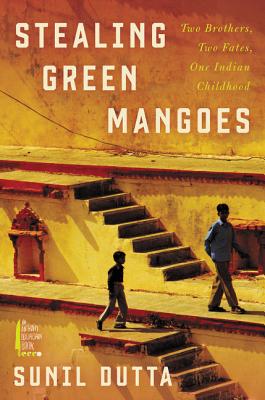 Stealing Green Mangoes
Two Brothers, Two Fates, One Indian Childhood
Hardcover

* Individual store prices may vary.
Other Editions of This Title:
Compact Disc (10/1/2019)
Compact Disc (10/1/2019)
MP3 CD (10/1/2019)
Description
A memoir—written in the wake of a cancer diagnosis—that zeroes in on the crux between two brothers: one who became an LAPD officer, and the other a terrorist
Sunil Dutta is a twenty-year veteran of the LAPD. Before that, he was a biologist at the University of California and a translator of classic Indian poetry. Before that, he was a destitute refugee, one of so many uprooted by the genocidal violence surrounding the Partition of India. Back then, he had a brother. Back then, they were children together, chasing whatever fun and solace they could find in impossible conditions. Sunil looked up to Raju. He admired his strength, his character.
Raju took a different path. He was arrested, he fled the law, he became a fugitive. He became a terrorist. Then he became a father—and then a murderer.
After being diagnosed with Stage IV lung cancer later in life, Sunil urgently wanted to understand what choices had led he and his brother down such radically different paths. In Stealing Green Mangoes, Dutta takes us from his family home in Rajasthan to America, to France, to the streets of southeastern Los Angeles, homing in on the questions that tore him and Raju apart: Can you outgrow the madness that made you? Can you make peace with the ghosts of your past?  
A memoir with sweeping, spiritual ambitions, Stealing Green Mangoes tells the story of a man who pushed back against the forces that captured his own brother and built a compassionate, meaningful life in a broken world.
Praise For Stealing Green Mangoes: Two Brothers, Two Fates, One Indian Childhood…
"Biting.... [This] thought-provoking book asks a central question: How did two brothers — both raised in poverty, abused at home and shaken by the family's loss of status in a status-obsessed society — take such divergent paths?"
— Los Angeles Times

"Facing a grim cancer diagnosis, author Sunil Dutta reflects on the childhood he shared with his brother Raju....Dutta's memoir unpacks the pain of their shared past to make sense of the way their lives diverged as adults."
— Time

"The poignant memoir of two brothers raised under the dark shadow of Indian Partition who forged wildly different paths in life.… Moving, honest.… A powerful memoir of deep loss driven by the author's desire to get at harrowing answers to difficult questions."
— Kirkus Reviews (starred review)

"Dutta's story is both unimaginable and utterly American…. An overall cracking-good read."
— Booklist

"Readers will connect with Dutta, relishing his success and sharing his frustration.... An insightful read about the strength of individuals to overcome adversity, reminding us that while our past and family do contribute to our identity, they do not define who we become."
— Library Journal

"Moving from India to Los Angeles, from a chaotic and difficult upbringing to a life of fulfillment, Sunil Dutta thoughtfully examines a timeless question: can we control the course of our own lives? At once electrifying and heartrending, Stealing Green Mangoes tests the bonds of love and family, offering a moving meditation on how we might make peace with the world around us."
— Jason Rezaian, journalist and author of Prisoner

"Stealing Green Mangoes is a wrenching and spiritual memoir, a profound exploration of the people and places who made us and the choices we then made. Dutta effortlessly traverses time and continents in this unique examination of brotherly love."
— Ivy Pochoda, author of Visitation Street and Wonder Valley 

"Stealing Green Mangoes has it all: social upheaval, petty crime, despair, poetry, true love, collective trauma, dueling brothers, and a protagonist struggling to understand the impulses that drive human beings toward violence while trying desperately to shake himself free from the nightmare of history."
— Josh Rosenblatt, author of Why We Fight  

"A gut-wrenching, poetic account of an impoverished boyhood in India, the love story that took him to America, the remarkable life that encompassed a serial-killer brother, academic triumphs, classical Indian music, a career with the LAPD, and then cancer.... This memoir crowds life, despair, death, and a thousand poetic references into too few pages."
— Eloisa James, author of Paris in Love
Anthony Bourdain/Ecco, 9780062795854, 256pp.
Publication Date: October 1, 2019
About the Author
Sunil Dutta was a police sergeant with the Los Angeles Police Department, and was the author of the books Freedom, Partition, and Terrorism; Bloodlines; and Lightning Should Have Fallen on Ghalib. He was also a professor of homeland security and a recognized expert in terrorism issues. Prior to joining the LAPD, Dutta was a scientist with a specialization in biochemistry.