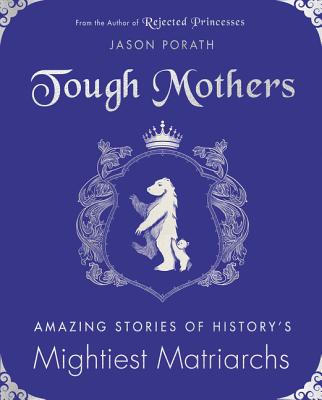 Tough Mothers
Amazing Stories of History's Mightiest Matriarchs
Hardcover

* Individual store prices may vary.
Description
The author of Rejected Princesses returns with an inspiring, fully illustrated guide that brings together the fiercest mothers in history—real life matriarchs who gave everything to protect all they loved.
Mothers possess the "maternal instinct"—an innate fierceness that drives them to nurture, safeguard, fight, and sacrifice for the most important things that matter to them. For some mothers, it's their children. For others, it's artistic expression, invention, social cause, or even a nation that they helped to birth. In Tough Mothers, Jason Porath brings his wisdom and wit to bear on fifty fascinating matriarchs.
In concise, deeply researched vignettes, accompanied by charming illustrations, Porath illuminates these fearsome women, explores their lives, and pays tribute to their accomplishments. Here are famous women as well as lesser known figures from around the globe who have left their indelible mark as they changed the course of history, including:
The Mother Who Sued to Save Her Children from Slavery—Sojourner Truth
The Mother of Rock n' Roll—Sister Rosetta Tharpe
The Mother of Holocaust Children—Irena Sendler
The Mothers of The Dominican Republic—The Mirabal Sisters
The Mother of Yemen's Golden Age—Arwa al-Sulayhi
A celebration of motherhood and female achievement, Tough Mothers reminds us of the power of women to transform our lives and our world.
Praise For Tough Mothers: Amazing Stories of History's Mightiest Matriarchs…
"Jason Porath manages to be simultaneously irreverent and respectful in this delightfully illustrated collection of vignettes, which explore all the ways a woman can be tough. Tough Mothers is packed with inspirational, cautionary, and sometimes difficult stories of the power of mothers through the centuries and around the world." — Tracy V. Wilson and Holly Frey, Hosts of Stuff You Missed In History Class
"The stories of the forgotten women herein have nourished me in a way I'm having difficulty articulating, sating a hunger I didn't know I had. I needed these women. In all their glorious imperfection, they have made me stronger. And now I am hungry for more." — Kelly Sue DeConnick, author Of Bitch Planet, Pretty Deadly, and Captain Marvel
"Porath draws these moms in all their variety, creating cartoony illustrations that are cinematic, upbeat, and inspiring." — Booklist
Dey Street Books, 9780062796097, 256pp.
Publication Date: April 3, 2018