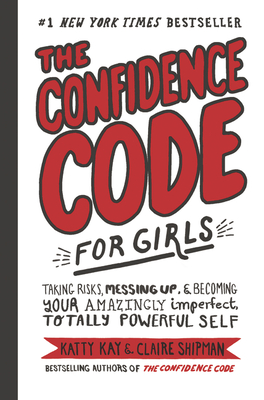 The Confidence Code for Girls
Taking Risks, Messing Up, & Becoming Your Amazingly Imperfect, Totally Powerful Self
Hardcover

* Individual store prices may vary.
Other Editions of This Title:
Digital Audiobook (4/2/2018)
MP3 CD (4/3/2018)
Compact Disc (4/3/2018)
Compact Disc (4/3/2018)
Description
New York Times, USA Today, and Wall Street Journal Bestseller!
Girls can rule the world—all they need is confidence. This empowering, entertaining guide from the bestselling authors of The Confidence Code gives girls the essential yet elusive code to becoming bold, brave, and fearless. 
Packed with graphic novel strips; appealing illustrations; fun lists, quizzes, and challenges; and true stories from tons of real girls, The Confidence Code for Girls teaches girls to embrace risk, deal with failure, and be their most authentic selves.
It's a paradox familiar to parents everywhere: girls are achieving like never before, yet they're consumed with doubt on the inside. Girls worry constantly about how they look, what people think, whether to try out for a sports team or school play, why they aren't getting "perfect" grades, and how many likes and followers they have online.
Katty Kay and Claire Shipman use cutting-edge science and research, as well as proven methods of behavioral change, to reach girls just when they need it the most—the tween and teen years.
Plus don't miss Living the Confidence Code! Packed with photos, graphic novel strips, and engaging interviews, Living the Confidence Code proves that no matter who you are, or how old you are, nothing is out of reach when you decide to try. 
Praise For The Confidence Code for Girls: Taking Risks, Messing Up, & Becoming Your Amazingly Imperfect, Totally Powerful Self…
"This is the book every girl needs to make her dreams come true." — Laurie Hernandez, US Olympic Gold Medalist and best-selling author of I Got This: To Gold and Beyond
"Girl power depends on self-confidence, but many girls struggle to see how awesome they really are…. I wish I had this book when I was a girl – and I'm really glad today's girls have it now." — Sheryl Sandberg, COO of Facebook and founder of Lean In and Option B
"Girls should know it's cool to be different. I learned that lesson on the ice, playing hockey. I didn't always fit in, but I came to embrace that, and it gave me confidence. This book can help every girl flip that switch in her head." — Hilary Knight, Olympic silver medalist and member of the US women's national ice hockey team
"Needs to find its way into the hands of anyone who ever identifies as a girl." — Kirkus Reviews
"Wow!!! I love love love this book for girls. Every single day I work with girls who suffer so much because they don't have the tools The Confidence Code for Girls provides. It gives tweens tips and tools to manage everything from stress to self-doubt to sticky social situations." — Phyllis L. Fagell, school counselor, author and contributor to the Washington Post's On Parenting section
"An essential read for every girl in her tween years.... I am inspired by what the authors have done in offering such a tremendous guidebook that I am sure tween girls will reference time and time again in their journey to forming a solid, confident self." — Dr. Bonnie Zucker, licensed psychologist and author of Anxiety-Free Kids: An Interactive Guide for Parents and Children
"If you've ever wished you had the courage to say what you really think, or do the thing that scares you, this is the book for you! Confidence is crucial for girls, and Katty and Claire have figured out the recipe. Reading this book will help you change your life!" — Rachel Simmons, author of Enough as She Is and Leadership Specialist at Smith College
"Addresses why girls, specifically, can feel unsure of themselves, how they can break out of habits that hold them back, take healthy risks, and build confidence.... Readers will enjoy discovering more about their brains and how to handle real-life situations." — School Library Journal
"The authors suggest the importance of and methods for developing positive relationships, mindfulness, and the strength to persist after making a mistake... Because the authors draw from a diverse population of girls' experiences from differing cultures and backgrounds, any girl can feel at home in these pages. — Voice of Youth Advocates (VOYA)
"There's a lack of books on this subject for tweens and young teens, so this, with its endnotes and helpful resource list, invaluably fills the gap. Girls will appreciate how it speaks directly to them, not their parents, and offers inspiring stories by girls for girls." — Booklist Online
"Confidence, the authors suggest, comes not from being perfect, but from building a strong foundation of self-awareness, knowledge, and resilience—and it's always a work in progress." — Publishers Weekly
HarperCollins, 9780062796981, 320pp.
Publication Date: April 3, 2018
About the Author
Katty Kay is the anchor of BBC World News America, based in Washington, DC. She is also a frequent contributor to Meet the Press and Morning Joe and a regular guest host for The Diane Rehm Show on NPR. She's the author, along with Claire Shipman, of two New York Times bestsellers, Womenomics: Work Less, Achieve More, Live Better and The Confidence Code: The Science and Art of Self-Assurance—What Women Should Know. In addition to her work on women's issues, Katty has covered the Clinton administration sex scandal, four presidential elections, and the wars in Kosovo, Afghanistan, and Iraq. She was at the Pentagon just twenty minutes after a hijacked plane flew into the building on 9/11—one of her most vivid journalistic memories is of interviewing soldiers still visibly shaking from the attack. Katty grew up all over the Middle East, where her father was posted as a British diplomat. She studied modern languages at Oxford and is a fluent French and Italian speaker with some "rusty Japanese." Katty juggles her journalism with raising four children with her husband, a consultant. Visit Katty online at www.theconfidencecode.com.
Nan Lawson is an illustrator and artist based in Los Angeles. She's a regular contributor to several art galleries across the country and has had the opportunity to work with companies such as the Academy Awards, Lucasfilm, Nickelodeon, and Hulu. She also works with freelance clients for animation visual development as well as book and editorial illustration. She spends most of her days drawing, drinking coffee, and romping around LA with her husband and daughter.
Claire Shipman is a journalist, author, and public speaker. She's the author, along with Katty Kay, of two New York Times bestsellers, Womenomics: Work Less, Achieve More, Live Better and The Confidence Code: The Science and Art of Self-Assurance—What Women Should Know. Before turning to writing, Claire spent almost three decades as an award-winning television journalist. For the last fourteen years, Claire was a regular contributor to Good Morning America and other national broadcasts for ABC News. Before that, she served as White House correspondent for NBC News, where she regularly reported on presidential policy and politics for NBC Nightly News and Today. Prior to that, she worked for CNN for a decade, covering the White House, and she was also posted in Moscow for five years, reporting on the fall of the Soviet Union. Claire's coverage from Moscow helped CNN earn a National Headliners Award and a coveted Peabody Award. She received a DuPont Award and an Emmy Award for coverage of the 1989 Tiananmen Square student uprising, as well as a DuPont Award for CNN's coverage of the 1995 Oklahoma City bombing. She graduated from Columbia College and later earned a master's degree from the School of International Affairs there. She's now a member of Columbia's board of trustees. She lives in Washington, DC, with her husband and their two children and three dogs. Visit Claire online at www.theconfidencecode.com.
JillEllyn Riley is a writer and editor with extensive experience in crafting and telling stories. She's worked with bestselling, innovative children's authors, as well as on nonfiction and fiction for adults. Her cowritten middle grade series is The Saturday Cooking Club. JillEllyn lives in Brooklyn, New York, with her husband, two sons, and canine ally Stella.