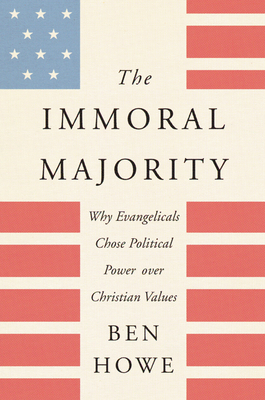 The Immoral Majority
Why Evangelicals Chose Political Power Over Christian Values
Paperback

* Individual store prices may vary.
Other Editions of This Title:
Hardcover (8/13/2019)
MP3 CD (8/13/2019)
Compact Disc (8/13/2019)
Compact Disc (8/13/2019)
Description
Now a National Bestseller!
Evangelicals are losing the culture war. What if it's their fault?
In 2016, writer and filmmaker Ben Howe found himself disillusioned with the religious movement he'd always called home. In the pursuit of electoral victory, many American evangelicals embraced moral relativism and toxic partisanship.
Whatever happened to the Moral Majority, who headed to Washington in the '80s to plant the flag of Christian values? Where were the Christian leaders that emerged from that movement and led the charge against Bill Clinton for his deception and unfaithfulness? Was all that a sham? Or have they just lost sight of why they wanted to win in the first place? From the 1980s scandals till today, evangelicals have often been caricatured as a congregation of judgmental and prudish rubes taken in by thundering pastors consumed with greed and lust for power. Did the critics have a point?
In The Immoral Majority, Howe—still a believer and still deeply conservative—analyzes and debunks the intellectual dishonesty and manipulative rhetoric which evangelical leaders use to convince Christians to toe the Republican Party line. He walks us through the history of the Christian Right, as well as the events of the last three decades which led to the current state of the conservative movement at large.
As long as evangelicals prioritize power over persuasion, Howe argues, their pews will be empty and their national influence will dwindle. If evangelicals hope to avoid cultural irrelevance going forward, it will mean valuing the eternal over the ephemeral, humility over ego, and resisting the seduction of political power, no matter the cost. The Immoral Majority demonstrates how the Religious Right is choosing the profits of this world at the cost of its soul—and why it's not too late to change course.
Praise For The Immoral Majority: Why Evangelicals Chose Political Power Over Christian Values…
"It's one thing to have a transactional relationship with the Trump presidency. But, as Ben Howe argues in The Immoral Majority,  it's entirely different to redefine your moral framework to accommodate someone who has no business fitting into it. Howe's deeply personal call to his fellow evangelical Christians should not be ignored."
— Jonah Goldberg, author of Suicide of the West and Los Angeles Times columnist

"This is a book the big-name evangelical crusaders who sacrificed their morals at the altar of the Republican Party do not want you to read. Howe, the once wayward son of a pastor who personally recognizes the need for true moral leadership, takes a searing look at people such as Jerry Falwell Jr., Dr. James Dobson, Robert Jeffress, and others to ask a hard but necessary question: Who will inspire future generations of Americans to worship God when our nation's biggest supposedly moral leaders are so busy worshipping political power?"
— Amanda Carpenter, author of Gaslighting America: Why We Love it When Trump Lies to Us and CNN political commentator

"Ben Howe's heartfelt book is a plea to evangelicals to understand the limits of earthly politics and a call for them to return to a path marked by grace, away from the punitive and cruel politics of this administration. Ben's deep faith and political smarts shine from every page, and The Immoral Majority is essential for understanding how American evangelicals arrived at their current moment of crisis."
— Rick Wilson, author of Everything Trump Touches Dies

"The Immoral Majority by Ben Howe is such an important book for Americans to read and for evangelicals to debate. Critically important."
— Joe Scarborough

"Mixing political commentary, historical facts, and personal narrative, Howe offers a critical yet compassionate call to arms for fellow evangelicals to remember their religious obligations as upholders of high moral standards….Howe's trenchant work will appeal to anyone concerned with the evangelical embrace of the Trump presidency."
— Publishers Weekly (starred review)
Broadside Books, 9780062797087, 304pp.
Publication Date: August 25, 2020
About the Author
Ben Howe is a writer, podcaster, and film - maker, as well as the founder of Howe Creative, a video production company. He has appeared as a commentator on CNN, MSNBC, and Fox News, and has written guest columns for the Atlantic, the Washington Examiner, and the Daily Beast, among other publications. You can follow him on Twitter at @BenHowe