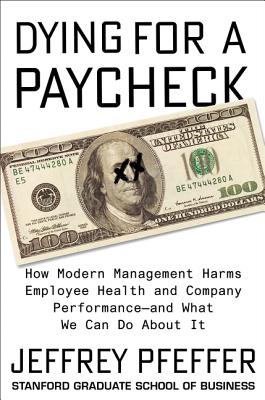 Dying for a Paycheck
How Modern Management Harms Employee Health and Company Performance—and What We Can Do About It
Hardcover

* Individual store prices may vary.
Other Editions of This Title:
Digital Audiobook (3/19/2018)
Compact Disc (3/20/2018)
MP3 CD (3/20/2018)
Description
In one survey, 61 percent of employees said that workplace stress had made them sick and 7 percent said they had actually been hospitalized. Job stress costs US employers more than $300 billion annually and may cause 120,000 excess deaths each year. In China, 1 million people a year may be dying from overwork.  People are literally dying for a paycheck. And it needs to stop.
In this timely, provocative book, Jeffrey Pfeffer contends that many modern management commonalities such as long work hours, work-family conflict, and economic insecurity are toxic to employees—hurting engagement, increasing turnover, and destroying people's physical and emotional health—and also inimical to company performance.  He argues that human sustainability should be as important as environmental stewardship.
You don't have to do a physically dangerous job to confront a health-destroying, possibly life-threatening, workplace. Just ask the manager in a senior finance role whose immense workload, once handled by several employees, required frequent all-nighters—leading to alcohol and drug addiction. Or the dedicated news media producer whose commitment to getting the story resulted in a sixty-pound weight gain thanks to having no down time to eat properly or exercise. Or the marketing professional prescribed antidepressants a week after joining her employer.
In Dying for a Paycheck, Jeffrey Pfeffer marshals a vast trove of evidence and numerous examples from all over the world to expose the infuriating truth about modern work life: even as organizations allow management practices that literally sicken and kill their employees, those policies do not enhance productivity or the bottom line, thereby creating a lose-lose situation.
Exploring a range of important topics including layoffs, health insurance, work-family conflict, work hours, job autonomy, and why people remain in toxic environments, Pfeffer offers guidance and practical solutions all of us—employees, employers, and the government—can use to enhance workplace wellbeing. We must wake up to the dangers and enormous costs of today's workplace, Pfeffer argues. Dying for a Paycheck is a clarion call for a social movement focused on human sustainability. Pfeffer makes clear that the environment we work in is just as important as the one we live in, and with this urgent book, he opens our eyes and shows how we can make our workplaces healthier and better.
Praise For Dying for a Paycheck: How Modern Management Harms Employee Health and Company Performance—and What We Can Do About It…
"In this urgent and essential book, Pfeffer lays bare the hidden costs of the gig economy, employment instability, and many modern management practices. If you've got a job, you must read this book." — Laszlo Bock, CEO and Co-Founder of Humu & author of Work Rules!
"This is simply the most important business book I have read in a decade. As Pfeffer's sharp analysis points out, the relationship between people and organizations is flat-out broken. Offering a range of solutions, Dying for a Paycheck will start a revolution." — Tom Rath, author of STRENGTHSFINDER 2.0.
"This profound book on personal well-being and organizational work environments should change how work is done and literally save lives.  Using Pfeffer's insights, employees can take responsibility for their physical and mental health and leaders can create abundant organizations that win." — Dave Ulrich, Rensis Likert Professor, Ross School of Business, University of Michigan
"With precision and insight, Pfeffer lays bare the true cost of toxic workplaces, providing a timely wakeup call for any leader who thought a good workplace was simply a 'nice to have'. As Pfeffer shows, it is a fundamental right in our fast changing society. Dying for a Paycheck is an essential book from one of our greatest organizational scholars." — Professor Lynda Gratton, author of the The 100-Year Life: living and working in an age of longevity
"Pfeffer examines the heretofore uncharted relationship between dysfunctional workplace practices and employee health.  Dying for a Paycheck is a compelling and important read for all of us seeking to produce a healthy and engaged organization." — Gary Loveman, former CEO, Caesars Entertainment and former president of Consumer and Health Services, Aetna
Harper Business, 9780062800923, 272pp.
Publication Date: March 20, 2018
About the Author
Jeffrey Pfefferis the Thomas D. Dee II Professor of Organizational Behavior at the Graduate School of Business, Stanford University. He is the author or coauthor of fifteen books, including Leadership B.S., Power, The Human Equation, Managing with Power, and The Knowing-Doing Gap. Pfeffer has led seminars in thirty-nine countries and for numerous US companies, associations, and universities. He has won many awards for his writing, has an honorary doctorate from Tilburg University in the Netherlands, and was listed in the top 25 management thinkers by Thinkers50, and as one of the Most Influential HR International Thinkers by HR Magazine. He lives in Hillsborough, California.
or
Not Currently Available for Direct Purchase