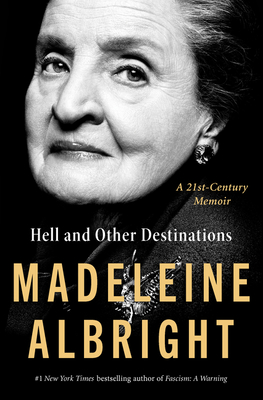 Hell and Other Destinations
A 21st-Century Memoir
Hardcover

* Individual store prices may vary.
Other Editions of This Title:
Digital Audiobook (4/13/2020)
Paperback (4/26/2022)
Paperback, Large Print (4/14/2020)
Description
"Richly detailed. . . an intimate portrait of a diplomat." —New Yorker
From the seven-time New York Times bestselling author and former Secretary of State Madeleine Albright—among history's most admired and tireless public servants—a revealing, funny, and inspiring reflection on the challenge of continuing one's career far beyond the normal age of retirement
In 2001, when Madeleine Albright was leaving office as America's first female secretary of state, interviewers asked her how she wished to be remembered. "I don't want to be remembered," she answered. "I am still here and have much more I intend to do. As difficult as it might seem, I want every stage of my life to be more exciting than the last."
In that time of transition, the former Secretary considered the possibilities: she could write, teach, travel, give speeches, start a business, fight for democracy, help to empower women, campaign for favored political candidates, spend more time with her grandchildren. Instead of choosing one or two, she decided to do it all. For nearly twenty years, Albright was in constant motion, navigating half a dozen professions, clashing with presidents and prime ministers, learning every day. After leaving the State Department, she blazed her own trail—and gave voice to millions who yearned for respect, regardless of gender, background, or age.
Hell and Other Destinations reveals this remarkable figure at her bluntest, funniest, most intimate, and most serious. It is the tale of our times anchored in lessons for all time, narrated by an extraordinary woman who had a matchless zest for life.
Praise For Hell and Other Destinations: A 21st-Century Memoir…
"This richly detailed memoir by the former Secretary of State covers the period since her departure from government, in 2001. With clarity and wisdom, Albright recounts moments of pride, like receiving the Presidential Medal of Freedom, in 2012, and acknowledges recent criticisms of her record, including those concerning the human cost of the sanctions that the Clinton Administration imposed on Iraq. Ultimately, the book presents an intricate portrait of a diplomat, and her ardent belief in democratic values and human rights, transatlantic partnerships and arms control, and open economies and sturdy institutions." — The New Yorker
"By turns poignant and hilarious."  — New York Times
"In a blunt and revealing memoir, the former secretary of state reflects on the final stages of her career, working productively in her later decades and the state of the world since she left office in 2001."  — USA Today
"The book reflects the energy and churn of her post-State Department life…What resonated with me most were the human moments…her successes and her failures. The changes she's witnessed and the glass ceilings that remain."  — NPR
"A humorous, self-deprecating account of her past two decades as a professor, businesswoman, mother and grandmother."  — Wall Street Journal
"This passionately told account of Albright's 'afterlife' will inspire readers to become involved in the issues meaningful to them. Recommended for all interested in politics, leadership, and women's studies." — Library Journal (starred review)
"Former secretary of state Albright weaves geopolitics with her own life story in this intelligent and personable memoir….She proves to be a capacious storyteller, willing to share personal disappointments, such as the dissolution of her marriage, as well as professional accomplishments. This appealing memoir will charm readers interested in contemporary politics and women's issues." — Publishers Weekly
"Dishy, as policy-wonkish memoirs go, and a pleasure for readers interested in the art of negotiation." — Kirkus Reviews
Harper, 9780062802255, 384pp.
Publication Date: April 14, 2020
About the Author
Madeleine Albright served as America's sixty-fourth secretary of state from 1997 to 2001. Her distinguished career also included positions at the White House, on Capitol Hill, and as U.S. ambassador to the United Nations. She was a resident of Washington D.C., and Virginia.