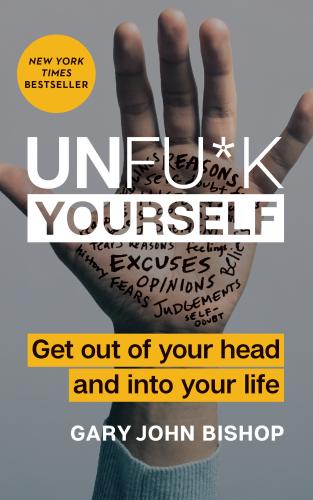 Unfu*k Yourself
Get Out of Your Head and into Your Life (Unfu*k Yourself series)
Hardcover

* Individual store prices may vary.
Other Editions of This Title:
Digital Audiobook (7/31/2017)
MP3 CD (8/1/2017)
Compact Disc (8/1/2017)
Description
New York Times bestseller. Over two million copies sold!
Joining the ranks of The Life-Changing Magic of Not Giving a F*ck, The Subtle Art of Not Giving a F*ck, You Are a Badas*, and F*ck Feelings comes this refreshing, BS-free, self-empowerment guide that offers an honest, no-nonsense, tough-love approach to help you move past self-imposed limitations.

Are you tired of feeling fu*ked up? If you are, Gary John Bishop has the answer. In this straightforward handbook, he gives you the tools and advice you need to demolish the slag weighing you down and become the truly unfu*ked version of yourself. ''Wake up to the miracle you are,'' he directs. ''Here's what you've forgotten: You're a fu*king miracle of being.'' It isn't other people that are standing in your way, it isn't even your circumstances that are blocking your ability to thrive, it's yourself and the negative self-talk you keep telling yourself.

In Unfu*k Yourself, Bishop leads you through a series of seven assertions:

I am willing.
I am wired to win.
I got this.
I embrace the uncertainty.
I am not my thoughts; I am what I do.
I am relentless.
I expect nothing and accept everything.

Lead the life you were meant to have—Unfu*k Yourself.
Praise For Unfu*k Yourself: Get Out of Your Head and into Your Life (Unfu*k Yourself series)…
"Unfu*k Yourself ... will guide you in how to deal with divorce, loss, failure, health, work place woes, and will give you the power back in tackling life and teach you how to deal with your problems by taking responsibility." — Reader's Digest
"If you like your self-help without any BS, look to Gary John Bishop's Unfu*k Yourself, [which] aims to help readers who feel f*cked up work through their challenges. You'll get advice and tools to combat negative self-talk and feel more empowered." — Bustle
"Meet Gary John Bishop, the straight-talking Glaswegian taking the self-help world by storm." — Sunday Herald
"This no-nonsense guide will help you shut up that hateful inner critic and get you feeling more positive about yourself and your life." — Women's Health
"Packed with valuable words that encourage you to abandon self-doubt and fear so you can finally live your best life." — Buzzfeed
"At one point or another, we've all been guilty of getting too in-our-heads about something…. A no-frills look at overcoming anxiety… guides you through getting out of negative self-talk and into your best self." — Refinery 29
"Sometimes we all need a little help moving forward and often the most significant barrier to success is our minds. [Bishop] shares tools and advice you need to demolish the baggage weighing you down." — Lexington Herald Leader
"Putting Unfu*k Yourself in the self-help category is selling it short. Instead, it belongs in the self-help/motivation/comedy/ inspiration/oh-man-I-do-that-BS-all-the-time/personal-and-professional-development section of the bookstore." — The Manual
HarperOne, 9780062803832, 224pp.
Publication Date: August 1, 2017
About the Author
Gary John Bishop is one of the leading personal development experts in the industry. His "urban philosophy" approach represents a new wave of personal empowerment and life mastery that has provided miraculous results for people in the quality and performance of their lives.
Book Videos