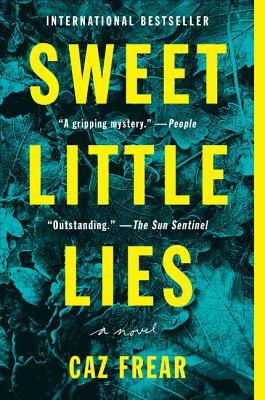 Sweet Little Lies (Paperback)
A Novel
Harper Paperbacks, 9780062823274, 368pp.
Publication Date: May 21, 2019
Other Editions of This Title:
Digital Audiobook (8/13/2018)
Hardcover (8/14/2018)
Paperback, Large Print (8/14/2018)
Compact Disc (8/14/2018)
Compact Disc (8/14/2018)
MP3 CD (8/14/2018)
* Individual store prices may vary.
Description
"A dark and smart page-turner." -The New York Times
In this gripping debut procedural, a young London policewoman must probe dark secrets buried deep in her own family's past to solve a murder and a long-ago disappearance.
Your father is a liar. But is he a killer?
Even liars tell the truth . . . sometimes.
Twenty-six-year-old Cat Kinsella overcame a troubled childhood to become a Detective Constable with the Metropolitan Police Force, but she's never been able to banish these ghosts. When she's called to the scene of a murder in Islington, not far from the pub her estranged father still runs, she discovers that Alice Lapaine, a young housewife who didn't get out much, has been found strangled.
Cat and her team immediately suspect Alice's husband, until she receives a mysterious phone call that links the victim to Maryanne Doyle, a teenage girl who went missing in Ireland eighteen years earlier. The call raises uneasy memories for Cat—her family met Maryanne while on holiday, right before she vanished. Though she was only a child, Cat knew that her charming but dissolute father wasn't telling the truth when he denied knowing anything about Maryanne or her disappearance. Did her father do something to the teenage girl all those years ago? Could he have harmed Alice now? And how can you trust a liar even if he might be telling the truth?
Determined to close the two cases, Cat rushes headlong into the investigation, crossing ethical lines and trampling professional codes. But in looking into the past, she might not like what she finds. . . .
About the Author
Caz Frear grew up in Coventry, England, and spent her teenage years dreaming of moving to London and writing a novel. After fulfilling her first dream, it wasn't until she moved back to Coventry thirteen years later that the second finally came true. She has a degree in History & Politics, and when she's not agonizing over snappy dialogue or incisive prose, she can be found shouting at Arsenal football matches or holding court in the pub on topics she knows nothing about. Sweet Little Lies is her first novel.
Praise For Sweet Little Lies: A Novel…
"A gripping mystery."
— People

"This remarkable debut features detective Cat Kinsella, who still experiences 'constant low-level dread' from festering family secrets. When a body is discovered near her dad's London pub, Cat shakes off the fear that once 'muzzled' her, and unleashes herself on the investigation."
— Minneapolis Star-Tribune

"Frear keeps the reader riveted both to the progression of the case and the complicated truths the investigation exposes. In Cat, she has created a protagonist who is edgy and defensive, yet wry and incisive. Some passages will have you laughing out loud.  First published in June in the UK, TV rights have been purchased and the author has a two-book deal. So we'll be seeing at least one more Cat Kinsella novel—and hopefully an ongoing series.  You might want to get in on the ground floor."
— Newark Star-Ledger

"I recently made the acquaintance of a new detective whom I rather liked. . . . [I] found myself intrigued by her heroine, 26-year-old Metropolitan Police Force detective constable Cat Kinsella. Like many fictional detectives, Cat has a troubled past, but she also has an agreeably caustic tongue and a questionable approach to ethics, and I enjoyed following her through a Tana French-ish procedural plot."
— Seattle Times

" A gripping mystery starring a fascinating female detective, Sweet Little Lies is an exciting debut procedural that will leave readers wanting more from Caz Frear."

— Bustle

"[A] taut, psychologically twisted debut . . .  Readers will root for the spiky Kinsella, with her emphatic center, and hope to see more of her in future books."
— Publishers Weekly (starred review)

"Cat's evolution from one-dimensional sad sack to complex, honest adult is both believable and welcome, putting her on par with Susie Steiner's and Tana French's female detectives. A truly satisfying—and gritty—mystery."

— Kirkus Reviews (starred review)

"Frear has fashioned a remarkably rich and sympathetic character in Cat, and her portrayal of dysfunctional families, especially their mix of world-weary dialogue interspersed with cutting comments, is cringingly realistic. . . . Impressive. . . will also work as a way of keeping Tana French fans happy while waiting for French's next book."
— Booklist

"An assured debut . . . All the characters--minor or lead, living or dead--are well crafted. Frear also makes an impression with her vivid dialogue and prose . . . It's no secret that Lies is an engrossing read."

— Shelf Awareness

"Astonishingly assured. . . .  a stellar crime fiction debut by an author to watch."
— Crime by the Book

"Outstanding. . . . 'Sweet Little Lies' is a confident first novel that succinctly melds the police procedural with the psychological thriller."
— Oline Cogdill, The Sun Sentinel

"With a portrait of Cat with depth and nuance, Frear creates as fascinating a character as readers are likely to encounter this year. A complex tale of depravity—and daddy issues that threaten to overcome Frear's protagonist—'Sweet Little Lies' represents a study in the damage that falsehoods inflict, a meditation on the grievances and grief of family—and a thumping good read."
— The Free-Lance Star (Fredericksburg, VA)

"Caz Frear's Sweet Little Lies has been generating a lot of buzz (It's even been optioned for TV by Carnival Films, the producer of "Downtown Abbey"), and with good reason: It is one of the best debuts I've read in some time."
— BookPage Magazine

"An intense page-turner. Admirers of the police procedurals of Tana French and the thrillers of Clare Mackintosh will welcome Frear's dramatic debut."

— Library Journal

"A smart page-turner that you'd never guess was written by a first-time novelist."
— AARP, "Summer Fiction Preview 2018"

"Sweet Little Lies is a mesmerizing psychological murder mystery. An extraordinary debut novel that effectively takes a deep look at how we often struggle to cope with the realities of our darker past. [It] features an assortment of unforgettable characters and a plotline that is gripping, thought-provoking and genuine. . . . A captivating story."
— New York Journal of Books

"Sweet Little Lies is a tremendous debut. Caz Frear delivers on a compelling premise with taut prose, snappy dialogue, and a fresh, confident voice. Highly recommended!"
— Alafair Burke, New York Times bestselling author of The Wife

"A blistering debut from a major new voice. I couldn't put it down. Authentic, compelling, unflinching and tender and written with real verve and assurance."
— Erin Kelly, author of Broadchurch and He Said She Said

"Caz Frear's ability to write tight, tense dialogue with a dark comedic slant is brilliant. I read Sweet Little Lies in one sitting, it is a terrific debut."
— Lynda La Plante, creator of Prime Suspect

"BRILLIANT! Unputdownable and great writing. Recommended."
— Marian Keyes

"Outstanding. . . Frear has an astonishingly confident voice for a new writer and there's a dark humor that lifts the storytelling to a different level."  
— Ann Cleeves, creator of the Vera and Shetland series

"Sweet Little Lies is written with panache and is kick-ass feminist, as well as laugh-out-loud funny."
— The Independent (UK)

"A superb page-turner, packed with impressive police procedural, a fascinating, festering, twisting mystery that weaves tantalisingly between past and present, and a plot that thrills and confounds to the final showdown. A remarkable debut from an exciting new author."
— Lancashire Evening Post