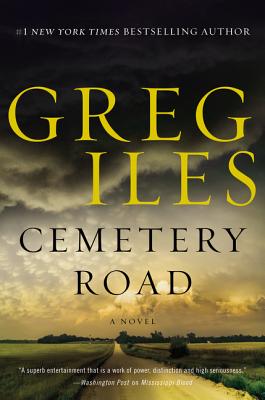 Cemetery Road
A Novel
Hardcover

* Individual store prices may vary.
Other Editions of This Title:
Digital Audiobook (3/31/2019)
Digital Audiobook (3/4/2019)
Mass Market (12/30/2019)
Paperback, Large Print (3/5/2019)
Paperback (8/4/2020)
Description
"An ambitious stand-alone thriller that is both an absorbing crime story and an in-depth exploration of grief, betrayal and corruption… Iles's latest calls to mind the late, great Southern novelist Pat Conroy. Like Conroy, Iles writes with passion, intensity and absolute commitment."— Washington Post
The #1 New York Times bestselling author of the Natchez Burning trilogy returns with an electrifying tale of friendship, betrayal, and shattering secrets that threaten to destroy a small Mississippi town.
Sometimes the price of justice is a good man's soul.
When Marshall McEwan left his Mississippi hometown at eighteen, he vowed never to return. The trauma that drove him away spurred him to become one of the most successful journalists in Washington, DC. But as the ascendancy of a chaotic administration lifts him from print fame to television stardom, Marshall discovers that his father is terminally ill, and he must return home to face the unfinished business of his past.
On arrival, he finds Bienville, Mississippi very much changed.  His family's 150-year-old newspaper is failing; and Jet Talal, the love of his youth, has married into the family of Max Matheson, one of a dozen powerful patriarchs who rule the town through the exclusive Bienville Poker Club.  To Marshall's surprise, the Poker Club has taken a town on the brink of extinction and offered it salvation, in the form of a billion-dollar Chinese paper mill.  But on the verge of the deal being consummated, two murders rock Bienville to its core, threatening far more than the city's economic future.
An experienced journalist, Marshall has seen firsthand how the corrosive power of money and politics can sabotage investigations. Joining forces with his former lover—who through her husband has access to the secrets of the Poker Club—Marshall begins digging for the truth behind those murders.  But he and Jet soon discover that the soil of Mississippi is a minefield where explosive secrets can destroy far more than injustice.  The South is a land where everyone hides truths: of blood and children, of love and shame, of hate and murder—of damnation and redemption.  The Poker Club's secret reaches all the way to Washington, D.C., and could shake the foundations of the U.S. Senate.  But by the time Marshall grasps the long-buried truth about his own history, he would give almost anything not to have to face it.
Praise For Cemetery Road: A Novel…
"An ambitious stand-alone thriller that is both an absorbing crime story and an in-depth exploration of grief, betrayal and corruption… Iles's latest calls to mind the late, great Southern novelist Pat Conroy. Like Conroy, Iles writes with passion, intensity and absolute commitment." — Washington Post
"[A] page-turner [with] Iles'...intense scenes and dramatic emotions." — Pittsburgh Post-Gazette
"Iles… has made Mississippi his own in the same way that James Lee Burke has claimed Cajun country and Michael Connelly has remapped contemporary Los Angeles… They will be talking about this one for a quite awhile." — Booklist (starred review)
"It is impossible to turn away. It's like binge-watching your favorite TV drama, and you don't dare take your eyes off the screen for fear of missing out on another revelation. Cemetery Road is full of them." — Bookreporter.com
"A sweeping tale of family dysfunction [and] sexually charged secrets." — Publishers Weekly (starred review)
"With a paralyzing twist that will leave you speechless, Iles has created a completely original and unforgettable tale." — Iron Mountain Daily News
"Another shocking Iles ending." — Clarion-Ledger
"A fast-paced book, a thrill ride of an epic." — Valdosta Daily Times
"A thrilling, complicated path… [A] web of lies and intrigue… Give yourself some time [and] let yourself be absorbed." — Quad City Times (Iowa)
"[Iles is] one of my go-to storytellers, someone whose books are excellent consistently and without exception… [A] spectacular story… Iles's pace and tone are uniquely his own, and he opens to readers a world of insight wrapped in excellent crime fiction stories that enriches our lives immeasurably." — Crime Spree Magazine
"Natchez Burning is extraordinarily entertaining and fiendishly suspenseful. I defy you to start it and find a way to put it down; as long as it is, I wished it were longer.... This is an amazing work of popular fiction." — Stephen King
"Natchez Burning is possibly his best yet . . . This epic story is electrifying from beginning to end, un-put-downable, a gripping read." — Delta Magazine
"The first in a trilogy whose themes of race relations, Southern tradition, and the corrupting nature of power are expertly woven throughout a powerful story . . . Natchez Burning is perhaps the best thriller to come along in years. Memorable, intricate, and expertly crafted." — Memphis Commercial Appeal
"The thriller of the year, of the decade even, is Natchez Burning... The first of a projected trilogy, Natchez Burning is Penn Cage's fourth outing. But you don't need to read its predecessors to be wholly consumed by this wonderful book. Buy, read, and marvel." — The Times (London)
"Iles carries it off with style, intelligence and passion...The Bone Tree' is filled with menace, betrayal, [and] unexpected plot twists. . . [and] is a very American epic-in-progress that leaves us waiting, none too patiently, for whatever revelations are still to come." — Washington Post
"Absolutely compelling.… A beautifully constructed story [and] some extremely fine writing." — Booklist (starred review) on The Bone Tree
"Richly plotted…[and] the action-packed narrative moves swiftly to a surprising and moving conclusion." — Publishers Weekly on The Bone Tree
"It matches, or even outdoes, the first story in excitement and drama... Greg Iles has long been one of my favorite writers and he is certainly at his best with this series." — Huffington Post on The Bone Tree
"Extraordinary. . . . 'Great Expectations' transplanted to an American South laced with comparably gothic overtones. . . . The Bone Tree establishes Iles as this generation's William Faulkner." — Providence Journal
"Best-selling author Iles superbly blends past and present in his swift and riveting story line." — Library Journal (starred review) on The Bone Tree
"The second installment of his hard-boiled Natchez trilogy finds Iles' hero Penn Cage on even swampier, and surely deadlier, ground than before." — Kirkus Reviews on The Bone Tree
"Prepare to be surprised. Iles has always been an exceptional storyteller, and he has invested these volumes with an energy and sense of personal urgency that rarely, if ever, falter." — Denver Post on Mississippi Blood
"A superb entertainment that is a work of power, distinction and high seriousness... also (a) prime example of what the thriller--and other forms of so-called 'genre' fiction--can accomplish when pushed beyond traditional limits." — Washington Post on Mississippi Blood
"[The books] are page-turning entertainments with an edge of history and a deep understanding of race relations in the American South. . . . Mississippi Blood is packed with compelling characters. . . . Harrowing and spellbinding." — Pittsburg Post-Gazette
"This trilogy is destined to become a classic of literary crime fiction." — Booklist (starred review)
"[The] terrific conclusion to his Natchez Burning trilogy is a sweeping story that remains intimate… Relentless pacing keeps the story churning… The trial scenes are among the most exciting ever written in the genre." — Publishers Weekly (starred review) on Mississippi Blood
"There is a graphic beauty to Iles' writing. He uses measured words to express voluminous stories. . . . He is a masterful storyteller!" — Huffington Post on Mississippi Blood
"From his opening line, Iles draws you back into Penn Cage's deep South in this phenomenal trilogy's final novel (after Natchez Burning; The Bone Tree). [A] heart-racing, enthralling thriller." — Library Journal (starred review) on Mississippi Blood
"Iles draws his characters so well, and brings off scenes so deftly." — Houston Chronicle on Mississippi Blood
"A fabulous story. . . . Love, betrayal, murder, sadness, racism, adultery, hatred and revenge, with a bit of history thrown in. . . . The conclusion to a phenomenal trilogy." — Biloxi Sun Herald on Mississippi Blood
"In this dramatic conclusion to a stunning piece of work, Iles works suspense until the last second, making us question whether we'd be able to keep fighting if all the precious things in our lives were taken away." — Southern Living on Misissippi Blood
"The Natchez trilogy is a sprawling plunge into some of the worst crimes of the civil-rights era." — Knoxville News-Sentinel on Mississippi Blood
"This magnificent saga concludes in breathtaking fashion. . . . Tender and gripping." — RT Book Reviews on Mississippi Blood
"Almost nobody works in crime fiction at this level-or this many levels-of psychological, social, and civic sharpness, and with this clarity as well as richness of style. And maintains fiendish levels of suspense." — Sullivan County Democrat on Mississippi Blood
"Operatic in its reach, this is still essentially a tough crime procedural, with courtroom drama that is far more blistering than the John Grisham variety." — Financial Times on Mississippi Blood
William Morrow, 9780062824615, 608pp.
Publication Date: March 5, 2019
About the Author
Greg Iles spent most of his youth in Natchez, Mississippi. His first novel, Spandau Phoenix, was the first of thirteen New York Times bestsellers, and his new trilogy continues the story of Penn Cage, protagonist of The Quiet Game, Turning Angel, and #1 New York Times bestseller The Devil's Punchbowl. Iles's novels have been made into films and published in more than thirty-five countries. He lives in Natchez with his wife and has two children.
or
Not Currently Available for Direct Purchase