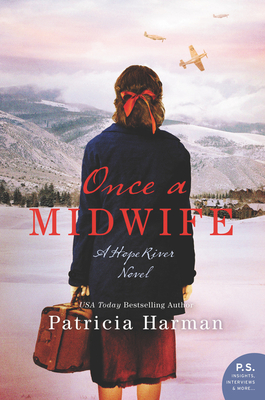 Once a Midwife
A Hope River Novel
Paperback

* Individual store prices may vary.
Other Editions of This Title:
Digital Audiobook (11/5/2018)
Paperback, Large Print (11/6/2018)
Hardcover (11/6/2018)
Compact Disc (11/6/2018)
MP3 CD (11/6/2018)
Compact Disc (11/6/2018)
Description
It's "Call the Midwife" set in the U.S. homefront during World War II.  If you loved Patricia Harman's Midwife of Hope River you'll love Once a Midwife! 
Named Best Midwife Book of the Year from the American College of Nurse Midwives
The women of Hope River trust midwife Patience Hester, whose skill in delivering babies is known for miles around. But though the Great Depression is behind them, troubles are not, for Europe is at war…and it can only be a matter of time before the U.S. enters the fray.
And while some are eager to join the fight, Patience's husband, Daniel, is not. Daniel is a patriot—but he saw too much bloodshed during the First World War, and has vowed never to take up arms again.
His stance leaves Patience and their four children vulnerable—to the neighbors who might judge them, and to the government, who imprison Daniel for his beliefs.
Patience must support their family and fight for her husband's release despite her own misgivings. And with need greater than ever, she must also keep her practice running during this tumultuous time…relying on generous friends, like Bitsy, who has returned to Hope River, stalwart neighbors, and her own indomitable strength to see them all through.
Praise For Once a Midwife: A Hope River Novel…
"Patricia Harman...brings to life the impact of the First and Second World Wars upon the people of early 20th century rural America...True love, family, friendships, politics, history, nature, culture and babies. What more could a reader possibly want?" — Alicia Bay Laurel, New York Times bestselling author Living on the Earth
"If you could live inside a Norman Rockwell painting, Once a Midwife would be the place. Rockwell's themes--a nation under threat in wartime, the struggle for racial equality, and the consolation of family—they're all right here." — Jodi Daynard, Bestselling Author of The Midwife's Revolt
"I almost devoured, Once a Midwife...It's not easy to write a novel that includes so many interwoven historical details, all the while keeping the reader's attention on the human story, the impact of outer events on people's lives and personal journeys. Patricia Harman did it so well." — Suzanne Arms, author of  Immaculate Deception 11: Myth, Magic and Birth
"Long after I turned the last page, the character of midwife Patience Hester stayed with me...For we all need role models like Patience—fiercely loyal, brave, and forgiving. Once a Midwife is a remarkable read, full of individuals to love and birth stories to inspire." — Amy Wright Glenn, author of Holding Space: on Loving, Dying, and Letting Go
William Morrow Paperbacks, 9780062825575, 512pp.
Publication Date: November 6, 2018
About the Author
Patricia Harman, CNM, got her start as a lay midwife on rural communes and went on to become a nurse-midwife on the faculties of Ohio State University, Case Western Reserve University, and West Virginia University. She is the author of two acclaimed memoirs and three novels: the bestselling The Midwife of Hope River, The Reluctant Midwife and The Runaway Midwife. She has three sons and lives near Morgantown, West Virginia.