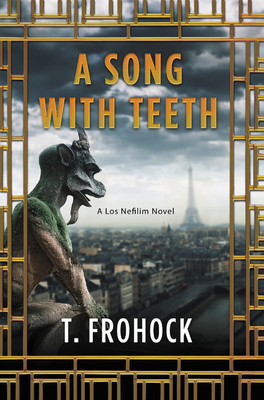 A Song with Teeth
A Los Nefilim Novel
Paperback

* Individual store prices may vary.
Other Editions of This Title:
Digital Audiobook (2/8/2021)
Description
"A fantastic ending to a series." -- Nerds of a Feather
As the Allied forces battle to defeat the Nazis, a shadow war rages between angels and daimons fighting for the soul of humanity in this thrilling conclusion to the critically acclaimed Los Nefilim historical fantasy series.
The year is 1944, and the daimons are rising.
With the Inner Guard thrown into disarray by the German blitzkrieg, the daimon-born nefilim of the Scorpion Court gather in Paris, scheming to restore their rule over the mortal realm. Working as a double-agent, Diago Alvarez infiltrates his family's daimonic court, but soon finds himself overwhelmed by his kin's multiple deceits. 
Meanwhile, Ysabel Ramírez hunts a Psalm that will assist Operation Overlord, the Allies' invasion of Normandy. Her objective takes her to Paris—into the heart of territories controlled by Die Nephilim and her power-hungry uncle, Jordi Abelló, who seeks the same Psalm in his quest to wrest control of Los Nefilim from her father. When their paths cross, he abducts her and leaves her to the mercy of his Nazi followers. 
But Ysabel is as cunning and bold as Jordi. She knows only one of them can survive to one day rule Los Nefilim, and she's determined to be the one to succeed her father as queen.
Trapped in her uncle's château hidden deep within the Fontainebleau forest, Ysabel discovers the truth behind her uncle's lust for dominance: those that wear the signet of the Thrones are not blessed . . . they are cursed. And it may take a miracle to end this war once and for all.
Praise For A Song with Teeth: A Los Nefilim Novel…
"This stellar read is profoundly human, capturing the emotions of each character and the difficulties they face in Nazi Germany." — Booklist
"A fantastic ending to a series of three novellas and three novels… In this world and moment in global history where authoritarians and fascists rise to try and overturn the results of Democracy, the story of the Los Nefilim is potent, resonant and a story that needs to be told." — Nerds of a Feather
"Frohock delivers her signature blend of magic, music, and WWII history in the vivid, complex finale to her Los Nefilim series." — Publishers Weekly
"A Song with Teeth is truly an unforgettable read. In a time where stories can often at times feel formulaic, this novel dares to be different and wears it with pride. It's definitely one of the strongest books to be released so far in 2021, and I cannot recommend this novel enough." — Cultured Vultures
Harper Voyager, 9780062825773, 432pp.
Publication Date: February 9, 2021
About the Author
T. Frohock has turned her love of dark fantasy and horror into tales of deliciously creepy fiction. She currently lives in North Carolina where she has long been accused of telling stories, which is a Southern colloquialism for lying.
Check out more of her works and news at www.tfrohock.com.