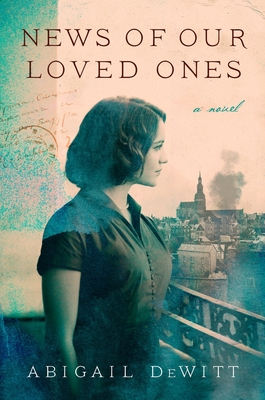 News of Our Loved Ones
A Novel
Hardcover

* Individual store prices may vary.
Other Editions of This Title:
Digital Audiobook (10/1/2018)
Paperback (12/30/2019)
Library Binding, Large Print (1/1/2019)
Compact Disc (10/2/2018)
MP3 CD (10/2/2018)
Compact Disc (10/2/2018)
Description
Set in France and America, News of Our Loved Ones is a haunting and intimate examination of love and loss, beauty and the cost of survival, witnessed through two generations of one French family, whose lives are all touched by the tragic events surrounding the D-Day bombings in Normandy.
What if your family's fate could be traced back to one indelible summer?
Over four long years, the Delasalle family has struggled to live in their Nazi occupied village in Normandy. Maman, Oncle Henri, Yvonne, and Françoise silently watched as their Jewish neighbors were arrested or wordlessly disappeared. Now in June 1944, when the sirens wail each day, warning of approaching bombers, the family wonders if rumors of the coming Allied invasion are true—and if they will survive to see their country liberated.
For sixteen-year-old Yvonne, thoughts of the war recede when she sees the red-haired boy bicycle past her window each afternoon. Murmuring to herself I love you, I love you, I love you, she wills herself to hear the whisper of his bicycle tires over the screech of Allied bombs falling from the sky.
Yvonne's sister, Geneviève, is in Paris to audition for the National Conservatory. Pausing to consider the shadow of a passing cloud as she raises her bow, she does not know that her family's home in Normandy lies in the path of British and American bombers. While Geneviève plays, her brother Simon and Tante Chouchotte, anxiously await news from their loved ones in Normandy.
Decades later, Geneviève, the wife of an American musician, lives in the United States. Each summer she returns to her homeland with her children, so that they may know their French family. Geneviève's youngest daughter, Polly, becomes obsessed with the stories she hears about the war, believing they are the key to understanding her mother and the conflicting cultures shaping her life.
Moving back and forth in time, told from varying points of view, News of Our Loved Ones explores the way family histories are shared and illuminates the power of storytelling to understand the past and who we are.
Praise For News of Our Loved Ones: A Novel…
"Compelling…The experiences, perspectives, and secrets of a French family during the Nazi occupation and after World War II… The novel successfully portrays the indelible impact of the war on people who lived through it." — Kirkus Reviews
"Abigail DeWitt shows how one generation's experience is transferred to the next generation. News of Our Loved Ones is a war story that studies the war with the help of the psychological scars its victims suffer from. It is absolutely mesmerizing." — Washington Book Review, "Best Novels to Read This Fall"
"In an age of novels where not much happens, DeWitt packs in enough narrative in a short space that would normally keep a multi-volume series running for years. News of Our Loved Ones ponders questions of love, loss, family and the long-reaching impact of war." — Wilmington Star News
"An effective and affecting tale of wartime loss and the way that weight of sorrow is held through generations…DeWitt writes in spare prose and has a knack for lovely turns of phrase…Moving." — Publishers Weekly
"What a beautiful, haunting novel Abigail DeWitt gives us...These are stories of love and great loss, of memory, of scars, of the devastating force that is war...of how people and families endure, keep going and find new reasons to live...DeWitt writes beautifully, poetically, with great attention to detail that brings the scenes to life and makes the memories and emotions all the more poignant…a book to be savored." — Greensboro News & Record
"News of Our Loved Ones is beautifully written work, that untangles the fabric of family, and follows each thread through time, to where meaning is forged from chaos." — Simon Van Booy, award-winning author of Father's Day
"DeWitt's beautiful and honest novel captures the full force of families spanning decades, wars, and oceans. Each character offers up shards of their existence until a radiant mosaic of deep longing, personal mythmaking, and remarkable endurance emerges. These characters brave the search for love, decency, and peace alongside the specter of loss. Yet the driving mystery here is not how sorrow hews us through time, but the resurgent heart's ability to pass so much light from one generation to the next. This powerful book will imprint itself on readers." — Devin Murphy, national bestselling author of The Boat Runner  
"Told in multiple voices and spanning generations, Abigail DeWitt's News of Our Loved Ones is a novel of astounding beauty, empathy, and eloquence. 'Most of the world will be too young to imagine that you ever really has a life,' laments one character. But that is not the case: here is life. And here is a book that belongs on the shelf with Irène Némirovsky's Suite Française, Mohsin Hamid's Exit West, and all of our other great works of war and peace."
— Mark Powell, author of Small Treasons
"Abigail DeWitt's News of Our Loved Ones is a story of old Europe, of a tumultuous time that shifted borders, loyalties, and family order. But it is also an enduring story of love, secrets, denial, and redemption. Each word she writes is imbued with beauty: what emerges is a delicate tableau of darkness and light; village dusks and impulsive chances. Above all, it's a story of a strong woman, a free woman, and her fractured memories. If Simone de Beauvoir were alive today, she would write like this."  — Janine Di Giovanni, author of The Morning They Came for Us: Dispatches from Syria
"Lyrical and haunting." — Lilith
Harper, 9780062834720, 240pp.
Publication Date: October 2, 2018
About the Author
Abigail DeWitt is the author of three novels: LILI (WW Norton), DOGS (Lorimer Press), and NEWS OF OUR LOVED ONES (forthcoming from Harper in 2018). Her short fiction has appeared in Five Points, Witness, the Alaska Quarterly Review, the Carolina Quarterly, and elsewhere. She has been cited in BEST AMERICAN SHORT STORIES, nominated for a Pushcart, and has received grants and fellowships from the North Carolina Arts Council, the Tyrone Guthrie Center, the McColl Center for the Arts, and the Michener Society.
or
Not Currently Available for Direct Purchase