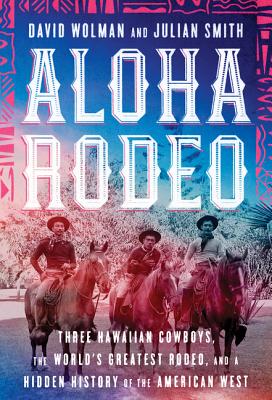 Aloha Rodeo
Three Hawaiian Cowboys, the World's Greatest Rodeo, and a Hidden History of the American West
Hardcover

* Individual store prices may vary.
Other Editions of This Title:
Digital Audiobook (5/27/2019)
Paperback (4/28/2020)
Compact Disc (5/28/2019)
Compact Disc (5/28/2019)
MP3 CD (5/28/2019)
Description
The triumphant true story of the native Hawaiian cowboys who crossed the Pacific to shock America at the 1908 world rodeo championships
Oregon Book Award winner * An NPR Best Book of the Year * Pacific Northwest Book Award finalist * A Reading the West Book Awards finalist
"Groundbreaking. … A must-read. ... An essential addition." —True West
In August 1908, three unknown riders arrived in Cheyenne, Wyoming, their hats adorned with wildflowers, to compete in the world's greatest rodeo. Steer-roping virtuoso Ikua Purdy and his cousins Jack Low and Archie Ka'au'a had travelled 4,200 miles from Hawaii, of all places, to test themselves against the toughest riders in the West. Dismissed by whites, who considered themselves the only true cowboys, the native Hawaiians would astonish the country, returning home champions—and American legends.

An unforgettable human drama set against the rough-knuckled frontier, David Wolman and Julian Smith's Aloha Rodeo unspools the fascinating and little-known true story of the Hawaiian cowboys, or paniolo, whose 1908 adventure upended the conventional history of the American West.
What few understood when the three paniolo rode into Cheyenne is that the Hawaiians were no underdogs. They were the product of a deeply engrained cattle culture that was twice as old as that of the Great Plains, for Hawaiians had been chasing cattle over the islands' rugged volcanic slopes and through thick tropical forests since the late 1700s.
Tracing the life story of Purdy and his cousins, Wolman and Smith delve into the dual histories of ranching and cowboys in the islands, and the meteoric rise and sudden fall of Cheyenne, "Holy City of the Cow." At the turn of the twentieth century, larger-than-life personalities like "Buffalo Bill" Cody and Theodore Roosevelt capitalized on a national obsession with the Wild West and helped transform Cheyenne's annual Frontier Days celebration into an unparalleled rodeo spectacle, the "Daddy of 'em All."
The hopes of all Hawaii rode on the three riders' shoulders during those dusty days in August 1908. The U.S. had forcibly annexed the islands just a decade earlier. The young Hawaiians brought the pride of a people struggling to preserve their cultural identity and anxious about their future under the rule of overlords an ocean away. In Cheyenne, they didn't just astound the locals; they also overturned simplistic thinking about cattle country, the binary narrative of "cowboys versus Indians," and the very concept of the Wild West. Blending sport and history, while exploring questions of identity, imperialism, and race, Aloha Rodeo spotlights an overlooked and riveting chapter in the saga of the American West.
Praise For Aloha Rodeo: Three Hawaiian Cowboys, the World's Greatest Rodeo, and a Hidden History of the American West…
"This inspiring and impeccably crafted story of against-all-odds triumph is one that movie-makers surely will yearn to produce, seeing in Wolman and Smith's elegantly told Aloha Rodeo a new Chariots of Fire, with Cheyenne's Frontier Days standing in for the Paris Olympics, the islands of Hawaii for the British Isles, and, at center stage, three brave cowboys, no hats and all cattle. I loved this book, truly." — SIMON WINCHESTER, author of Pacific, The Men Who United the States, and The Professor and the Madman
"Thrilling. … Gripping. … Aloha Rodeo shines." — NPR.org
"David Wolman and Julian Smith's masterful Aloha Rodeo is like uncovering a beautiful fresco you never knew was there, each turned page revealing another vivid and colorful piece of a true American West story that had lain long buried until now." — SALLY JENKINS, award-winning Washington Post sports columnist and author of The Real All-Americans
"A vivid account." — LARRY McMURTRY, author of Lonesome Dove
"Aloha Rodeo accomplishes the bronco-busting trick of combining thorough research with a fast-paced narrative. Who knew that three young men from Hawaii would transform the sport of rodeo, bring pride to their homeland, and be at the center of such a riveting story." — TOM CLAVIN, author of Wild Bill
"Breaks new ground in the history of the American cowboy. … [Wolman and Smith] expertly weave a complex story. … A must-read." — True West
"Packed with interesting facts, colorful characters, and well-researched details that bring each chapter alive, this book completely changed my perspective on both the history of our 50th state and the multifaceted legacy of the American cowboy." — Outside magazine
"A perfect summer read. … A thrilling and… utterly satisfactory story." — Honolulu Magazine
"Engaging, thorough prose. … The narratives are so wild that they often read like fiction. … If your perception of cowboy culture has largely been shaped by Louis L'Amour, Lonesome Dove and John Wayne, hold onto your hats. Aloha Rodeo blows open a canyon of inclusionary cowboy history as wide as the Rio Grande." — BookPage, STARRED Review
"Fascinating. ... [One] of the modern greats. ... A truly entertaining, educational, and satisfying tale, told with verve and gusto." — Aspen Daily News
"The 4,000-mile journey of Waimea cowboy Ikua Purdy and his two cousins to the annual Frontier Days rodeo in Cheyenne, Wyoming, is recounted in a well-researched tale that blends the colorful past of both America's Wild West and the lesser-known paniolo culture of the Hawaiian Islands. Filled with the excitement, adventure, and dangers of bronco busting and steer roping, Wolman and Smith's Aloha Rodeo is an inspiring and fast-paced read of an unexpected hero who reigned in a victory for his island nation from the clutches of a sport long dominated by Anglos." — STEPHEN L. MOORE, author of Texas Rising
"A sweeping epic. … A triumphant underdog tale. … Through a combination of thorough research and literary prowess, [Wolman and Smith] manage to turn an obscure footnote into a gripping narrative." — Willamette Week
"[A] fine book. … A rollicking tale that spans two centuries. … Riveting." — American History
"Dramatic. … Aloha Rodeo is more than a cowboy epic. It is a history of the Wild West extended far beyond the coast of California." — Stanford Magazine
"Immersive. … This thoughtful look at Hawaii's place in the Wild West will appeal to readers interested in underexplored elements of American history." — Publishers Weekly
"Wolman and Smith tell these fascinating stories in riveting, easy-to-read style." — Honolulu Star-Advertiser
"Packs a lot of history but reads like a Western. ... I would highly recomment this book to anyone interested in the history of Hawaii, the West, or the rodeo." — Manhattan Book Review
"An inherently fascinating, deftly crafted history, impressively informative, exceptionally well organized and presented." — Midwest Book Review
"Tells [an] almost unbelievable tale. ... Carefully construct[ed]." — National Tombstone Epitaph
"Aloha Rodeo is as revelatory as it is satisfying. ... Fascinating. ... A fitting tribute to [the paniolo] legend." — Middlebury Magazine
"As revelatory as it is satisfying. The book's propelling narrative centers on the story of three Hawaiian cowboys who stunned the chauvinist throng at the famed Cheyenne Frontier Days. … Aloha Rodeo is a fitting tribute to their legend. … Fascinating. … Engrossing." — Washington Independent Review of Books
Mariner Books, 9780062836007, 256pp.
Publication Date: May 28, 2019
About the Author
DAVID WOLMAN is a Contributing Editor at Outside. He has written for the Wired, the New York Times, New Yorker, Nature, and many other publications, and his work has been anthologized in the Best American Science and Nature Writing series. He is the author of The End of Money, Righting the Mother Tongue, and A Left-Hand Turn Around the World. David lives in Portland, Oregon, with his family.
JULIAN SMITH received a Banff Mountain Book Award and a Lowell Thomas Travel Journalism Award for Crossing the Heart of Africa: An Odyssey of Love and Adventure. The coauthor of Smokejumper: A Memoir by One of America's Most Select Airborne Firefighters, he has written for Smithsonian, National Geographic Traveler, Wired, Outside, and the Washington Post, among other publications. Julian lives in Portland, Oregon.
or
Not Currently Available for Direct Purchase