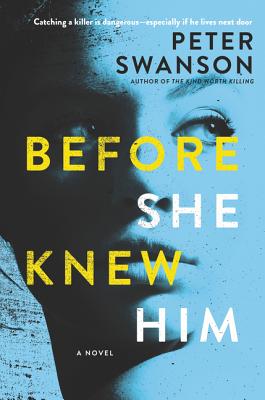 Before She Knew Him
A Novel
Hardcover

* Individual store prices may vary.
Other Editions of This Title:
Digital Audiobook (7/3/2019)
Digital Audiobook (3/4/2019)
Paperback (2/25/2020)
Mass Market (11/10/2020)
Compact Disc (3/5/2019)
MP3 CD (3/5/2019)
Paperback, Large Print (3/5/2019)
Compact Disc (3/5/2019)
Description
Catching a killer is dangerous—especially if he lives next door
From the hugely talented author of The Kind Worth Killing comes an exquisitely chilling tale of a young suburban wife with a history of psychological instability whose fears about her new neighbor could lead them both to murder . . .

Hen and her husband Lloyd have settled into a quiet life in a new house outside of Boston, Massachusetts. Hen (short for Henrietta) is an illustrator and works out of a studio nearby, and has found the right meds to control her bipolar disorder. Finally, she's found some stability and peace.
But when they meet the neighbors next door, that calm begins to erode as she spots a familiar object displayed on the husband's office shelf. The sports trophy looks exactly like one that went missing from the home of a young man who was killed two years ago. Hen knows because she's long had a fascination with this unsolved murder—an obsession she doesn't talk about anymore, but can't fully shake either.
Could her neighbor, Matthew, be a killer? Or is this the beginning of another psychotic episode like the one she suffered back in college, when she became so consumed with proving a fellow student guilty that she ended up hurting a classmate?
The more Hen observes Matthew, the more she suspects he's planning something truly terrifying. Yet no one will believe her. Then one night, when she comes face to face with Matthew in a dark parking lot, she realizes that he knows she's been watching him, that she's really on to him. And that this is the beginning of a horrifying nightmare she may not live to escape. . .
Praise For Before She Knew Him: A Novel…
"Mr. Swanson unfolds this creepy story with the assurance and economy of a master. Surprises follow one another with inevitability, until the final electrifying jolt." — Wall Street Journal
"[A] neatly knotted suspense story." — New York Times Book Review
"In trademark style, Swanson's ingenious plotting throws up tantalising clues and then slowly unravels them through a series of shocking revelations, leaving readers confused, bemused and racing to the last page. Compelling, creepy, and psychologically astute, this is stylish thriller writing at its very best." — Guardian (UK)
"A twisty, fast-paced tale that depicts picket-fence suburbia's seamy, murderous underside… Swanson is at his best in exploring the kinship—or what some see as the kinship—between artist and killer, one of the themes of Swanson's great model and forebear, Patricia Highsmith… A dark, quick-moving, suspenseful story." — Kirkus Reviews
"It is deliciously good – dry, intelligent, perfectly paced, [and] there is more than a touch of the Barbara Vines about the delicately played out, deliciously dark relationship that develops between Hen and Matthew… This is Swanson's best thriller yet." — The Observer (UK)
"Plenty of suspense and surprises... This intense and sinister thriller builds to a shocking conclusion as the bizarre relationship between a woman and her killer neighbor plays out." — ShelfAwareness.com
"There's a neat twist at the end, but the real surprise is the way characters are allowed to grieve their losses, a luxury not always allowed in stories of this type. For a fast-paced thriller, Before She Knew Him achieves an impressive significance in its pauses." — BookPage
"Swanson builds the tension to a nearly unbearable level... The detail he uses as he delves into their lives and psyches foreshadows the stunners to follow… A cornucopia of carnage and craziness, Before She Knew Him simultaneously disturbs and delights." — The Free Lance-Star (Fredericksburg, VA)
"A wicked thriller that does not disappoint… Another gem that pulls the reader in and never lets go, even as the story comes to a close. This is a book that will keep you up at night and haunt your thoughts. A fun, chilling read." — Manhattan Book Review
"Woven into this twisty-turny murder thriller is mental illness and the instability it causes. Maybe worse than not being able to rely on yourself is that other people might not believe you. How can they be sure you're not being paranoid, or manic, or obsessive?" — The Big Thrill
"The narrative trickery is bold, but reined-in… As in all his best work, Swanson is equally beguiling when conjuring up the mind of a sociopath and the middle class Eden that harbors him." — The Sunday Times (UK)
"What would you do if you began to suspect your next door neighbor was a serial killer? That is the dilemma faced by artist Hen - and the jumping off point for this very contemporary thriller that will keep you gripped through every elegant twist and turn." — Sunday Mirror (UK)
"This acutely perceptive writer has become a master of psychological chills and thrills, transforming what appears to be 'cosy domestic' into something infinitely more dangerous and deadly… A sizzling slice of his unique brand of domestic noir… Tingling with tension [and] brimming with menace." — The Guardian (UK)
"In Peter Swanson's expert hands, one woman's discerning observation at a quiet suburban dinner party unfolds into a gripping, twisty, psychologically complex thriller.  I could not put it down." — Alafair Burke, New York Times bestselling author of The Wife
"What would happen if a serial killer met the perfect confidant, someone who would never be believed if they revealed his secrets? Nothing good… Swanson has crafted another bar-raising psychological thriller with this tense, unexpected spin on serial killers and those obsessed with them." — Booklist
Praise for All the Beautiful Lies:
"Suspense lovers will devour this deliciously duplicitous read, which is chock-full of twists, turns, lust, greed, and dishonesty." — Library Journal on All the Beautiful Lies
"Swanson's fourth psychological thriller is a gripping exploration of delusion and deceit; sure to please readers of Laura Lippman's stand-alones." — Booklist on All the Beautiful Lies
"Complex [and] intriguing… [Swanson] makes sure to place those twists and turns perfectly... And when someone else turns up dead, the story goes from 0-to-60 in a split-second. Peter Swanson has done a fantastic job." — Suspense Magazine on All the Beautiful Lies
"Swanson has drawn on Alfred Hitchcock to good effect. In All the Beautiful Lies, he looks instead to du Maurier… The reader is soon gripped and wondering which will come first: Harry's seduction or his death? Swanson's magpie borrowings are always finessed into something fresh and piquant." — The Guardian
"An explosive mix of seductions, obsessions, and dark secrets." — New York Journal of Books on All the Beautiful Lies
"There are many twists and turns, and quite a few surprises along the way…. A solid, twisty work of suspense." — PCA/ACA Mystery & Detective Fiction Reading List on All the Beautiful Lies
"Gripping… [Alice's] past is peppered with secrets and the damage is revealed in a split narrative between now and then, culminating in an edge of the seat ending." — Sunday Post (UK) on All the Beautiful Lies
"This atmospheric, stylish mystery is pure pleasure." — Sunday Mirror (UK) on All the Beautiful Lies
"The Girl with a Clock for a Heart is a twisty, sexy, electric thrill ride and an absolute blast from start to finish." — Dennis Lehane
"This devilishly clever noir thriller could have been called "Strangers on a Plane." … It would have made a great Hitchcock movie.… Unlike most books that fail to live up to the hype, this one makes good on the promise, right down to the chilling final paragraph." — Fort Worth Star-Telegram
"The Year's Best Fiction: … A taut thriller with a mounting body count and a final twist so ruthlessly clever it's criminal." — Entertainment Weekly on The Kind Worth Killing
"The spirit of film noir is alive in this twisty tale of an ordinary man whose life is disrupted by his first love—an old-fashioned femme fatale who brings double crossings, financial scams and murder in her devastating wake. Clever and stylish." — Sunday Mirror (UK) on The Girl With a Clock For a Heart
"The skillfully conjured Boston winter creates the perfect atmosphere for breeding paranoia, which kicks into high gear with the introduction of Cherney's Rear Window-like flashbacks. Swanson … introduces a delicious monster-under-the-bed creepiness to the expected top-notch characterization and steadily mounting anxiety." — Booklist (starred review) on Her Every Fear
William Morrow, 9780062838155, 320pp.
Publication Date: March 5, 2019
About the Author
Peter Swanson is the author of seven novels, including The Kind Worth Killing, winner of the New England Society Book Award, and finalist for the CWA Ian Fleming Steel Dagger; Her Every Fear, an NPR book of the year; Before She Knew Him, and Eight Perfect Murders. His books have been translated into 30 languages, and his stories, poetry, and features have appeared in Asimov's Science Fiction, The Atlantic Monthly, Measure, The Guardian, The Strand Magazine, and Yankee Magazine. He lives on the North Shore of Massachusetts, where he is at work on his next novel.
or
Not Currently Available for Direct Purchase