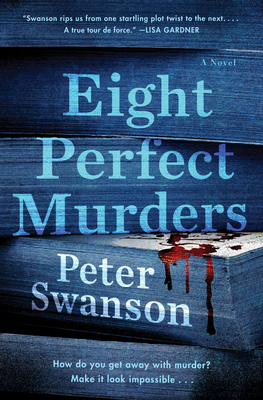 Eight Perfect Murders
A Novel
Hardcover

* Individual store prices may vary.
Other Editions of This Title:
Digital Audiobook (3/2/2020)
Mass Market (11/29/2022)
Paperback (1/26/2021)
Paperback, Large Print (3/3/2020)
Compact Disc (3/3/2020)
MP3 CD (3/3/2020)
Paperback, Chinese (12/4/2020)
March 2020 Indie Next List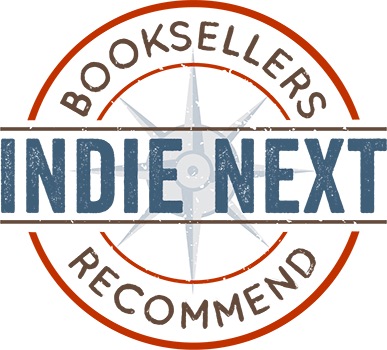 "Malcolm Kershaw is an unassuming bookseller who once wrote a list of the eight most perfect literary murders. He is surprised when the FBI shows up at his door and explains that someone is using this list and recreating the murders. With perfect pacing and shocking twists, this is a murder mystery with a classic feel that will leave you questioning how well you can know anyone. It will also add eight more books to your to-be-read pile as you will immediately need to read all the books on the perfect murder list!"
— Carrie Deming, The Dog Eared Book, Palmyra, NY
View the List
Description
New York Times bestseller
"Swanson rips us from one startling plot twist to the next… A true tour de force." —Lisa Gardner
"[A] multilayered mystery that brims with duplicity, betrayal and revenge." —USA Today
From the hugely talented author of The Kind Worth Killing comes a chilling tale of psychological suspense and an homage to the thriller genre tailor-made for fans: the story of a bookseller who finds himself at the center of an FBI investigation because a very clever killer has started using his list of fiction's most ingenious murders.
Years ago, bookseller and mystery aficionado Malcolm Kershaw compiled a list of the genre's most unsolvable murders, those that are almost impossible to crack—which he titled "Eight Perfect Murders"—chosen from among the best of the best including Agatha Christie's A. B. C. Murders, Patricia Highsmith's Strangers on a Train, Ira Levin's Deathtrap, A. A. Milne's The Red House Mystery, Anthony Berkeley Cox's Malice Aforethought, James M. Cain's Double Indemnity, John D. MacDonald's The Drowner, and Donna Tartt's The Secret History.
But no one is more surprised than Mal, now the owner of the Old Devils Bookstore in Boston, when an FBI agent comes knocking on his door one snowy day in February. She's looking for information about a series of unsolved murders that look eerily similar to the killings on Mal's old list. And the FBI agent isn't the only one interested in this bookseller who spends almost every night at home reading. The killer is out there, watching his every move—a diabolical threat who knows way too much about Mal's personal history, especially the secrets he's never told anyone, even his recently deceased wife.
To protect himself, Mal begins looking into possible suspects . . . and sees a killer in everyone around him. But Mal doesn't count on the investigation leaving a trail of death in its wake. Suddenly, a series of shocking twists leaves more victims dead—and the noose around Mal's neck grows so tight he might never escape.
Praise For Eight Perfect Murders: A Novel…
"Eight Perfect Murders creates expectations it then subverts, presents suspects only to eliminate them, and in general has its own way with the tropes of the mystery thriller—including that genre mainstay, the unreliable narrator." — Wall Street Journal
"A devious whodunit" — New York Times Book Review
"Engagingly original… This [is a] multilayered mystery that brims with duplicity, betrayal and revenge—all bubbling slowly to the surface… Swanson has a bent for revenge and murder. Fans won't be disappointed." — USA Today
"Clever and surprising. Eight Perfect Murders opens with a true mystery lover's delight, a killer seemingly paying homage to the classics. But you can barely say Agatha Christie before Swanson rips us from one startling plot twist to the next. A marriage that may not be what it seems, friends who may not be what they seem and yes, a mysterious man in black who we don't even know what he seems. With mounting tension and fraying nerves, it careens to the final stunning conclusion. A true tour de force." — Lisa Gardner
"Eight Perfect Murders is an ever-unfolding puzzle… Mal frequently confides in the reader, showing that he knows more than he is letting the FBI believe. But what exactly does Mal know, and what might he be guilty of? These questions will plague readers and follow them throughout the book." — San Francisco Chronicle
"Fiendish good fun." — Anthony Horowitz
"Clever and surprising… Swanson rips us from one startling plot twist to the next. A marriage that may not be what it seems [and] friends who may not be what they seem…  With mounting tension and fraying nerves, it careens to the final stunning conclusion. A true tour de force." — Lisa Gardner
"Fiendishly clever catnip for any lover of classic crime fiction." — Seattle Times
"Probably what you need right now is a good murder mystery. One that is bookish, engrossing, not overly gory and impossible to solve. Peter Swanson delivers all of this in Eight Perfect Murders… Swanson drops in lovely clues, but good luck figuring it out. — Minneapolis Star-Tribune
"A devilish premise combined with jaw-dropping execution… Mystery fans will be salivating as the plot unfolds, trying to outsmart the confoundingly unreliable narrative… Swanson hits every note in this homage to the old-school crime novel, and the turnabout ending will leave readers reeling in delight." — Booklist (starred review)
"The pleasures of following, and trying to anticipate, a narrator who's constantly second- and third-guessing himself and everyone around him are authentic and intense… You wish the mounting complications, like a magician's showiest routine, could go on forever." — Kirkus Reviews (starred review)
"[An] outstanding fair-play crime novel… Swanson will keep most readers guessing until the end. Classic whodunit fans will be in heaven." — Publishers Weekly (starred review)
"Readers who enjoy thrillers chock-full of twists and turns will adore Peter Swanson's meta-mystery Eight Perfect Murders… This superbly plotted novel, thrilling, fast-paced and psychologically complex, makes the perfect book club choice for fans of Anthony Horowitz's Magpie Murders and A.J. Finn's The Woman in the Window." — Shelf Awareness (starred review)
"An homage to classic mystery stories that offers both the charms of a puzzle mystery and the bleak atmosphere of a noir… The flawed main characters are well developed, the New England settings are vividly drawn, and the twists keep coming in this suspenseful, ingeniously plotted tale." — St. Louis Post Dispatch
"The wintry setting and eerily cool narration, together with trust-no-one twists and garish murders, will satisfy thriller readers; fans of classic mysteries by Agatha Christie, Ira Levin, and John D. MacDonald will enjoy… You'll stay to the finish of this one." — Library Journal
"Intelligent, twisty, stylish, startling… No matter how well you know someone, you can never fully know what's in their heart and mind. Eight Perfect Murders proves the point. Which is what makes it perfectly creepy." — New York Journal of Books
"The meta thriller fans of the genre have been waiting for." — Popsugar
"A must-read… A shocking, addictive mystery with a classic crime twist… Swanson is a master… If you're as obsessed with crime fiction as I am, Peter Swanson's newest is a book you simply cannot miss."  — CrimeByTheBook
"Eight Perfect Murders is pretty much perfect itself. There are plenty of twists and turns, and secrets galore… We owe Swanson a debt of gratitude… You also owe it to yourself to read Eight Perfect Murders." — BookReporter.com
"Mr. Swanson unfolds this creepy story with the assurance and economy of a master. Surprises follow one another with inevitability, until the final electrifying jolt." — Wall Street Journal on Before She Knew Him
"[A] neatly knotted suspense story." — New York Times Book Review on Before She Knew Him
"[Swanson] knows how to ration his twists and where in the narrative to place them, devoting just the right amount of time to exploring the ramifications of each new development before spinning the story off in an ominous new direction… De Palma, or Hitchcock…would kill for the film rights." — The National (UK) on Before She Knew Him
"In trademark style, Swanson's ingenious plotting throws up tantalising clues and then slowly unravels them through a series of shocking revelations, leaving readers confused, bemused and racing to the last page. Compelling, creepy, and psychologically astute, this is stylish thriller writing at its very best." — The Guardian (UK) on Before She Knew Him
"This devilishly clever noir thriller could have been called "Strangers on a Plane." … It would have made a great Hitchcock movie.… Unlike most books that fail to live up to the hype, this one makes good on the promise, right down to the chilling final paragraph." — Fort Worth Star-Telegram on The Kind Worth Killing
"The skillfully conjured Boston winter creates the perfect atmosphere for breeding paranoia, which kicks into high gear with the introduction of Cherney's Rear Window-like flashbacks. Swanson … introduces a delicious monster-under-the-bed creepiness to the expected top-notch characterization and steadily mounting anxiety." — Booklist (starred review) on Her Every Fear
"A wicked thriller that does not disappoint… Another gem that pulls the reader in and never lets go, even as the story comes to a close. This is a book that will keep you up at night and haunt your thoughts. A fun, chilling read." — Manhattan Book Review on Before She Knew Him
"Plenty of suspense and surprises... This intense and sinister thriller builds to a shocking conclusion as the bizarre relationship between a woman and her killer neighbor plays out." — ShelfAwareness.com on Before She Knew Him
"In Peter Swanson's expert hands, one woman's discerning observation at a quiet suburban dinner party unfolds into a gripping, twisty, psychologically complex thriller.  I could not put it down." — Alafair Burke, New York Times bestselling author of The Wife on Before She Knew Him
"Suspense lovers will devour this deliciously duplicitous read, which is chock-full of twists, turns, lust, greed, and dishonesty." — Library Journal on All the Beautiful Lies
"Swanson's fourth psychological thriller is a gripping exploration of delusion and deceit; sure to please readers of Laura Lippman's stand-alones." —  Booklist on All the Beautiful Lies
"Complex [and] intriguing… [Swanson] makes sure to place those twists and turns perfectly... And when someone else turns up dead, the story goes from 0-to-60 in a split-second. Peter Swanson has done a fantastic job." — Suspense Magazine on All the Beautiful Lies
"Swanson has drawn on Alfred Hitchcock to good effect. In All the Beautiful Lies, he looks instead to du Maurier… The reader is soon gripped and wondering which will come first: Harry's seduction or his death? Swanson's magpie borrowings are always finessed into something fresh and piquant. — The Guardian

William Morrow, 9780062838209, 288pp.
Publication Date: March 3, 2020
About the Author
Peter Swanson is the author of seven novels, including The Kind Worth Killing, winner of the New England Society Book Award, and finalist for the CWA Ian Fleming Steel Dagger; Her Every Fear, an NPR book of the year; Before She Knew Him, and Eight Perfect Murders. His books have been translated into 30 languages, and his stories, poetry, and features have appeared in Asimov's Science Fiction, The Atlantic Monthly, Measure, The Guardian, The Strand Magazine, and Yankee Magazine. He lives on the North Shore of Massachusetts, where he is at work on his next novel.